Pregnancy Water Bottle Top Picks: Find the BEST Water Bottle for Breastfeeding & Pregnancy
Need a pregnancy water bottle?
Let me answer for you…YES, you do!
A really great water bottle for pregnancy, postpartum recovery, and breastfeeding your baby is a MUST.
This is one of my go-to recommendations for moms-to-be because it directly affects our health, and therefore, our babies' health.
In pregnancy, our body is using fluids to literally BUILD LIFE!
As this article from The Bump explains,
During pregnancy our water intake goes to important things like carrying nutrients to our baby, flushing out toxins and waste, even forming amniotic fluid, blood volume, and new tissue.
Staying sufficiently hydrated is also great for your skin, your mood, your digestion, and can even prevent complications such a preterm labor.
And it's not just pregnancy…
We need a breastfeeding water bottle by our side from the moment we give birth! (Not to mention finding the best water bottle for labor iteself!)
After Baby arrives, our bodies NEED water to recover from childbirth and build up our breast milk supply for nursing out babies.
Think about it,
Our body is turning the water we are drinking into nourishing liquid gold for our baby.
How cool is that?!
But we gotta do our part. I see SUCH a huge difference in my milk supply, digestion, and overall well being when I slack on drinking water.
Not good.
And I do a WAY better job drinking enough water if I'm ready with my water bottle for pregnancy and breastfeeding.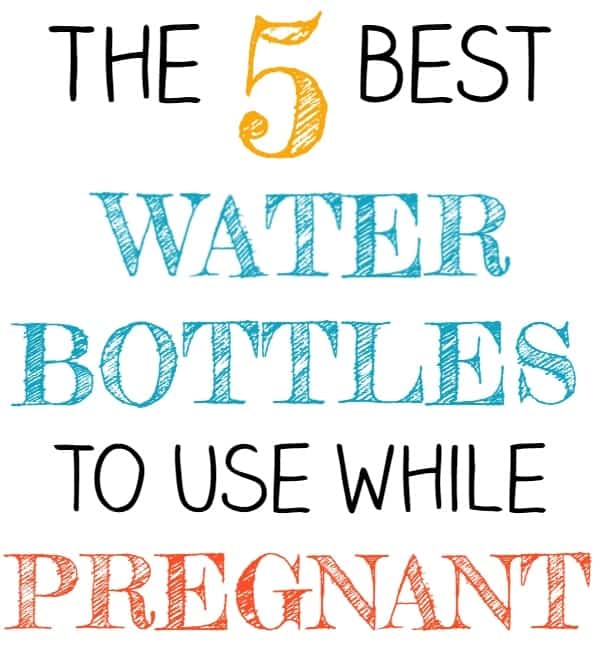 This post may contain affiliate links. Please see my disclosure for details.
A great water bottle for pregnancy is essential, especially for nursing moms and moms-to-be.
Whether you intend to breastfeed your newborn for the first few weeks or establish a beautiful breastfeeding relationship that lasts for the next couple of years, you're gonna need water to make it happen.
And LOTS of it!
Health professionals agree that staying hydrated is crucial to a healthy pregnancy (and really just a healthy life!) According to the Mayo Clinic,
"The Office on Women's Health recommends that pregnant women drink about 10 cups (2.4 liters) of fluids daily and women who breast-feed consume about 13 cups (3.1 liters) of fluids a day."
Whoa! That's so much water!
And if we aren't used to it, that can be a really tough goal to reach.
But it's not impossible.
Think of it as a really great first "job" to take on as a new mama.
One of the BEST things we can do for our bodies and our babies is to stay hydrated.
And to do that, we need the right equipment! So plan on equipping yourself with a breastfeeding water bottle that you can use now, as a nursing mom, and beyond.
The Best Water Bottle for Pregnancy & New Moms
If you're pregnant, treat yo'self to a cute new water bottle that you will ACTUALLY use.
Trust me, this thing is gonna become like an extension of your hand. Your breastfeeding water bottle is essential to life as a new mom.
Soon, it'll be habit to grab it on your way out the door just like your phone and keys, so get something that you'll LOVE, that's functional, and that fits your new mama lifestyle.
TIP:
Think ahead…
You have a new baby in one arm, a diaper bag over your other, your hands are full with your keys, wallet, phone and that dirty diaper you forgot to throw away, and you are trying to get through the door. Your life is crazy, messy, and beautifully hectic.
And somehow you've GOT to stay super hydrated.
TRUST ME on this…
You want a large, fairly lightweight, cute water bottle that is EASY to grab with one finger and open with one hand whenever you have a second to take a drink.
You also want something DURABLE…because toddlers.
This thing is going to last you well beyond your pregnancy! Don't buy something cheapo!
Let's talk about how to choose the best water bottle during pregnancy and beyond.
Here are the 5 best water bottles for pregnancy and breastfeeding moms:
This is the end-all, be-all best water bottle for pregnant and breastfeeding moms, if you ask me.
It's stainless steel (so no gross plasticky chemicals for you or Baby) and uses a fancy TempShield Insulation that people swear by to keep your water cold.
It can hold A LOT of water so you'll meet your hydration goals without carrying one of those ridiculous giant jugs.
And it has a non-slip coating which will be great to avoid accidents around little ones.
The top mom-feature is the lid.
The loop is firm, so you can quickly slip your finger through and carry it along with the 5 billion other things you're toting around.
The straw option makes it easy to take a drink with one hand, so you can keep drinking even when things are busy or you're carrying Baby.
This is also a great feature for taking small sips, which makes it the best water bottle for labor, delivery, and postpartum care at the hospital.
It also has THOUSANDS of fantastic reviews on Amazon which is a plus.
This is the most expensive option, so while I do really think it's the BEST water bottle for pregnancy and breastfeeding (aka: worth it!) this is still something to consider.
Ok, this one is another reallllly good choice. Maybe even better than the first, if you're into debating.
This water bottle is big, stainless steel, and pretty. It has a bunch of sizes and holds plenty of water for preggers to stay hydrated.
It's also made specifically to easily access a drink with a "half-turn" cap and a magnetic handle that keeps the lid from getting lost. It's the little conveniences that make all the difference as a new mom!
This option also keeps water cold for 24 hours and doesn't leak, which is a huge bonus because what mama needs any extra messes to clean up?
I also love the handle because it's a small, easy-to-grab loop and it doesn't stick out very far or get in the way.
The BEST part of this water bottle is the CamelBak guarantee.
My first water bottle was a CamelBak (I also have two kids bottles for my littles!) and when they eventually need to have parts replaced, I just fill out a quick warranty claim online and they send me a replacement.
Boom. So easy.
And easy is a must as a mama.

I am using this one right now!
When I started my search for the perfect pregnancy water bottle during my last pregnancy (because I lost my other bottle. Sad, I know.)
I was looking for something practical and pretty with a middle-of-the-road price tag. I've been very happy with it.
This water bottle is double-insulated stainless steel and prides itself on the leak-proof straw lid, which is perfect for one-handed sips during breastfeeding sessions.
It's also got a really convenient handle that raises or lays flat, which is pretty ideal for being on-the-go.
I'd say these are the two top selling features of this bottle for pregnant moms-to-be.
It comes in multiple sizes and several nice colors and can even be used with different Takeya lids if needed.
Oh, and it has this little bumper around the bottom that both protects the bottle and helps it fit more securely into cup holders (think strollers!)
I'd definitely say it's been the best water bottle for breastfeeding and pregnancy that I've personally used.
They have another version too that is a bit cheaper.
It's also great, but doesn't have a few of the features and it's smaller so it does have to be refilled more often.

We have to talk about the Yeti water bottle, right? It's high-quality, long-lasting and surprisingly affordable (depending on your color selection.)
I also realize that some people prefer not to have a straw in their water bottle and this is a great no-straw option for a water bottle during pregnancy and breastfeeding.
To me, it makes it a tad bit more difficult to drink in a hurry, but I think this design works really well for the purpose if going strawless is important to you.
Plus, the lid is leak-proof!
The Yeti water bottle double wall vacuum-insulated stainless steel and made of super tough stuff to withstand even the biggest uh-oh's.
Yeti's are also known for keeping cold liquids COLD for a lonnnnng time.
On Amazon, this Yeti water bottle has about a thousand raving reviews that swear the higher price tag is totally worth it for the renowned brand's quality product.
This is a GREAT pregnancy water bottle.

Have you heard of the belly bottle pregnancy water bottle?
I feel like I have to include this one because it's specifically designed to be a pregnancy water bottle and is pretty dang cute.
It IS a great looking mom-to-be water bottle, buuut on the not-so-bright side, it is made of plastic, though it does claim to be BPA-free and made of Tritan harm-free plastic.
This bottle holds 30 oz of water, is impact-resistant, and dishwasher safe.
It has an easy-carry loop that folds down to be more compact and a locking lid that opens with an easy one-click button, which is great for mamas who have their hands full.
But the really cool thing about this water bottle is that it is designed to track your water intake throughout each day of your pregnancy!
One side of the bottle is marked with hour indicators from 7am to 9pm and has 3 "finish & refill" markers to keep you on track. So clever!
AND on the other side there are little squares that indicate each week of pregnancy.
The bottle comes with tiny cute stickers to go on each square and show the approximate length, weight, and fruit that your baby compares to at that point in your pregnancy.
There are even stickers to mark each trimester start date, your due date, and the gender of your baby.
This is a really adorable way to keep track of your hydration and pregnancy milestones, so it wins for the best pregnancy water intake bottle.
But if you're looking for a long term mom water bottle, I'd lean toward one of the options above.

Pregnancy Water Bottles & More Tips for New Moms
So, as you progress throughout your pregnancy, drink that water, Mama!
Get in the habit now because you'll be guzzling it down for the next year or so (at least!)
Buying a great mom-to-be water bottle will help set you up for success going into motherhood.
And we can all use a little help, right?
Now that you have your new mom water bottle picked out, find more tips on pregnancy, babies, and life as a new mom:
You may also want to check out some of my other most popular posts:
Pregnancy Tips for Every Season
7 Genius Ways to Prepare for Baby
Practical Items You Probably Won't Get at Your Baby Shower
The Super Prepared Mom-To-Be's Hospital Bag Checklist
Pregnancy and Breastfeeding Water Bottle: 5 Top Picks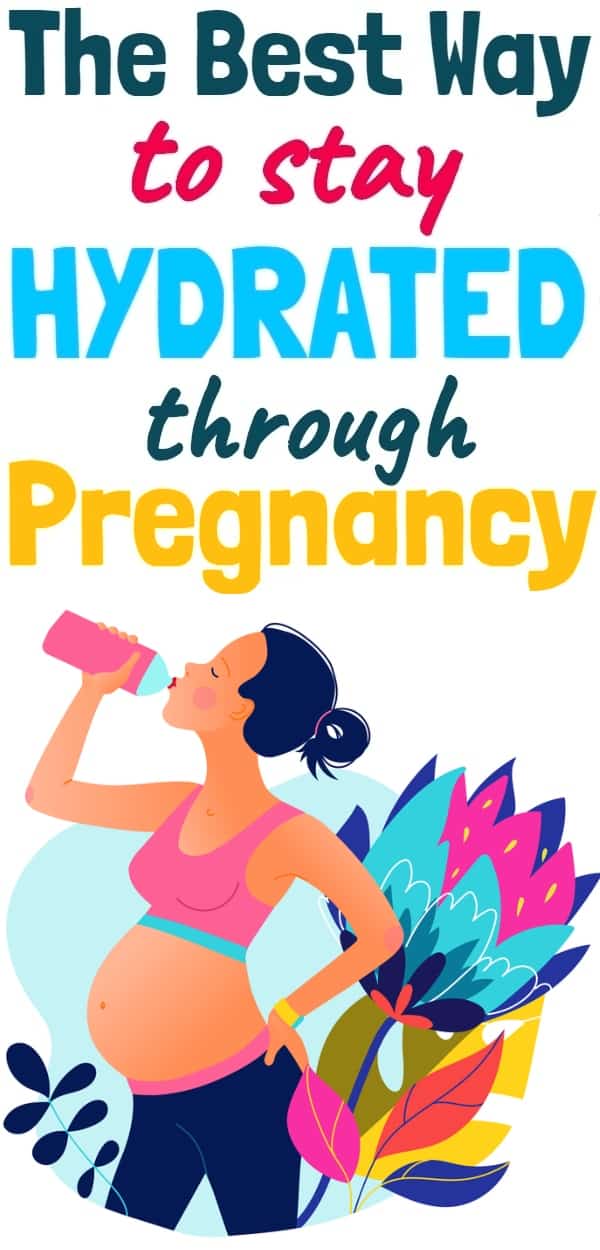 Best Mom Water Bottles: Pregnancy & Breastfeeding