Necessities to Stock Up On Before Baby
What do you need for baby? Well, Mama, I'm right in the thick of it, with a 4-month-old and a toddler, so I thought I'd share what things you're gonna want on-hand.
Baby showers are awesome (and let's face it, one of the few upsides to being miserably pregnant,) but people get caught up buying the cute onesies or the fun accessories. Some wise mom might be thoughtful enough to make you a gift basket of the practical stuff you'll need for baby, but more often than not nobody's got time for that.
It's best to be safe and stock up on some of these simple and cheap necessities now, because girl, when you need these items, you need them RIGHT then. Babies don't tend to wait patiently for you to run to the store and grab what they need real quick…and they'll TELL you about it if you're not prepared.
Luckily, we are spoiled with the ability to stock up on what we need with a few clicks. We can avoid waddling through a store in our third trimester trying to get every last minute item we'll need for Baby.
So here's my list of less flashy, but super needed baby items for you to stock your home with as you prepare for baby.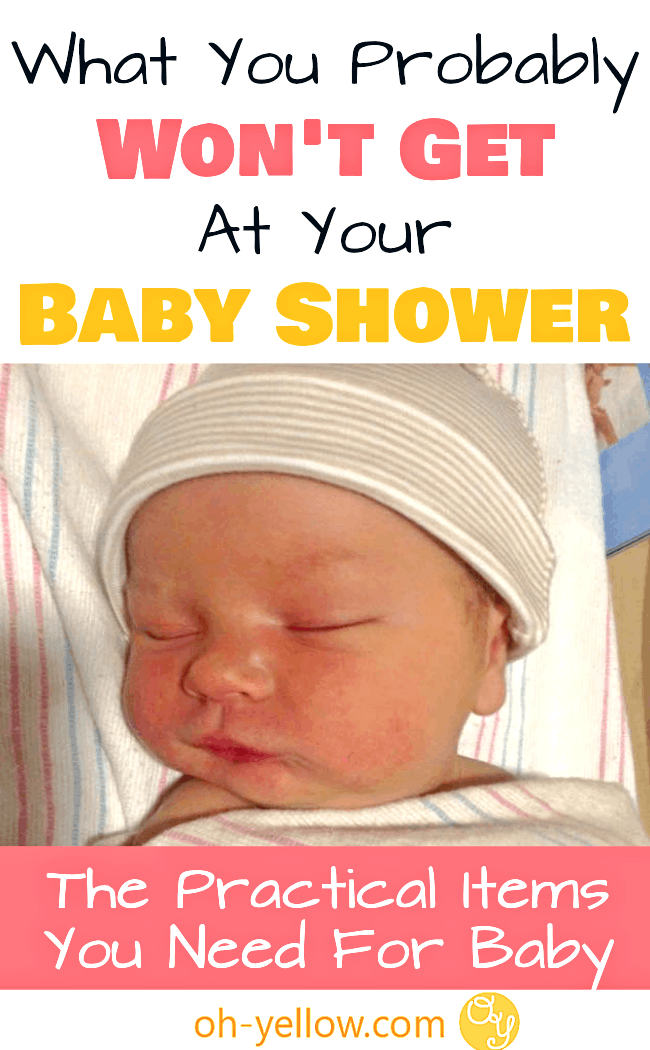 *This post may contain affiliate links. Please see my disclosure for details.
Practical Items you Need for Baby
Baby Tylenol – Baby fevers are scary and unpredictable. You do not want to be unprepared for this one. Thankfully, most of the time it's nothing too concerning, but when Baby is cranky and hurting, you want to have meds ready to dig out of the cabinet.
Boogie Wipes – These are AMAZING. You want these wipes in your diaper bag. Messes are inevitable with babies. These wipes are super soft and gentle and won't leave a disgusting chemical taste on Baby's hands and face. Plus, they have saline to help keep Baby's nose clean when wiping away dry boogies and snot.
Boogie Bulb – Speaking of boogies, this nasal syringe is the best. I know, you're thinking, "I got one in my Baby Grooming Kit at my last shower." Let me tell you, those kits are CHEAP. Those booger suckers just don't work. Even the one we got from the hospital was sub-par. But this thing works like a charm for grabbing stray boogies that are clogging baby's nose. It's a must-have when Baby is nursing and can't breathe through their nose because of a cold. It's also great in case baby starts gagging on spit-up. The best part is it comes apart at the top so you can actually clean it. It's totally worth the extra few bucks, trust me.
Vaseline and Gauze – If you're having a boy and circumcising, you'll need Vaseline and gauze pads to care for his little thing. Not exactly a glamorous baby shower gift, but necessary things to have on-hand when baby comes home.
Thermometer – Don't skimp on this one. You want to KNOW if Baby has a temp. Get a thermometer you can trust, like this one. It costs a few more bucks, but it's a lot quicker and more pleasant than taking a fussy baby's temperature from the other end.
Sassy Sacks – I lovvve these. Grab several packs. Babies poop. A lot. And it stinks. A lot. These little bags are great for tossing diapers in when you can't get to a trash can, like in the car. We use them at our Pack-n-Play changing station in our bedroom, so we can load up several loads without making a thousand trips to the trash can or stinking up our room.

Gas Drops – Another thing you do NOT want to NOT have. Even in the first few weeks, babies get gassy and may need a quick middle-of-the-night dose to settle their poor tummies. Don't wait until your first stressful event of not having these drops to buy them. Get them now, you won't regret it.
Gripe Water – Same same. Gripe water is great for when you have NO IDEA why baby is crying. Which can happen…often. A lot of babies love this stuff. It's gentle on their tummies and the taste really helps them reset when they are inconsolable. It's also pretty effective for those obnoxious, sleep-interrupting hiccups. Go ahead and have it ready to grab in the middle of the night when nothing is working to soothe your little one.
Nail Scissors – Again, I know those little kits come with nail clippers…but Mama, those things are cheap-o. Plus, good luck using actual clippers on a newborn's tiny nails. These scissors are fantastic. They are tiny, but so precise. You get so much more control over where you're clipping. That's important when you're trying not to cut that sweet little babe's itty bitty fingers. And best of all, they're crazy cheap. I've been using my pair for over 2 years. Love 'em. These might be my number one recommendation for what new moms need for Baby.
Q tips – Teeny tiny ears need teeny tiny q-tips. You won't believe how quickly and how OFTEN you need to clean a baby's ears. This is one of those things that most people don't think to have ready. Get some now and avoid excess earwax and a trip to the store later.

Teething Gel – Did you know babies can start teething as early as 3 months?! Yeah…neither did I. Thankfully, I still had this amazing gel from my toddler's baby days when my new baby started cutting teeth out of nowhere. I was SO glad I had this stuff already. It's natural and reallllly soothing for baby. The company who makes it is my favorite (especially for sleep products,) so I highly recommend them. I just couldn't believe it when I felt that tooth coming through at 3-months-old. Be ready just in case, Mama.
Hangers – You can never have enough hangers. Even if you get a couple packs at a shower, I'm willing to bet you'll get like 5 times as many clothes. If you already have hangers ready, you can wash and hang all those cute outfits now and get them out of the nursery floor. One less thing to worry about when you're waiting to go into labor.
Hand Sanitizer – During the newborn months, I like to have sanitizer at each diaper changing station (one on each level) and in the kitchen and living room. My son was born at the start of flu season and people lovvve to come visit so they can hold a tiny baby. Having hand sanitizer on the table is a great reminder for them to wash up before asking to hold your baby. And it takes the awkwardness out of asking them to wash their hands.
Ok, Mama, now go stock up on what you are definitely going to need for baby. Things are about to get wonderfully crazy.
And if you're looking for other ways to get ready for life with a new baby (including breastfeeding and postpartum,) check out my post on How To Prepare for Newborn Life While You're Still Pregnant.
Follow me on Pinterest for more helpful tips about pregnancy and life as a new mom!