From Summer Maternity Clothes to Being Pregnant at the Beach:
Your Summer Pregnancy Survival Guide
Summer pregnancy can be rough, I know. I've been pregnant in summer (like SUPER pregnant.) TWICE.
Both times I was struggling hard. But I did find some vices and some hacks that made things easier. Don't worry, I'm happy to share.
I wanted to go into more than just summer pregnancy announcement ideas and summer maternity outfits (but I cover those too!)
Here I've created a thorough guide of exactly what you'll need to know, to have, and to do in order to survive a summer pregnancy.
You'll find answers to common questions from:
"Do I need to worry about heat exposure while pregnant?"
to
"What summer maternity clothes are essential?"
Let's get started, this summer is gonna be good.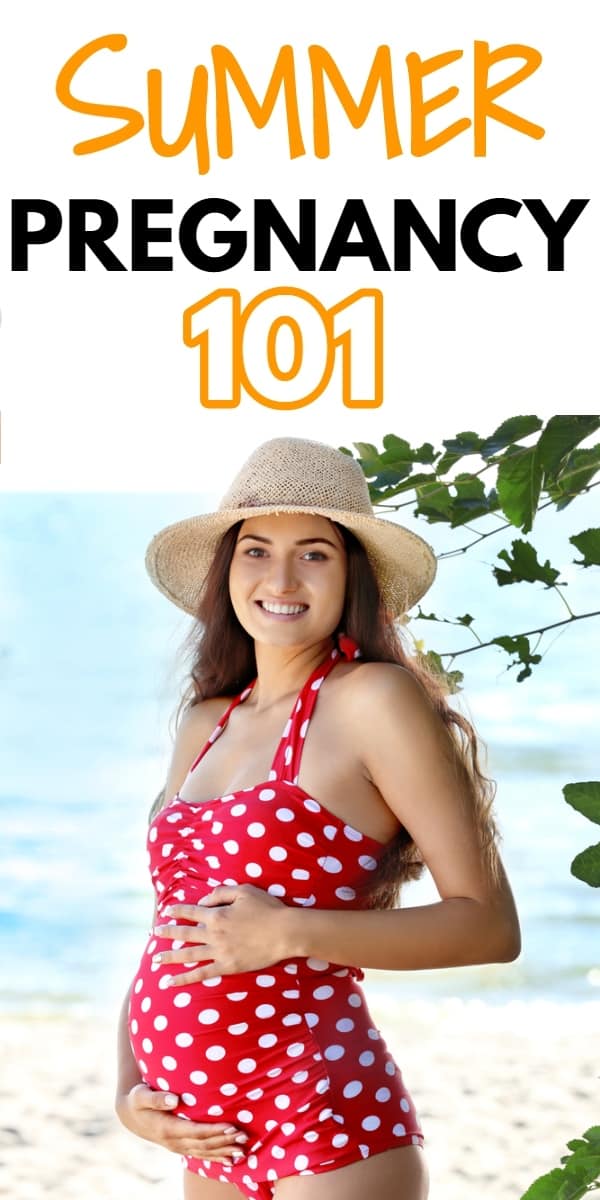 How to Survive a Summer Pregnancy
This post may contain affiliate links. Please see my disclosure for details.
1. Summer Pregnancy Must-Haves
Being pregnant in summer is like going camping.
You're excited and all, but you also know there are gonna be some rough parts and you've gotta be prepared.
Considered the following items your summer pregnancy toolkit.
I can vouch for all of these items and I'm positive they will make those hot months A LOT more bearable.
Sunscreen – This is important, Mama! You want a broad spectrum, at least SPF 30 sunscreen, preferably oxybenzone-free.
Pregnancy causes our skin to become even more sensitive to the dangers of sun exposure.
Even those sneaky UV rays that catch us when we're not directly in the sun are a threat.
Choose from a list of safe sunscreen for pregnant women (this is a great article on the subject.)
I like to go with something gentle, like this sunscreen, when pregnant. This sprayable kind is another good option.
Go ahead and buy this early on in summer. Sunburn while uncomfortably pregnant? Yeah, no thank you.
Safer Bug spray – Pregnancy means not only protecting yourself from bugs and their itchy bites, but protecting Baby from their potential diseases.
Remember that major Zika pregnancy scare?
Depending on how much and how long you'll really be outdoors, you may want to have one or two varieties of bug spray on hand.
Different formulas are better for different needs.
This kind is an all-natural, pregnancy safe bug spray great for everyday use.
But I also recommend keeping something stronger at the ready for lake days, camping, travel, or areas where disease is more of a danger.
This exact brand is my go-to, "tough stuff" bug spray while pregnant.
Handheld Fan – Girrrrl. Being pregnant in summer means being HOT.
A classic pregnant mama hack is to keep a handheld fan, like this one, with you wherever you go.
If you want some extra cooling, try one like this that has a mister as well.
Sun Hat – Wearing a hat is another great way to shield your sensitive skin from the harmful and hot sun.
These are so cute and somehow look even cuter on a pregnant woman. I consider this a summer pregnancy must-have for sure.
Sandals – Don't let the rumors fool you, morning sickness and swollen ankles aren't the only pregnancy probs coming your way. Many women (like me, twice) experience extremely sore feet.
I discovered these awesome sandals with my first and I wore them EVERY DAY of my pregnancy. They are super comfortable, versatile, and easy to dress up or down. These are must-have summer pregnancy shoes beyond worth buying.
Update: I just got these sandals too (same sole, different top) and they are fantastic as well.
I really like the flip flop style without the plastic cheapo look of other flops.
They are just as comfy and supportive as my first pair and really easy to slide on in a hurry.
Water Bottle – Being preggers means drinking tons of water, but a summer pregnancy requires even more hydration.
Keep a good quality, non-plastic water bottle with you ALL THE TIME.
Get use to it too, because breastfeeding means downing a whole lotta water a day.
This is my favorite water bottle ever.
I love that it keeps things super cold (a must in summer) and it's easy to tote around when your hands are full…
…which is always once Baby arrives. 
(See my post on staying hydrated in pregnancy: 5 Top Water Bottles for Pregnancy and Breastfeeding.)
Silk Pillow Case – How am I just recently discovering this?
If you get hot or uncomfortable at night (being preggers will do that to ya) get one of these amazing, inexpensive pillow cases.
No more waking to flip your pillow.
Plus it's pretty and JUST for Mama.
Or they do make awesome cooling pillows which make a world of difference.
Maternity Swimsuit – Plan on hitting the water as much as possible to cool off this summer.
I really like to do one-piece maternity bathing suits while pregnant because I feel like it's that much more protection from the sun.
Plus, they make some pretty fantastic ones. This is one of my top picks this year.
Hair Ties and Headbands – Instead of chopping off your hair to avoid the hot feeling on your neck, invest in some great hair ties and headbands.
A ponytail or bun is a lot cooler than keeping shorter hair down anyway.
I've also started embracing headbands.
These are cute and they hold back frizzy humidity hairs.
And I love this kind for a more athletic look that's also super comfy.
It'll also come in super handy to have these during the not-so-fun postpartum hair loss stage or if you simply don't have time to shower.
2. Summer Maternity Clothes
We can't talk about being pregnant in summer time without mentioning summer pregnancy outfits, right?
I recommend grabbing a few basics, but not going overboard.
Staple items to mix and match & get you through the hot days:
Summer Maternity Dresses – You want them.
Trust me. I spent just about my entire first pregnancy in either a dress or maternity leggings. They are flowing, comfy, and flattering.
Wearing a pretty sundress takes the "ick" feeling out of being rounder than usual and makes us feel fun, flirty, and beautiful.
I love this summer maternity dress, also perfect for breastfeeding!
And I like to keep at least one maxi dress (I like this one) ready for a spontaneous outing, date night or wedding.
And then there's this style, which is a staple item you definitely want in your summer maternity wardrobe.
Maternity Shorts – Definitely get you some shorts to wear when it's HOT.
I lovvve my yoga shorts. They are super comfy for postpartum too.
I also liked having at least one pair of jean maternity shorts during my summer pregnancies.
I could wear them with multiple outfits, dress them up or down, and they were comfortable without looking like lounge-wear.
These are great and actually LOOK great, not just like you're settling for maternity shorts because it's all that'll fit.
Maternity Tank Tops – I highly recommend stocking up on several basic tanks.
These are really good.
They come in a bunch of different styles and can be worn as undershirts or as a simple top to stay cool.
I wore a different one of these like every single day of my pregnancy. WELL worth investing in a few.
Fun Maternity Shirt – So you gotta have at least one maternity shirt that makes you giggle, right?
I find these clever, cute, and just fun to wear.
From adorable summer tops to shirts warning strangers not to touch, there are designs for every variety of mama-to-be.
These are a few of my top picks: the tank, the tee, the funny.
3. Pregnant Swimming
Many newly pregnant women have a lot of questions about swimming during pregnancy.
I'll try to briefly cover the most common questions so that you can enjoy your summer without any worry.
Is it safe to swim while pregnant?
Yep. Unless your OB/GYN has specifically recommended that your body or your baby may be in danger from swimming, it's considered perfectly safe to swim during pregnancy.
In fact, swimming is one of the healthiest forms of exercise for pregnant women!
Keep it leisurely if you were not a highly active swimmer prior to pregnancy.
Growing another human is not the time to take up competitive swimming.
BUT health professionals agree that maintaining your usual level of fitness is a great way to ensure a healthy pregnancy.
And hitting the pool is a really good way to do that.
And as a bonus, pregnant women typically LOVE swimming, especially in their third trimester, because it helps them feel weightless.
Is chlorine safe during pregnancy?
In moderation, it is considered safe to swim in chlorinated pools while pregnant.
Just don't swim for hours on end or float in a highly chlorinated pool all day.
If you're unsure about safe levels of chlorine being used in a certain facility, double check with administrators.
And of course, if you're uncomfortable dipping all the way into a pool, lounging near the water and dipping your feet to stay cool is always a nice alternative.
This post goes into more detail on the chlorine subject.
Are hot tubs safe during pregnancy?
Nope. According to the American College of Obstetricians and Gynecologists, hot tubs raise a person's body temperature to a high level that is unsafe for unborn babies.
As a rule, avoid very hot waters while pregnant.
If you're with a group who wants to hang in a hot tub, don't feel like you have to miss out completely.
Pull up a chair, prop up your feet, and sip a tasty mocktail while you join in the conversation.
This is a great resource for more information on hot tubs and pregnancy.
Swimming During Pregnancy Precautions:
Swimming is truly one of the most fun ways to escape the summer heat, but there are a few tips to keep in mind:
Stay hydrated while swimming, both indoors and outdoors.

Never swim alone.

If you feel dizzy, light-headed or at all unwell, get out of the water to be safe. Pay attention to what your body is telling you and if you feel uneasy, take a break and let someone with you know.

Avoid water that you're unsure about. There are a few contamination concerns when swimming while pregnant, so if a certain body of water seems iffy, avoid going in above your knees.

Unless you were swimming in an athletic capacity prior to pregnancy, view it as a relaxing activity or a light form of exercise. 
4. Pregnant at the Beach
I knew this would be an important topic to cover when I decide to write about summer pregnancy.
Everybody loves hitting the beach in the summertime, but being pregnant complicates things just a tad and raises a few questions.
Let's see if we can ease your mind, k?
First of all, if you haven't yet, plan a babymoon.
Your last chance to get away just the two of you before Baby is a BIG deal! Enjoy it!
You can go almost anywhere for a babymoon, but my favorite is the beach.
It's the perfect place to sit back, relax, and enjoy the quiet…before there is no more quiet.
Babies = loud.
Then toddlers = even louder.
So grab your man, your favorite book, and your cute maternity swimsuit and hit the ocean.

8 Tips for going to the beach while pregnant:
1. Take an insulated bag

– Thank me later for this.
You're going to want some snacks with you on the beach, right?
Some munchies to keep you from getting nauseous, light-headed, or ya know, hungry.
I MUCH prefer an insulated bag to a ice chest on the beach. This one is great.
It's much lighter and easier to carry, plus you can throw in other items like a change of clothes, your phone, etc. and keep them from overheating or getting wet.
2. Stay somewhere near the water – If you have any say in where you are staying, splurge on somewhere not too far from the water.
Preggers don't need to be hiking a long distance across sand in the hot sun.
I really love staying at a beach resort because I can hop in the golf cart and head back to rest in our room if I can't hang until the group is ready.
3. Relax – Let yourself CHILL. Like really, really relax.
Not just on the ocean-side, but at the room, at the pool, and on the drive.
You won't get to do this quite so much after Baby arrives.
I learned the hard way that even while on vacation, new moms need a vacation.
So enjoy while you can.
4. No shame – Please don't stress over how you look in your swimsuit on the beach.
The majority of adult women have stretch marks or parts of their body they don't love.
You are pregnant! Growing human life! That's amazing!
Who cares if you don't look like you did last summer…that's kinda the point.
Rock your bump and all the little perfect imperfections that have come with it.
5. Take your Yeti – Bring a Yeti Rambler or other cute insulated cup to keep yummy drinks in.
This way you can sip on it for a while to stay cool without it melting in 5 minutes.
Your friends or hubby might be indulging in some drinks that you can't have, so fill your rambler with a virgin daiquiri or frozen limeade and sip alongside them.
Why should they have all the fun?
6. Be strategic – If you can adjust the time of year you travel to the beach, shoot for early summer or early fall, when it's cooler.
Don't melt and risk overheating.
If you do go when it's super hot, wait to hit the sand until the timing is right.
Go in the morning when it's beautiful and quiet and head back for an early lunch when it heats up.
Or go in the early evening when it starts to cool off and all the wild beach-goers are packing up for the day.
7. Nap in hottest part of the day – Since you'll be avoiding the beach during the hottest hours, take the opportunity to NAP.
Pregnant mamas get tired. And being in the sun takes a lot out of us anyway.
Rest up when it's hot out and refuel for a fun evening.
8. Take a few pictures – Try to get a few pictures of your bump at the beach.
It just makes such a beautiful canvas and I think you'll regret it if you don't snap at least one.
If you want to go all out, put on a fabulous maternity dress (like this one) and do a full-on maternity photo shoot at sunset.
Risks for women pregnant at the beach:
The main risks posed to women pregnant at the beach are similar to what I mention in detail throughout this post: sun exposure, heat exposure, and being unsafe near the water.
Following these simple tips will help ensure a fun, low-stress trip to the beach:
Use a pregnancy-safe sunscreen and reapply often.

Stay hydrated and keep cool using your new must-have gear: a

water bottle

,

misting fan

,

sun hat

, and

beach umbrella

.

Listen to your body and stick with a buddy. If you do happen to become ill or injured at the beach, you want someone there to respond asap. (So just promise me you won't go off on a long solo hunt for seashells and get lost, ok? Ok.)
A quick note about sunbathing when pregnant:
I know it's tempting to lay out while at the pool or at the beach, but the truth is that sunbathing during pregnancy isn't a great idea.
You may be increasing your tan, but you're also increasing your risk of sunburn, overheating, and excessive heat exposure.
This resource has some great info on the subject as well as some good info on sun tanning while pregnant and the practice of artificial tanning.
As far as the safety of swimming in the ocean while pregnant, the best advice I can give you is to talk with your OB/GYN first.
Specialists are required to be up-to-date on the latest research concerning their patients and your provider will know the specifics of your body and your baby's health.
And as with swimming in a pool, lake, or other body of water, if you're uncomfortable with the safety of the water, stick to only getting in from the knees down.
Sitting on the shore and letting the waves splash your legs, or taking a romantic walk alongside the water is still a great way to enjoy your vacation.
If you do decide to go for a dip, just try not to ingest the seawater.
5. Overheating and Pregnancy
Extremely hot summers are concerning for pregnant mamas, leaving a lot of questions about what to avoid and how to be prepared.
According to the CDC, pregnant women are more susceptible to heat exhaustion as their body must work twice as hard to cool the baby's body as well as the mother's.
Dehydration is another concern, meaning your body's usual go-to of sweating will not be as effective in cooling you down.
While very serious problems don't come into play until our bodies reach 102.2 degrees, women who are pregnant should take extra care to keep their body temp well below dangerous temps.
Particularly during the first few months and the last few months of pregnancy, avoid letting yourself feel overheated.
Aside from the obvious discomfort of the heat, pregnancy and heat exposure could lead to complications such as heat rash, premature labor, or even birth defects.
See this article for more information.
Tips to Stay Cool:
Embrace No Clothes – Yep. You heard me. If you're miserably hot and need to feel cooler, lose the clingy clothes and let yourself feel comfortable. Draw the shades, turn on Netflix and hop in bed in your birthday suit. No judgement.
Drink Up – Staying hydrated will help your body do its job of keeping itself (and Baby) cool. Remember, it has to work extra hard, so you need extra water.
Scope out the Shade – Whether you're hitting the park, the outlet mall, or the beach, let yourself get into the habit of finding the shade from the get-go. Walk under awnings, lounge under trees, and invest in a

beach umbrella.

Fans = Friends – If you're feeling hot, don't just sit in it and sweat. Create some faux wind and let the breeze cool you down. Sleep with your fan on high, keep your A/C as low as your wallet can afford, and keep

one of these babies

in your bag.

Icey Treats – If there's ever a time to let yourself splurge on cold summer treats, it's while preggers. Keep your freezer stocked with popsicles (try to stick with healthier options,) find a go-to lemonade recipe, and practice the art of ordering the perfect mocktail.
6. Summer Pregnancy Announcement
Did you just find out that you're pregnant?! Congratulations!
Summer is a fantastic time to announce your big news.
Think about it.
Everybody is slowing down, relaxing, taking time off of work, and making time with family a priority.
Plus, it's a great time to get outside and celebrate some exciting news.
Here are a few ideas to get your creativity stirring…
Summer Pregnancy Announcement Ideas:
Intimate Photo Shoot
I love photo pregnancy announcements most because it gives the couple a really romantic private moment to remember forever.
You and your man can share your joy with the world, but also capture the excitement in really intimate way.
Head to the beach or somewhere beautiful that has some special significance to you.
Have a friend or photographer snap some candid and posed shots of you two (ahem, make that three) basking in anticipation.
And of course, include a clever way to announce the bun in your oven.
This is probably one of my favorite accessories for wearing during a summer pregnancy announcement…
Backyard BBQ with a Twist
If you're feeling up to hosting, invite friends and family over for a barbecue.
Fire up the grill, break out that delicious lemonade recipe, and wear a subtle, but adorable announcement shirt (like this.)
It'll be fun to see who notices and who doesn't quite make the connection until after you officially announce your pregnancy later on with a toast.
4th of July Celebration
Do you have a flare for the dramatic? Why not announce your pregnancy with a bang!?
Everybody tends to gather to celebrate on Independence Day anyway, so make this one extra special by sharing your big news before the fireworks take off.
What a fun way to tell everyone there's a little something else to celebrate!
Last Minute Getaway
Love this idea. When you find out you're expecting, casually call up your closest friends or your fam and plan an "impromptu" weekend getaway.
Book a cabin on the lake or a condo at the beach for a few days with the excuse of "it'll just be fun!"
Then while all of your closest loved ones are together you can reveal the big news!
By then, you may even have an ultrasound picture to share.
This is a perfect way to let your non-local bestie know in person before you spread the news to the rest of the world via Facebook.
If you're looking for some more creative ways to announce your pregnancy, check out this list.
7. Summer Activities for Preggers
If you're pregnant in summer, you might need some motivation (and distraction) to get you through it.
If you're having a really "off" prego day and you need a change of pace, try one of these fun activities.
OR if you're feeling especially adventurous, consider this a "Summer Pregnancy Bucket List" and try to do them all.
Of course, bring your bestie or your baby daddy along with you and make sure you have some FUN this summer.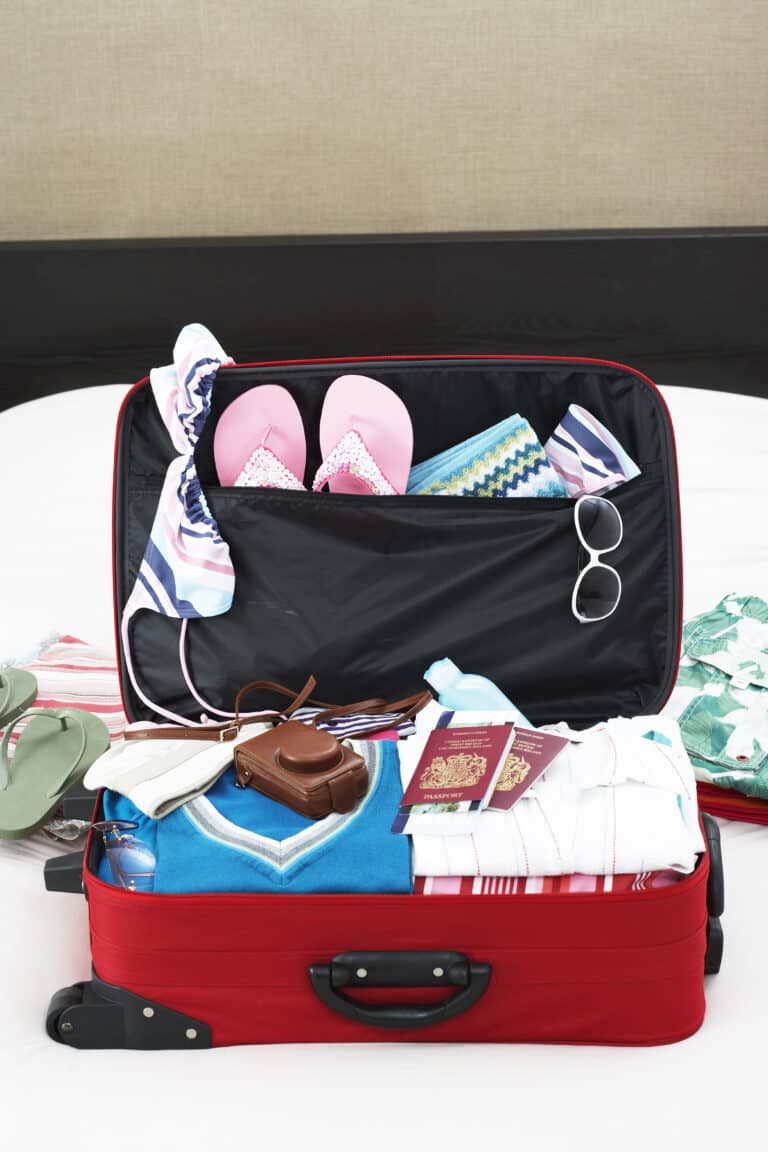 Chill at the park – I love parks.
That might be dorky, but hey, once you're a mama everything you do is a little dorky anyway.
Stroll along a pond, feed the ducks, revisit your youth on the swings and imagine bringing your sweet baby to play (it'll happen before you know it.)
Take an evening stroll – This is a good one to do with your honey. Wait til the sun is low and the heat lets up.
Hold hands and argue about baby names. Sweet memories in the making.
Go on a morning walk/run – After the morning sickness subsides and before the sun has had time to scorch the earth for the day, get that daily exercise in and enjoy the summer morning.
Starting your day off with fresh air and movement will do your body and your baby some good.
Drink A LOT of smoothies – If you're not already, being pregnant is the perfect time to start being sure you're getting your daily serving of fruit.
And summer is great because whipping up a smoothie is a delicious and healthy way to stay cool.
Use frozen fruit, greek yogurt, and blend to perfection. YUM.
Go camping – Well…if you're into that kind of thing.
Sleeping outside while pregnant isn't my idea of relaxing, but I get that some women really love nature and find it therapeutic.
Have your man do all the heavy lifting, go for a light hike, nap in a hammock and roast a few too many marshmallows.
Go on a picnic – This is so fun with a friend or Hubby.
We did this for Mother's Day last year and I treasure the memory.
Find a gorgeous spot, lay out a quilt, take a deck of cards and a camera.
Oh, and try rotisserie chicken wraps or BLT's since you're probably avoiding deli meat while pregnant.
Hit the beach – Of course, the beach has to be on our list of summer to-do's.
Sand castles, sea shells, and sun hats? Yes, please.
Don't forget to use my tips from the Pregnant at the Beach section above!
Nap – Girl, nap. Seriously. When Baby comes, you don't get to decide when you sleep anymore.
And if your baby is anything like mine, sleep will be rare.
During the hottest part of day, crank up the AC, draw the shades, and get those extra z's that I know your pregnant body is craving.
Mini golf – This is just a fun one.
Putt putt courses usually have shade and water features to keep things cool and it's just kind of a good change of pace.
Go with a girlfriend or make it a date and have a little summer fun. Just be sure to wear good shoes.
Tackle a fun project for Baby – One of my favorite things I did with my husband to prepare for our first baby was re-doing this old hutch we found.
From thrift store shopping, to choosing a color, to sanding and painting it, I just love the time we spent on it together.
Summer is a great time to get creative. Start that nesting and get to work!
Date night – At least once this summer, make Hubby take you out on a nice date.
I mean really nice.
Get super dressed up, splurge on a nice dinner, choose an activity a little more adventurous than binge watching Netflix and hit the town.
It'll be a fun night and the two of you may not get to do it again for quite a while.
Hit the pool – Obviously. At very least go read a book under an umbrella near a pool.
Make sure you read my tips above on Pregnant Swimming.
Have a movie marathon – If pregnancy has you on bedrest (or wishing you were) and you can't go out (or it's just too dang hot to leave the house) stay in and see how many classic 80's movies you can make it through in one day.
Or watch an entire series start to finish in one weekend. This is how true memories are made, right?
Take a babymoon – If you can AT ALL swing it, go on a babymoon this summer.
Before Baby arrives, go on one last fling with your man and spoil yourself.
Even if you can't make it a big thing, try to go on a weekend getaway and explore a new city.
Again, the days of just the two of you are numbered, so make the most of them now!
Go on a night drive – Ah, those summer nights. I'm channeling Grease here.
This can be really romantic actually. Stop and get milkshakes.
Drive with the windows down and the music up.
Try to scope out the perfect spot in your city where you can park and overlook the lights from a private spot as you snuggle on the hood.
Go to a drive-in movie – Same concept as above. Enjoy the warm evening air with your sweetie.
You'd be surprised how many of these old-fashioned drive-in movie theaters still exist.
Just google your area. Even if you have to drive an hour or so, it'll just be part of the summer adventure.
Grab some popcorn and make it and evening car date.
Take a road trip – If you're really into fun times in the car (and if motion sickness isn't an issue for you during pregnancy) take a few days to explore somewhere new with a couple of your favorite people.
Summer is a really great time to visit new places.
Cross a place you've always wanted to visit off your bucket list before you pop.
Pregnant in Summer (& more pregnancy tips)
Being pregnant in summer gets a bad rap because it's hot, you're huge, and everything is a little less comfortable (ok maybe it actually does kind of suck,) but there are definitely some ways to make it work for you.
Hopefully this Summer Pregnancy Survival Guide gave you everything you need for the hot days ahead.
For more awesome tips on being pregnant during Fall, Winter, and Spring, check out the rest of this series:
Pregnancy Through the Seasons.
I also have some more really helpful resources for pregnant women, like What You Probably Won't Get at Your Baby Shower and Last Minute Ways to Prepare for Baby.
And for more tips on pregnancy, babies, and life as a new mom, Follow me on Pinterest.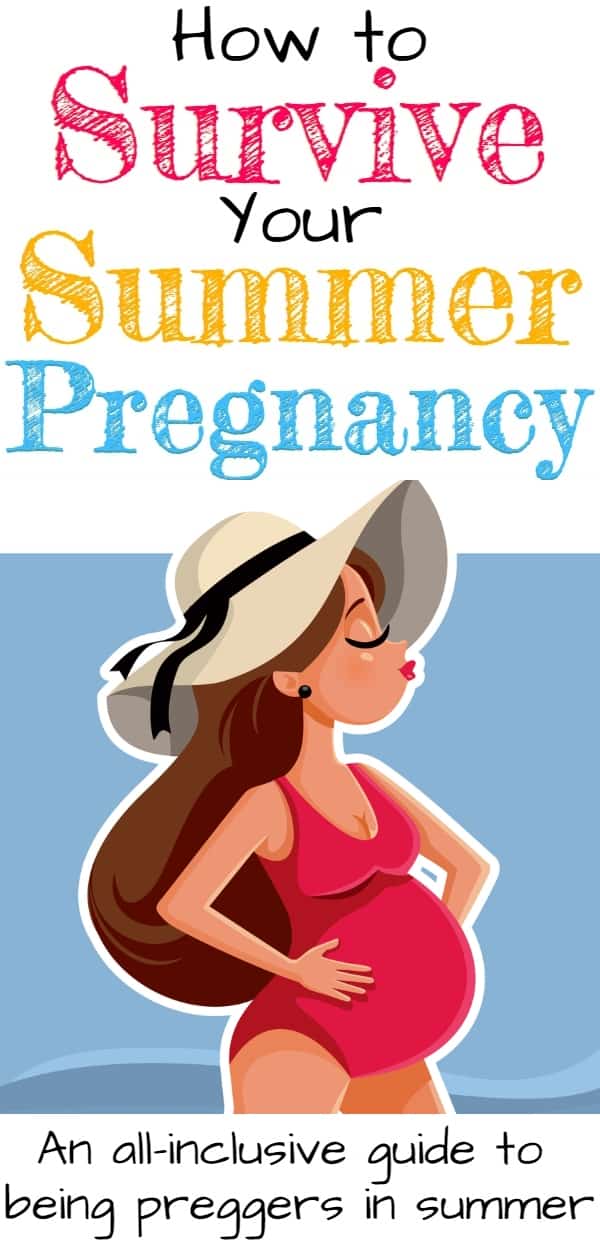 Summer Pregnancy Survival Guide