How to make Car Rides Less Stressful with a Baby Car Mirror
One of my FAVORITE mom hacks is having a backseat baby car mirror to make riding in the car easier. My babies have hated riding in their car seats and have cried throughout our road trips or even quick rides in town. I've picked up some awesome tips to keep from losing it while driving my little ones around (check them out) and one big one is the backseat mirror.
This is such a great way to connect with Baby while riding along. Sometimes little ones feel all alone back there, especially rear-facing, so making eye contact through a mirror really helps them feel close to you. It's also an awesome way to ease your baby's crying in the car seat. If this is a big problem for you, check out my simple tip to tame the screaming.
Having a baby car mirror is also a great safety measure, which is of course important to mamas. Being able to glance into your rear view mirror to check on Baby prevents turning around and being distracted while driving. Plus, this really gives such peace of mind when little ones are rear-facing. You can know that Baby is safe and happy, which takes a lot of the stress out of driving with little bitties.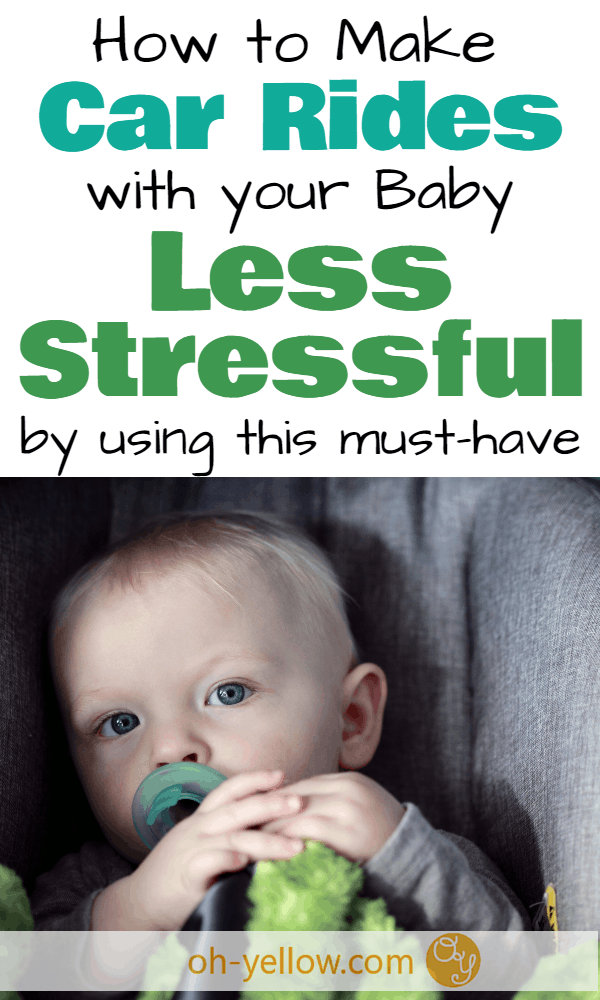 (This post may contain affiliate links. Please see my disclosure for details. I received this product in exchange for an honest review. I only share my true opinions.)
Recently, an awesome company called SeeUBaby asked me to try out their car mirror and organizer set. Since I now have TWO kiddos back there, I was excited to try it out and share my honest opinion with you guys.
Normally I recommend the mirror I got at my baby shower with my first son. This one. It's been great so far, but I haven't had anything to compare it to. We got the chance to try these two mirrors side by side with our infant and toddler.
My first impression of the SeeUBaby car mirror is that it's smaller than the DaffaDoot baby car mirror.
At first, I thought this might be a negative, but I actually really like that it is so much less bulky. Our back seat is cramped enough with our big car seats and all the toys and accessories my tot and baby require.
With the DaffaDoot mirror, we tend to bump it out of place with our shoulder when we are getting the kids in and out of their car seats. It can be really frustrating to start driving and then realize the mirror is out of place. The SeeUBaby mirror doesn't stick out from the headrest as far, so it stays in place. It also adjusts easily and stays put despite bumping along on the road. The best part is that even with a smaller face, I can still see my little one perfectly.
The glass is very clear and doesn't give that weird Fun House look. Baby really loves seeing his reflection and making faces at himself. I also think it helps him fall asleep when we are riding for a while. It soothes him to see himself getting drowsy and entertains him to watch himself paly when he is awake.
My favorite part of this set is the organizer. We put it behind the driver seat (because my husband drives my car a lot and I can reach it better from the passenger side.) It's really easy to reach over and grab toys for my toddler without digging around in the backseat. I can also easily grab my baby's Wubba Nub or a little rattle for him when he gets fussy. It's perfect for extra diapers, wipes, and boogie wipes (I highly recommend keeping those items in your car for baby emergencies.)
My floorboard is so happy and clean now that all of our stuff has a home! Why didn't I use one of these organizers before?!

The most important thing to note about this set is that it's actually less expensive than the other baby car mirror I have mentioned. Considering you get the awesome organizer too, it's really a great deal. I love finding truly helpful products to make new moms' lives easier. And when I find something that fits into the usual tight budget of someone trying to afford a new baby, I'm so excited to share.
I'd definitely recommend the SeeUBaby Car mirror set for new moms, or even moms with toddlers. (They kinda get used to seeing themselves and might get frustrated if a new sibling steals their mirror away.) This would also be a fantastic baby shower gift for a mom-to-be.
Most of all, I really believe that baby car mirrors keep babies happier while strapped in to their carseat. If you're a mom, you know what I mean. It takes some getting used to to stock the diaper bag, change and dress baby, load up the gear in the car and hit the road on time. We don't need fussy babies on the trip on top of that.
So if you're looking for awesome products for Baby, I absolutely suggest getting a SeeUBaby baby car mirror and organizer. It's definitely a must-have. Good luck, Mama. I hope this great set gives you one less thing to stress over. We mamas need all the help we can get.
Find the SeeUBaby car mirror and organizer on Amazon here. 
And for more tips on what you really need for Baby, check out my posts 7 Baby Must-Haves and What You Probably Won't Get at Your Baby Shower.
Follow me on Pinterest for my latest posts on pregnancy and life as a new mom.