Stop Your Baby's Crying in the Car with a Simple Tip
Baby crying in the car? It's so miserable, I know. Even on short trips, like to the store, our babies have hated being strapped into their car seats. And they make sure we know it.
Does this sound familiar? You're finally out of the door, lugging baby and all the necessary gear. You hit the driveway with a sigh of relief. Ok, phew, here we go…
Then it starts.
The fussing…quickly followed by baby crying…escalating into screaming. You shush and sing and call out Baby's name, but nothing is going to cut it. You bend backwards at every stoplight, trying to reach the pacifier and convince that little angry mouth to latch on. You start considering turning around or possibly never leaving the house again. It feels like it's been going on forever. You glance at the clock and see it's only been 5 minutes. Already, you can't take it anymore!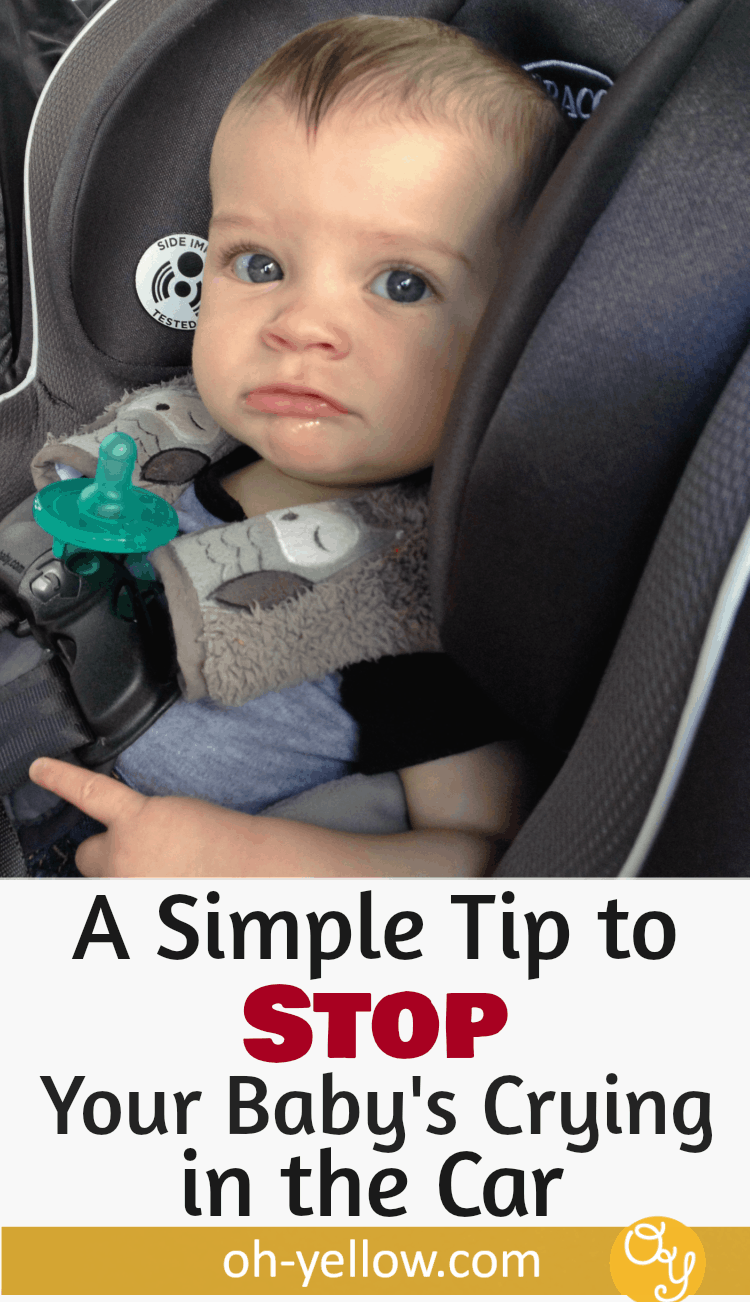 *This post may contain affiliate links. Please see my disclosure for details.
There are a lot of things in parenting that can make us crazy, but my husband and I have decided that this is one of the surest ways to make us snap. When you're stuck in a tiny cab with a furious baby and there's nothing you can do about it, it feels unbearable. I mean, HOW can those little lungs make that much noise?
We are willing to try ANY thing that may help. I recently discovered a little tip, so I had to share it with you. Here is my advice to stop Baby crying in the car.
How to Prevent Baby Crying in the Car
First off, cover all of your bases.
Start with Baby's basic needs. Before you leave the house, make a fresh diaper one of the last things you do. A dry baby is a happy baby, right? Theoretically.
Also, feed Baby as close to leaving as you can. You want to be sure that your little one's tummy is full so they feel nice and content. Follow that by the best burp job of your life. Don't risk any additional crying because of gas discomfort.
If you're going to be in the car a while, put Baby in something extra comfortable. That fashionable outfit may be cute, but if Baby is sweating in layers or annoyed by an itchy tag or zipper, you'll wish you had sacrificed style for silence reeaal quick.
Once Baby is buckled in, do what you can to make him comfortable. Make sure the chest strap in snug high on his chest, but not too tight. Use sun shades to keep glares from blinding Baby and angering him even more. Give him something to comfort him like a pacifier or soft toy to grab. Here's what we use and it doubles as both.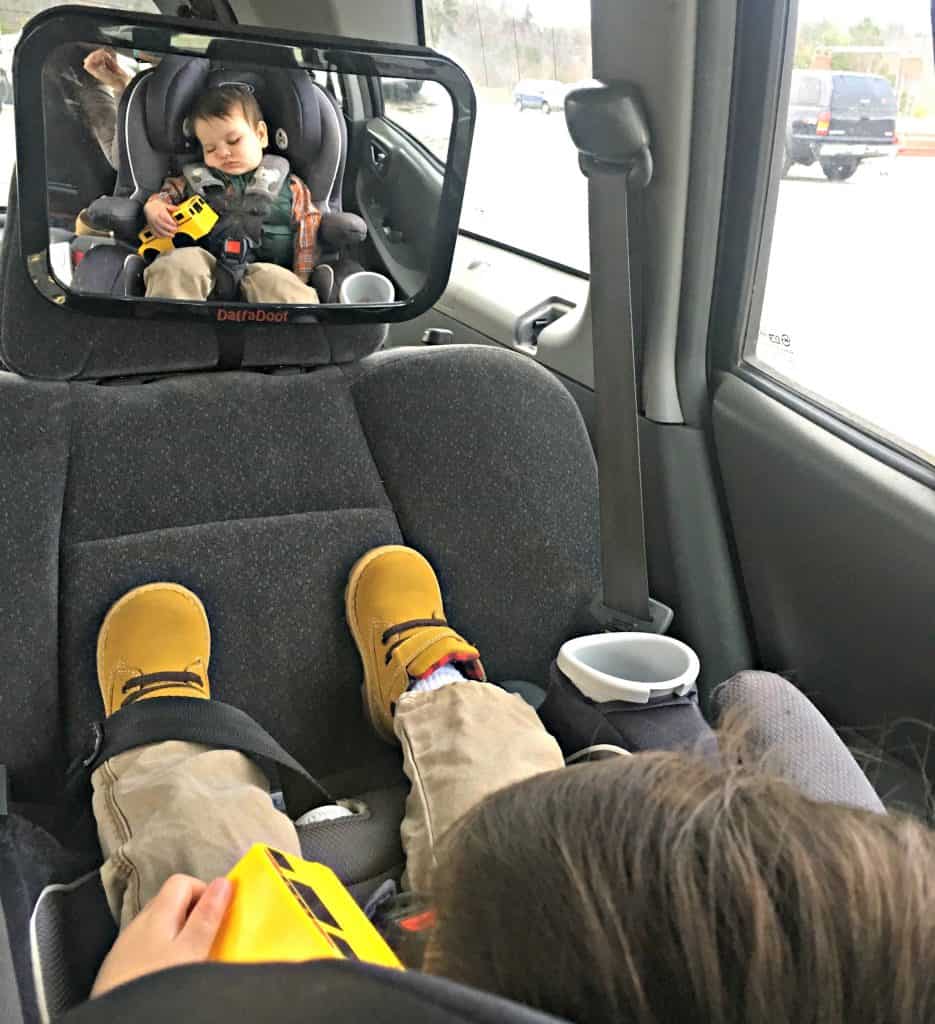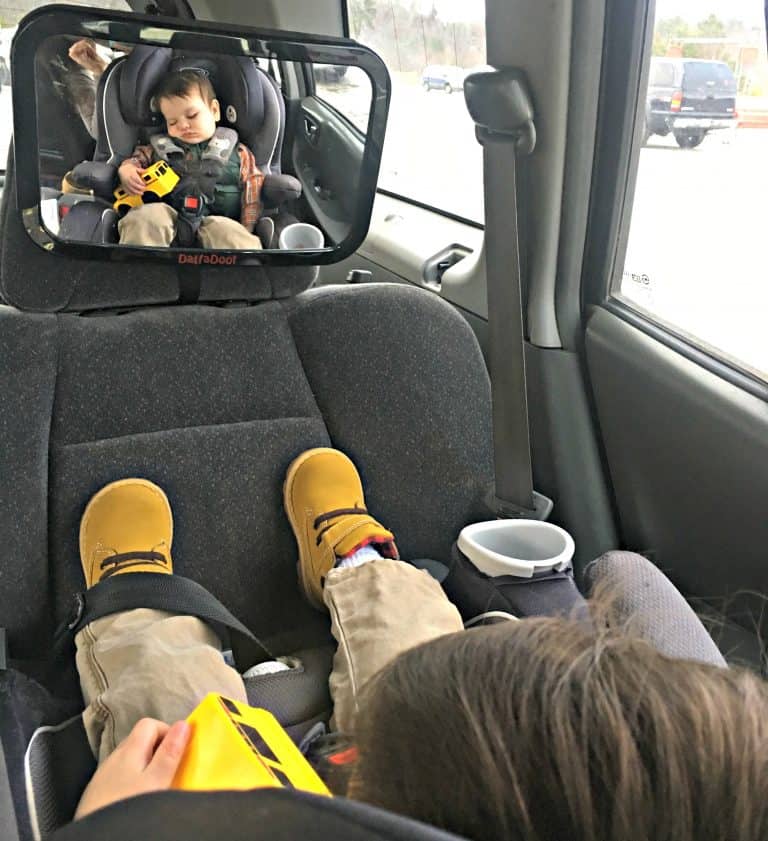 I highly recommend using a mirror to help Baby feel less isolated. This one is pictured above, but check out my comparison of these two great baby car mirror options. This helped a ton with my first, especially once he was a little older. You can look back and make eye contact at stoplights to help your little one feel included. It's so cute to see their face light up when they realize they can see you! It also makes a huge difference that they can see themselves, because it's no fun to be rear-facing and staring at a headrest for a year.
Once you're settled up front, adjust the heat or air so that temperature isn't a factor in Baby's fussiness. Do everything you can think of to rule out what might be making your baby scream.
Extra tip:
If Baby is especially cranky in the car, consider their car seat. Think about it. If you were tightly strapped into a rigid, uncomfortable box would probably be fussy too. This can be really hard for them if they are in a carrier seat in the car, in grocery stores, at restaurants, and during other outings. Try to limit Baby's time in the seat.
I highly recommend switching over to a convertible car seat as soon as possible. You'll end up using one before long anyway and they tend to be designed for comfort since little ones are in them as they grow. This is the one we are using with our second. It's highly rated, popular, and we just really like it. Tons of padding, easy to install, easy to clean, and it works as Baby's ONLY carseat and booster until they are ready to ride like a big kid. Win.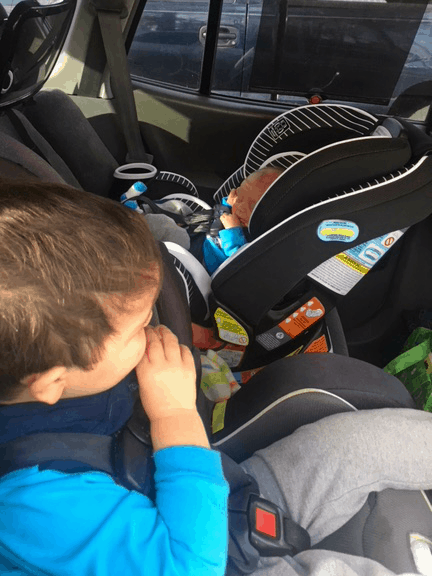 How to STOP Baby Crying in the Car
Ok, so if you're sure none of the above is causing Baby's vehicular freak-outs, you're probably really ready to try something, ANYthing, to make car rides less stressful. I get it.
Here's my new magic trick:
Unroll your windows.
I told you it was simple.
One day, when I COULD NOT take any more of the screaming and was ready to give up driving anywhere ever all together, I randomly decided to try this. My toddler loves driving with the windows down and pretending we are in a spaceship. Since he was in the back covering his poor little ears to drown out his sibling's screeches, I figured it might help lift his spirits too.
And you know what…
It worked.
Something about the sudden change of pressure, the loud windy sound, or the surprising breeze, stopped the crying. YAY!
I tried it for a minute or two, then rolled the windows back up. I didn't want him to get used to the feeling of the windows down and ruin the "magic." After a while, Baby started fussing again, so I tried it a second time…it worked! No more baby crying.
I've repeated this process on multiple different car trips with success. My husband has had great results too. I'm hoping it will be a cure-all for the car crying. I knew I had to pass it along for other parents who are equally desperate for peace.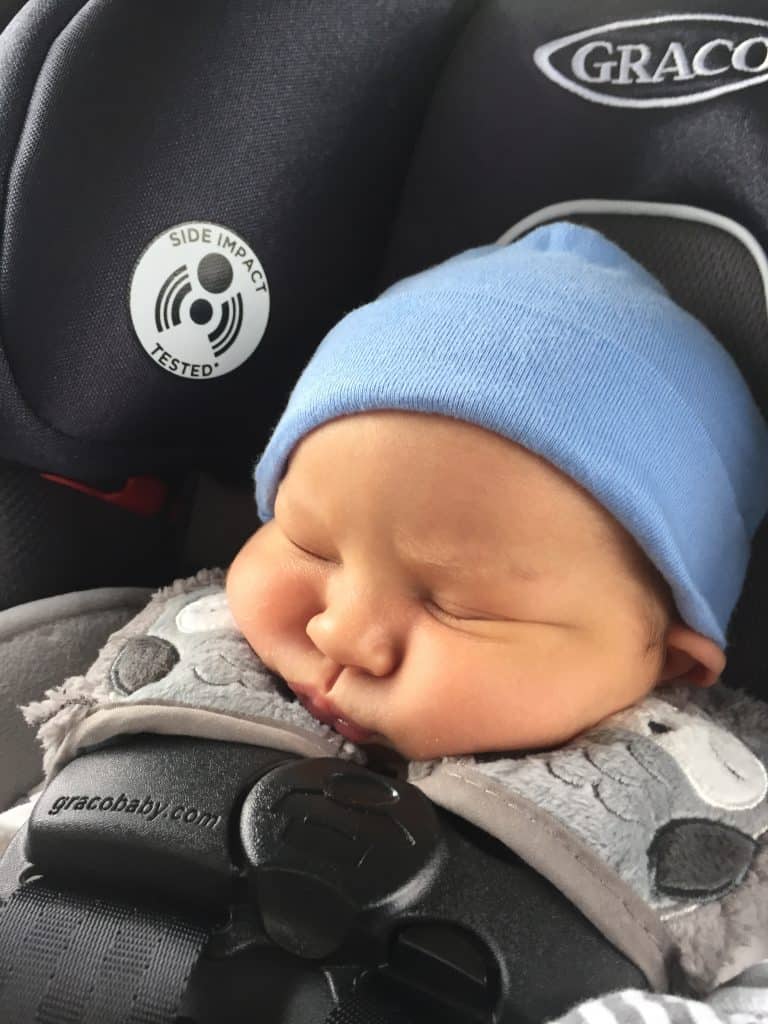 A Couple More Tips
One important note is that we only unroll the front windows. We have sunshades on the back ones and rolling them down would probably break the shades. Plus, I want to be careful not to get too much air blowing in Baby's face. This could make it difficult for him to breathe or upset him further.
Also, keep in mind that the changing pressure could affect Baby's ears, so keep an eye on him to be sure he is comfortable. (The mirror helps with this too.) We seem to have the best luck unrolling both front windows about halfway at the same time for short periods.
We have even done it in some light rain out of desperation! I didn't mind getting a little wet to stop Baby crying and using only the front windows seemed to prevent too much rain from getting on the kiddos.
Ok, so that's it! I hope this awesome tip does wonders for you too and brings some peace back to your car rides. Good luck, mama!
If you're pregnant or have a new baby check out some of my other helpful tips for new moms!