The BEST Gift for Babies, Toddlers, & Preschoolers (That They'll Play with EVERY DAY)
Gifts for toddlers and babies are tricky, right? You want to spoil them a little, but not buy them JUNK they'll never play with. I've been walking that line for years with my little ones and I finally found THE best toddler gift EVER.
If you have a baby or especially if you have more than one child under 6-years-old…BUY THIS!
Seriously, don't waste your money on multiple gifts for each kid that will clutter your home and barely get used.
Been there. Done that. No thank you.
Encourage play, imagination, and being ACTIVE in your little one! Giving this one simple and wonderful gift will meet so many of your baby or toddler's little needs.
And you'll love it too!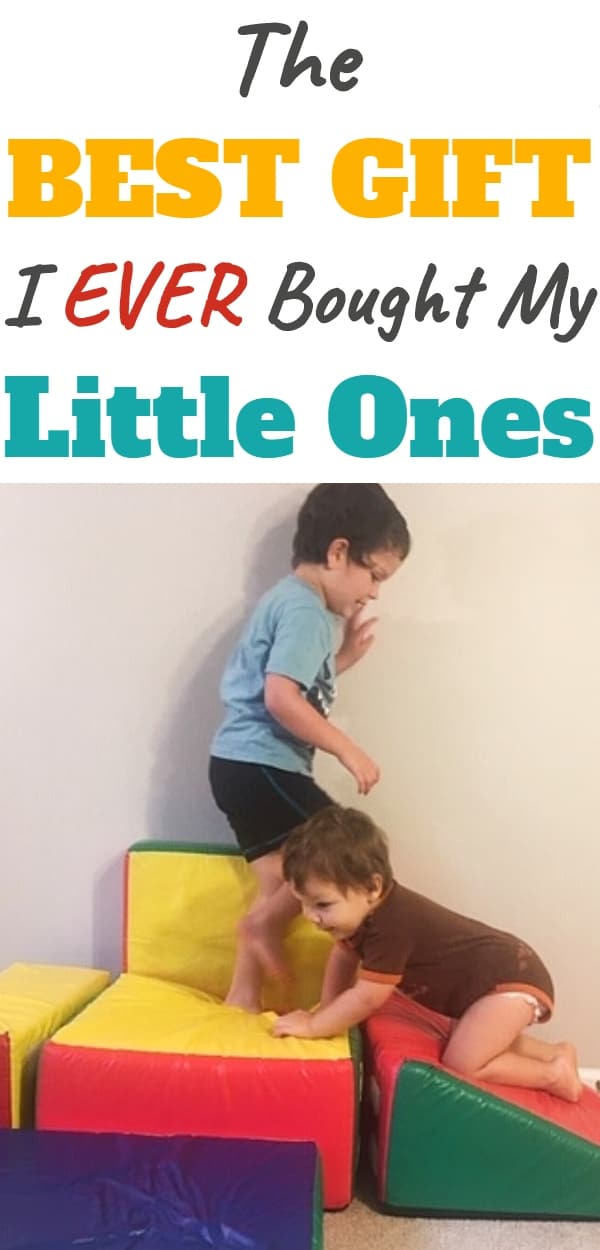 This post may contain affiliate links. Please see my disclosure for details.
Your New Favorite Baby & Toddler Gift
We found this amazing gift idea for our two-year-old and it instantly became our family's favorite play thing.
We were SO glad we bought it that we ended up buying another set to add on to it!
It's just that awesome.
I've been dying to share it with you guys and I just finally sat down and got to it. I genuinely recommend this as an amazing gift for your little ones, ages 6 months to 6 years!
And here's why:
It encourages PLAY

You child will think it's awesome

There are a million ways to use it

Babies and Toddlers will be ACTIVE on it

Your little one will use their imagination A LOT

Siblings will play with it TOGETHER

It's cheaper than buying multiple gifts for each kid

The whole fam can interact together

It's an INDOOR play dream

No screens & less clutter than toys with tiny pieces

They'll play with it for YEARS (seriously, we use it almost daily)

It is super FUN!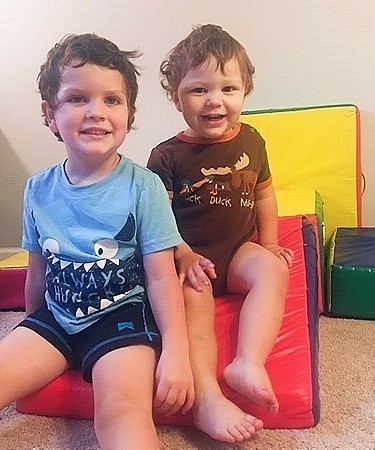 It's true. Our entire family plays together with this and we have SO MUCH FUN.
When my husband gets home at the end of the day they all run off to play on the mat while I make dinner.
He tosses balls to them, builds with them, or they wrestle all over the mat pieces together.
Isn't that cute?
Between chopping and rinsing I can hear loud, excited, genuine PLAY coming from my family…and I love it.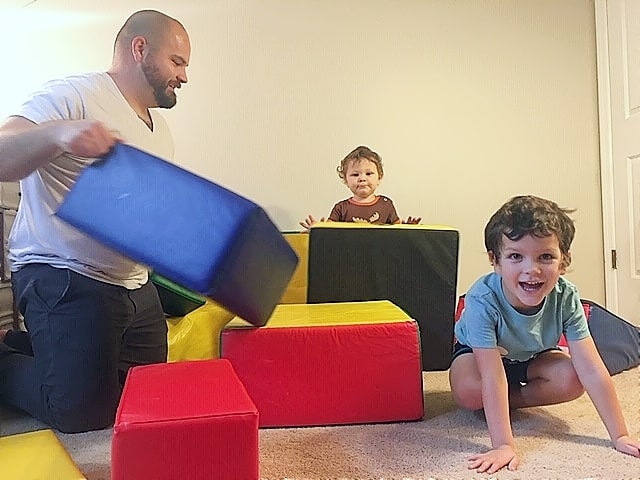 What's so great about it?
Over the years it has taught our little ones to be active, to be silly, to be brave, to share, to take turns, to be creative, to play together, to use their imagination, and sooo many other things.
Another thing I LOVE about this foam play set is that my kids get exercise!
They are always jumping, rolling, climbing, and sliding all over the play set.
This is a toddler gift that burns energy!
It can be used to encourage little ones to be active, even if it's too cold or rainy outside to do much else.
How cool is that?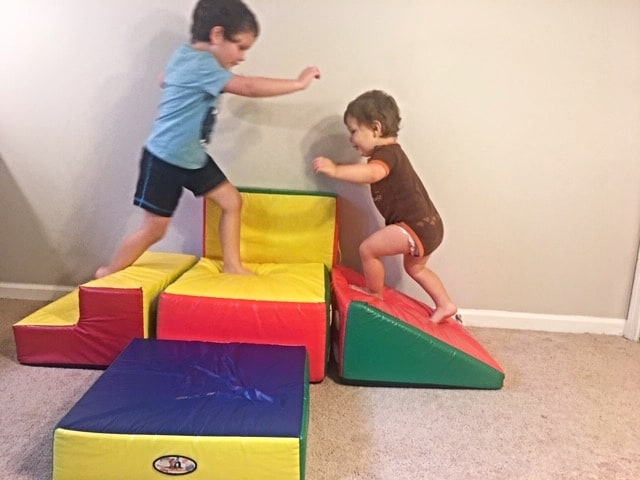 Sometimes we pull the mat into the living room if we want to have family movie night.
This way the kids aren't just couch-potato-ing it, plus the littlest ones have a place to play when they lose interest in the movie before everyone else.
I also pull the play set out for play dates, which is a BIG hit.
It's something fun and new and different for friends and is much harder to fight over than a single handheld toy.
I even used this as a play area at my 1-year-old AND my 2-year-0ld's birthday parties.
It went over very well.
What ages is this best for?
Seriously, I can't imagine a child not jumping onto this play mat the instant they see it.
I have read reviews of children up to 7 years old and beyond playing happily on it!
But, I would imagine babies, toddlers, and smaller children would get the most use out of it.
We have loved using it for our babies from 6-months-old!
My oldest is now 4 and still adores "rough housing" and building with these blocks and mats.
I'm positive he will continue to play on it for another year AT LEAST!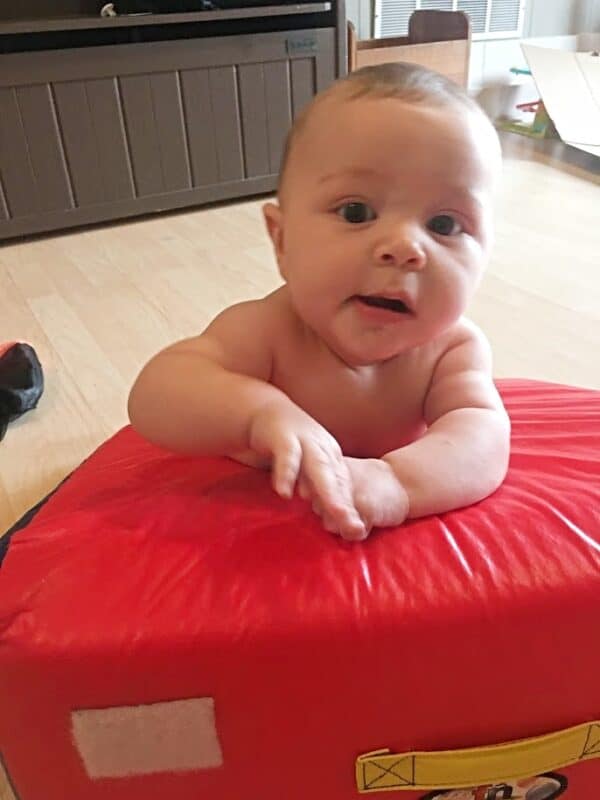 I most recommend this indoor play set for little ones between 6 months and 6 years old.
If your littles are crawling age and up, this is SURE to be a slam dunk gift idea.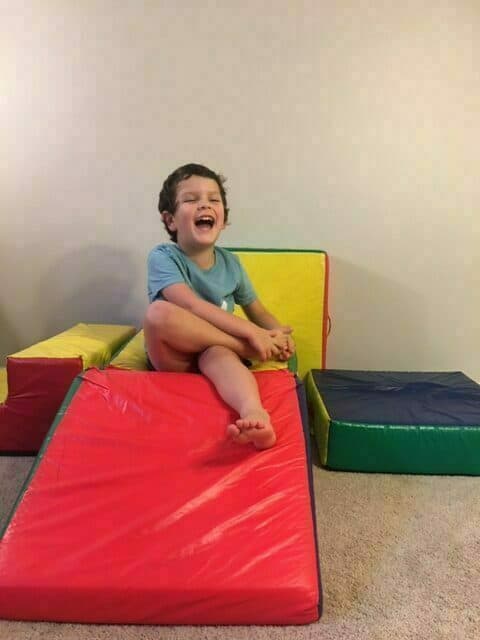 Ways to Play
My kids get all kinds of creative with this, especially when we combined it with these fantastic foam building blocks.
There are seriously endless ways to play with this indoor play set…
But to name a few of our favorites:
Gymnastics mat for tumbling

Climbing and rolling

Mat for "wrestling" with Daddy

Building towers to knock down or crash into

"Jailbreak" (where they block themselves into a corner and bust out)

Building little furniture

Creating a tunnel and crawling through it

Driving toy cars on, around and under "bridges" they build

A safe place to "play crazy" or get out lots of energy

A safe jumping and landing zone

Perfect area for babies to practice crawling, standing, climbing, etc.

Excellent play space for "big kids" to safely play with baby siblings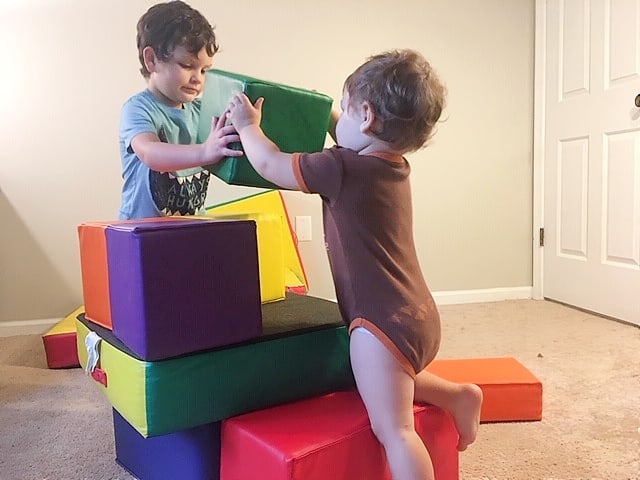 Indoor Play Set for Toddlers, Babies & Preschoolers
This little gym is the perfect rainy day play thing.
If it's to cold or wet to play outside, we still have a great option for getting out some of that energy.
We also have a great soft, base if we ever want to expand our indoor play space and add a small rock wall, monkey bars, or swing.
This would be excellent in a play room or under a loft bunkbed.
Speaking of which…
Where to store it?
I figured parents may be a little concerned about where to put the thing when it's not in use.
Totally understandable!
We have worked with a few different spaces and found some great options.
Of course, if you have a play room or large kids' rooms you can easily leave it out, probably against a wall or in a corner. But if you're working with a smaller space, here are some ideas:
Slide the mat underneath a bed or crib

Build a small "couch" or seating area in your child's room

Stack the mat high to take up less floor space

Splitting the set into two parts and storing half each child's bedroom

Keep the mat in a garage or spare closet when not in use
Personally, I don't think it takes up that much space.
Having it in their rooms makes it more accessible, meaning they use it alll the time!
Love that.
Click here to find the exact measurements on the Amazon listing.
Is it worth the price tag?
Easy answer…
YES.
Absolutely.
This indoor play set is an incredible investment in your kids' playtime.
Imagine that much less time they are asking for screens or looking for something to do.
It's also a great alternative to some of the expensive toys and devices that revolve around your little one sitting around inactive.
This play set keeps babies, toddlers, and preschoolers MOVING and just BEING KIDS!
For families with multiple kids, this is such a great gift idea!
You don't have to spend a ton on several presents for each child at Christmas.
Set the mat up and let them find it Christmas morning.
This isn't one of those toys that they'll lose in a week or set down and never pick up again.
And the best part:
This is a gift that will GROW with your kids!
Our little ones have played with this great set from 6-months-old on and I fully believe it will continue to be a favorite well beyond age 6.
If you find yourself spending money on things to entertain your kids, this totally pays for itself.
So much so that we actually bought MORE pieces to go with it!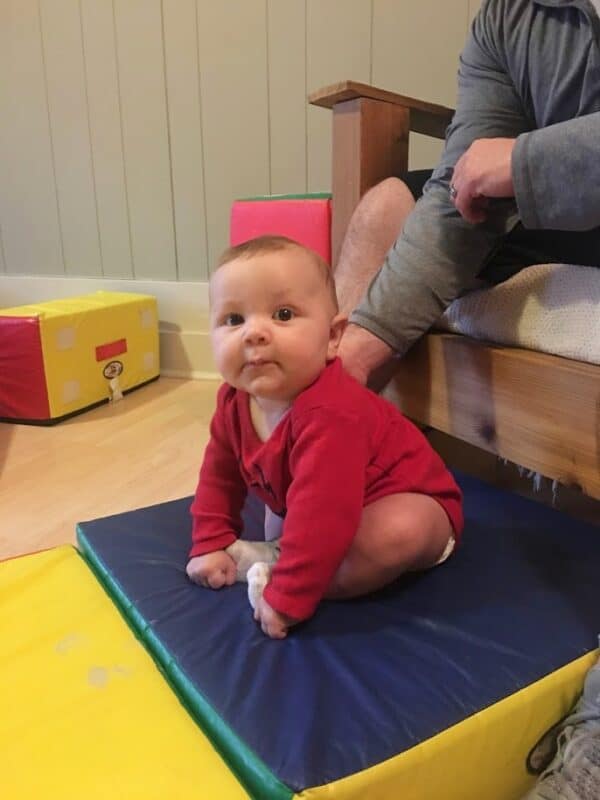 Add-Ons and Other Play Mats
After falling in love with this set for our children, we bought this set to add to the fun for our youngest's first birthday.
We LOVE it.
We use this one as building blocks and creating huge play spaces and high towers.
The pieces are a bit smaller and easier for my little ones to move around.
Here are some of the best foam play sets:
Foamnasium Gymnasium Play Set – This is the one we have!
SoftZone Foam Big Building Blocks – These are the additional pieces that we have and LOVE!
AmazonBasics Play Single Tunnel
SoftZone Single Tunnel Maze
SoftZone Double Tunnel Maze
Foam Cushioned Activity Floor Mat – I have my eye on this addition for Christmas!
Gift Idea for Siblings: Ages 1-6!
So, from one toddler parent to another, you will not regret buying this wonderful little play set!
Get the whole family involved and playing actively together, using imagination and creativity.
I know you and your littles will just love it.
For more tips for new moms, follow me on Pinterest!
Or check out some of my other posts:
How to Choose Meaningful and FUN Baby Gifts
How to Potty Train a Toddler: The Really Easy Way
Second Baby Checklist: What NOT to Reuse for a Second Baby
Winter Pregnancy Survival Guide