11 Must-Do's for Your Winter Pregnancy
Pregnant in Winter?
It can be the most wonderful time of the year to show off your baby bump and snuggle up with your baby daddy.
But it can also kinda suck.
Between feeling miserably bloated and abstaining from those delicious holiday cocktails and lattes, the frost might bite a little harder this year.
So, I have some tips on how to survive a winter pregnancy that will help you savor the sweetness, while also minimizing the buzz kills.
Consider this your winter pregnancy survival guide.
We'll cover everything from managing the uncomfortable cold while constantly expanding to exploiting the fringe benefits that only the winter pregos get to enjoy.
Tis the season to be…pregnant.
Don't worry. This is gonna be FUN (for the most part.)
Then go check out my post on Spring Pregnancy Must-Do's!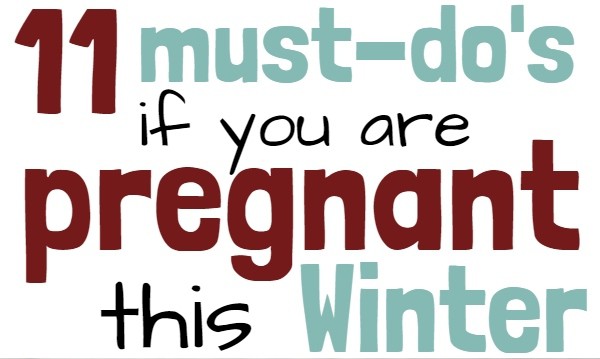 This post may contain affiliate links. See my disclosure for details.
Winter Pregnancy Survival Guide
1. Stay Warm
Let's start with the basics. Winter = COLD.
I don't know about you, but I'm a big ole baby when it comes to freezing weather, even when I'm not sacrificing my body to grow another human.
So, winter always means hot cocoa or an extra cup of hot coffee.
You might be bummed about the restrictions on caffeine while pregnant.
Don't worry!
Most holiday treats (including the famous Peppermint Mocha at Starbucks) can be made decaf.
Or stock up on your own stash of brew-at-home coffee made just for pregnant mamas (that's right: hands off, hubby.)
It's called Mommee Coffee and it's perfect for those of us who still want the daily wake-up and warm-up without the jolt.
Low-acid, decaf, organic, and Fair Trade Certified.
Get you a fabulous mama mug (how cute is this?) add some holiday creamer, and sip away.
I also love to stay warm in winter by using a heating pad.
This is perfect for pregnancy because heating pads can give relief to some of the body soreness caused by pregnancy without raising the body's core temperature (which is a concern while pregnant and is why hot tubs and extremely hot baths should be avoided.)
Relax after a long day on your feet with a heating pad under your aching back or against some of those stretching ligaments.
It's a perfect way to stay warm and relieve some discomfort at the same time.
Be sure and talk to your OB first and use a heating pad like this one with safety settings and an adjustable temp to avoid overheating.
2. Prenatal Yoga
Speaking of muscle soreness, look out for some of those pregnancy aches and pains to be exaggerated by the colder weather.
To stay loose, winter is the perfect time to start some prenatal exercise.
Prenatal yoga is an awesome way to stay active during pregnancy, but without going overboard.
I lovvve the relaxation that comes with stretching and focusing on my breathing.
This is also perfect prep for that fa la la la labor around the corner.
Use an exercise ball (like this one) to ease back pain and help Baby get into position during your last trimester.
You can find fantastic, free prenatal yoga videos on YouTube to get you started.
If you weren't very active prior to conceiving, take it slow.
Doctors recommend staying consistent with your level of exertion while pregnant to avoid overdoing it.
Be sure to practice yoga poses specifically designed for pregnant women and don't try any inverted poses.
3. Protect Yourself
Winter is notorious for ushering in crazy amounts of germs and spreading them around at a rapid and disgusting speed.
Now, more than ever, you gotta guard your body against viruses threatening both you and your baby.
Keep taking that prenatal vitamin and be extra aware of washing your hands, especially when in contact with communal door knobs, grocery carts, money, etc.
I like to keep a mini hand sanitizer in my bag to supplement hand-washing when I can't get to a sink.
Eating well and staying active can also do wonders for staying healthy during the wicked winter flu season.
Another reason to start that prenatal yoga!
But my biggest tip for staying healthy during winter, and honestly throughout your entire pregnancy is this:

Girl. Do you know how important this is???
Staying hydrated will not only keep you and Baby in good health, but it will keep you feeling great (er) while you're pregnant too.
And it's a realllly good idea to get used to drinking water (and a lot of it) now, because once Baby arrives and you're breastfeeding, you need to basically drink a lake a day to keep that milk supply up.
Not to mention, if we're being honest, it's just a good idea to get into the habit of drinking a ton of water on a daily basis anyway.
Our bodies need it.
The best tip I have for getting this habit underway is this:
Buy yourself a fun new present…
Who doesn't want to use a new present as much as possible?!
Get yourself a cool new water bottle (invest in a good quality one, trust me) and just carry it around with you everywhere. Before long, it'll be like a third hand.
You'll grab it on your way out the door out of habit, like your phone and keys.
I really love this one and it's great for mom life too with its handle and one-handed drinking capability, so I can easily grab and use it with a baby in one arm and my toddler's snacks in the other.
Highly recommend.
4. Winter Pregnancy Outfits
Ok, now something to really get excited about…being pregnant in winter means getting to wear the best maternity clothes.
Seriously.
I really think this is the best, most comfortable season for dressing while pregnant.
Think about it.
Maternity leggings are pretty much the most comfortable clothing item in existence.
They're like yoga pants….only even stretchier.
(Like these. Sooo great.)
Throw on a comfy maternity dress and your favorite cardigan.
Dress it up or down with a belt to accent your bump, some comfortable boots (no heels needed!) and throw on a cute scarf (like this great one which is PERFECT for wearing now, then it doubles as a breastfeeding scarf and carseat cover when Baby arrives.)
Then top it off with a perfect maternity winter coat.
Boom.
If you're looking for some great ideas for winter maternity clothes, check out What To Expect's 8 Wardrobe Staples for Winter Pregnancies.
I confess, I love comfortable clothes and I'm a total mom when it comes to fashion, winter pregnancy fashion or otherwise, so I'll leave the style advice to someone else.
5. Get Comfy
Besides comfortable winter maternity clothes, it's a must to get cozy and comfy at home during the winter months while growing (and growing and growwwwing) that baby.
Since getting as comfortable as possible just happens to be one of my specialties, I have some fantastic tips on how to achieve this during the chilliest time of year.
Treat yo'self to these comfy socks.
They are awesome.
Not only will they keep your mama toes toasty all winter long, but they are perfect for wearing during labor.
I know that sounds weird, but most moms recommend wearing socks while giving birth, because many mamas complain of their feet becoming cold during labor (especially if their ankles are in the air.)
I wore these when I gave birth to my son and I lovvve them.
The socks are made with aloe and are just so stinkin soft.
They are my go-to socks for end-of-day relaxing and super cozy for your prego comfort needs.
Another way to enjoy winter during pregnancy is to snuggle up with your man or a warm blanket and binge some hilarious movies about pregnancy.
These movies are pretty funny any time, but something about watching prego movies when you're expecting is extremely hilarious.
The more relevant it is the more you can laugh at those "funny because it's true" moments.
And we all know we can use some extra laughs during the discomfort of being pregnant.
Check out this post by Mom Junction compiling the 25 Movies You Need to Watch During Pregnancy.
Now for my number one maternity recommendation…
EV. ER.
This is seriously the one of the best things you can purchase for yourself and your baby.
It's insanely comfortable for those crazy-uncomfortable pregnancy nights and is amazzzing for back pain or propping up your belly when you lay on your side.
It's way better than other popular maternity pillows I've tried.
And it doubles as a fantastic nursing pillow.
Baby can also use it for tummy time and propping up before the sitting stage.
I even used it to rest against while giving birth to both of my babies.
You can read my full review of it here.
Trust me, it's awesome.
And it'll definitely make your winter pregnancy more bearable.
I also have a post on the Top 5 Pregnancy Pillows Ever that you can check out here.
6. Christmas Pregnancy Announcement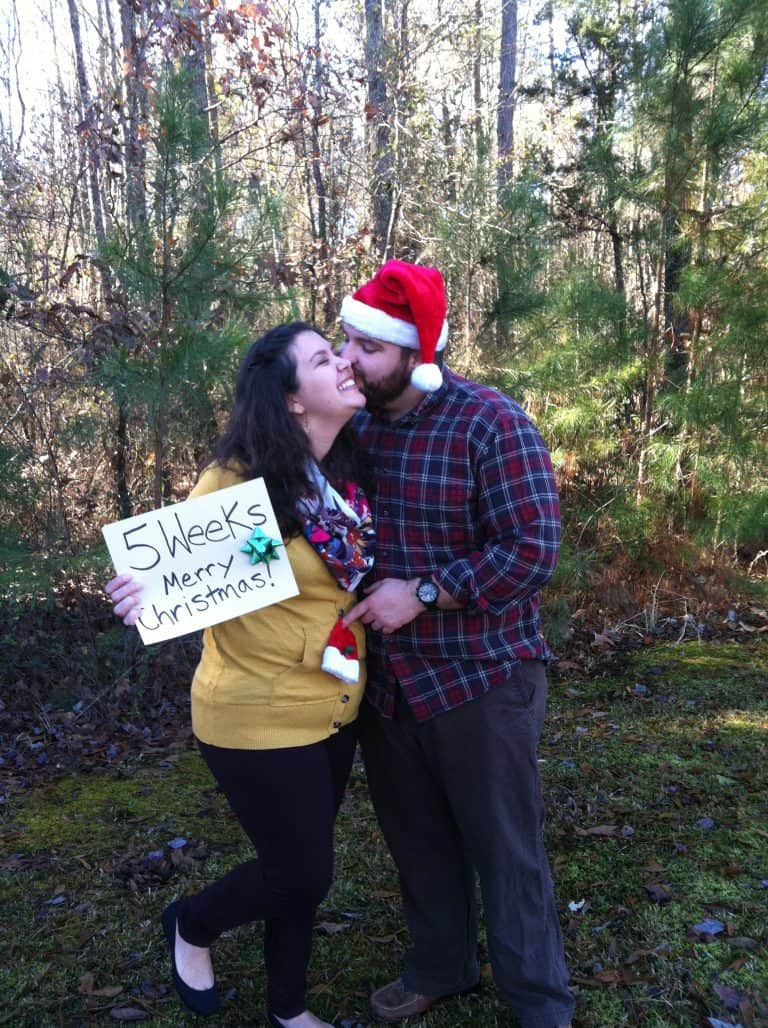 If you just found out that you're pregnant, winter may be the perfect time to announce your baby on board to the world.
What better Christmas gift for friends and family than sharing the news of your bundle of joy?
There are so many super cute ways to incorporate the holidays into your pregnancy announcement.
Christmas pregnancy announcement cards are one of the most beloved ways to share the love during the holiday season.
These are quick and easy to make.
Plus, they are such a fun way to let family and friends know your special news while also wishing them holiday cheer.
Check out some of these adorable winter pregnancy announcement ideas on Pinterest.
And be sure to let your baby daddy know what's on your Preggers Christmas List…I went ahead and compiled a bunch of perfect gift ideas for pregnant women for you here.
7. Christmas Gender Reveal
If you time it just right (or rather if BABY times it just right,) you could create the perfect gender reveal during the holidays.
I've seen some really creative winter gender reveal ideas.
Everything from a color-themed Christmas ornament, to a gender reveal with Christmas lights, to popping a balloon full of colorful confetti into the snow.
Regardless of exactly how you share the news, this is sure to be a reveal that will warm hearts.
Try hosting the most fun Christmas slash Gender Reveal Party ever with a much anticipated surprise ending.
Why not make the most of the season and share this special moment with those you love the most?
I love the idea of a "Baby It's Cold Outside" themed party with everything frosted in white and silver.
Serve sparkling cider and have a hot cocoa bar. Decorate with snowflakes and tinsel.
Then add a pop of blue or pink Christmas lights when you turn on the tree to announce your baby's gender.
Adorable, right? I think so too.
8. Winter Maternity Photos
This may be one of my favorite ways to celebrate winter during pregnancy.
If you're trying to settle when to take maternity photos, try incorporating the beautiful season into the wintry mix.
You have SO many options: a classy maternity photo shoot in the snow, cozy indoor maternity photos with your baby daddy,
Christmas maternity photos under sparkling white lights, and the list goes on… I love these maternity photo ideas compiled by Baby Prepping to get your mind stirring.
So, throw on a fabulous maternity dress (I lovvve this red maternity dress) and capture the best of your bump during the most wonderful time of the year.
9. Bonding with Baby
Taking things slower in the freezing months means a little extra time to spend on the simple things.
When you are pregnant, it's important to connect with the little one growing in your belly.
You won't regret doing this! It's so special to feel like you're getting to know your baby before you actually hold them in your arms.
Enjoy a warm bath, maybe throw in some bath salts or essential oils for relaxation.
Sink under the steamy water (make sure it's not too hot for baby) and hold your belly.
Watch for kicks and think about the future.
The love and connections you cultivate now will make for such a special bond once Baby arrives.
Another tip I love to give moms-to-be is to read books to their baby. I love to do this with my husband when I'm pregnant.
Start your little one's library now and spend some time celebrating the season as your family begins to grow.
You can't go wrong with classics like The Night Before Christmas and How the Grinch Stole Christmas.
It's a super sweet way to share your favorite holiday traditions with your child from the start.
Plus, then reading it to your babe next year will be all the more special.
Speaking of tradition, when you start decorating for Christmas, why not hang a stocking for the bun in your oven?
I love this adorable Baby's First Christmas stocking.
Use an ultrasound photo this year, then update the photo and use it again for Baby next year.
Throw on some holiday music, whip up some Christmas cookies, and include Baby in the festivities.
There are also some super fun ornaments (like this one) perfect for the nesting mama during the holidays.
What a precious keepsake to remember this special year by.
10. Pregnant on New Year's
Being pregnant on New Year's comes with some pretty fun perks.
Celebrating the year ahead will seem extra special knowing you'll be holding your baby before the year's end.
If you're newly pregnant, a New Year's pregnancy announcement is a fantastic way to kick off the year ahead.
Here are some cute ways to share the news while everyone is celebrating.
Another fun way to celebrate your New Year's baby is to clink with sparkling cider (you may not get a buzz, but that stuff is dang good,) then share your midnight kiss with baby.
Make sure you get a picture of hubby kissing your belly as the clock strikes 12.
I'm also a big fan of the virgin cocktail.
If you'll be partying this New Year, ask the bartender to whip you up an extra special mocktail.
Yum.
And bonus! No hangover!
While you're grazing at the snack table, keep in mind that party food might not be your friend while pregnant.
Heartburn, gas, and morning sickness may be your first visitor upon the new year.
Check out my top tips on handling pregnancy heartburn and morning sickness.
My other tip for surviving January 1st, especially for mamas still in the morning sickness stage, is to load up on this vitamin around the holidays.
This post explains exactly why this simple tip will give you your life back.
As always, talk to your doctor before taking anything while pregnant.
11. Babymoon
Ok, my final tip on winter pregnancy is to not let the cold weather stop you from taking that Babymoon.
There are still tons of amazing babymooning destinations that will be magical during the colder months.
What is a babymoon, you ask?
It's this fantastic little concept of mom and dad going on one last baby-free hoorah before your life changes forever.
I cannot recommend this more.
Our littles are 3 and under and we laugh all the time about how clueless we were on our babymoon about just how much we needed one.
You won't have the opportunity for a simple, "just go" vacation for quiiite a while.
And when you do, it won't be the same.
So go!
Plan a getaway with hubby and relax while you can.
Snuggle up by a fire at a fabulous lodge and daydream about all the fun things you'll do when Baby arrives.
Go to a spa and let yourself be pampered, because you know you've earned it.
Road trip to your favorite cities and eat all the food you want.
Splurge on an island vacae and warm up on the sandy beaches while you watch the tide roll in.
There are some pretty spectacular babymoon packages available to expecting couples.
Check out these great winter babymoon ideas to get you started.
And take a look at this list of the best babymoon destinations by The Bump.
Another tip:
Winter is actually the perfect time to do some pre-baby prepping because we spend a lot of time indoors anyway.
A super important to-do during pregnancy:
(and it's even better if we can do it from the comfort of our warm maternity jammies.)
Feeling informed about what's going to happen when you go into labor takes SO much fear out of what's about to go down.
Answers to questions like,
"What do I do if my water breaks?,"
"When do I go to the hospital?,"
and "What if I POOP while pushing?!"
will give you confidence going into the exciting experience just around the corner.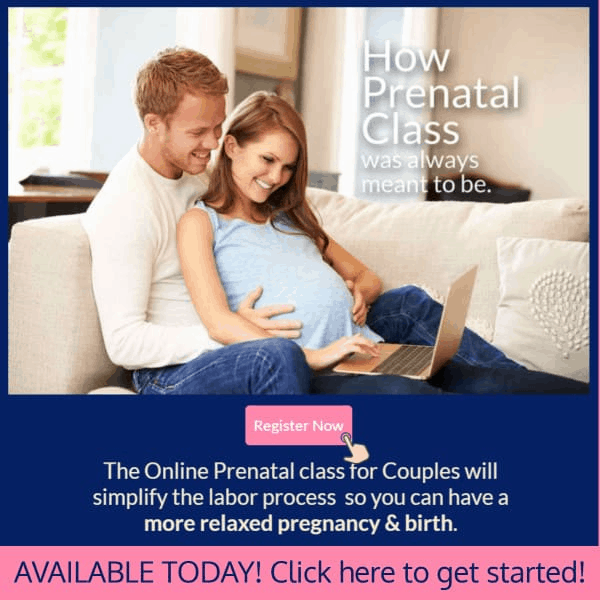 I highly recommend this awesome Prenatal Class by my girl, Hilary, at Pulling Curls.
She's a real life Labor and Delivery Nurse and she explains some must-know info in a really cool way.
My husband and I had to spend an entire Saturday at a hospital class in my 3rd trimester with our first baby.
Ugh. BORING.
But Hilary's class is interesting, helpful, and sooo much more convenient.
It's also a couples class, so curl up with your man by the fireplace and start preparing for that unforgettable day ahead.
You'll be so glad you did.
Promise.
Psst…Need a discount? I got you, girl. Use the code: OY10 for 10% off her course when you enroll here.

Pregnant in Winter
Being preggers this winter can be a blast. Don't let the "can'ts" get you down.
Focus on these tips and enjoy what you CAN do, then get at it.
Bundle up and have some fun, Mama.
Don't forget to start dropping hints for these gift ideas for pregnant women.
They are awesome.
And if you're looking for ways to prepare for baby, check out my posts:
What You Probably Won't Get at Your Baby Shower
and
How to Prepare for Newborn Life While You're Still Pregnant.
For more tips on pregnancy and life as a new mom, follow me on Pinterest.
How to Survive a Winter Pregnancy