Meaningful Gifts for One Year Old Babies (plus newborns & toddlers too!)
We all want to choose the perfect, meaningful baby gifts for the little ones we love. But we also know babies don't just need more STUFF.
Anyone with me on this?
They are already showered with any and every baby item we can imagine from before birth and on through their first birthday.
And then some.
We love to buy baby stuff. It's fun! I know!
BUT…
Our little ones really just need us for Christmas or Birthdays (not to mention Easter, Valentine's Day and every day in between.)
On the other hand…
We can't help ourselves. Right? We get excited about getting a perfect baby gift for Christmas or their first birthday, unique gifts that we really want to see them ENJOY…and that's ok too!
My first baby was around 3 ½ months old during his first Christmas and my soon-to-be second-born will be around 6 weeks old when it rolls around this year.
With our first, we wanted to be sensible and not spend money unnecessarily, but we also couldn't resist getting him something fun. It was our first "Baby's First Christmas" too!
So…here are some tips on finding a happy medium…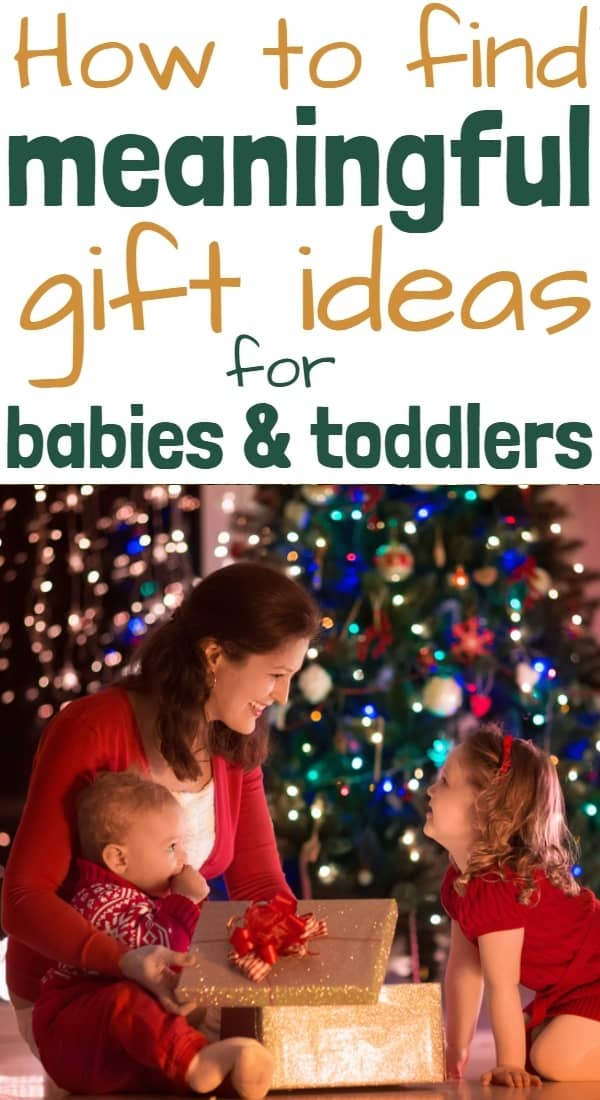 This post may contain affiliate links. See my disclosure for details.
Meaningful Baby Gifts: Finding the perfect gift
Tips for how to choose a great meaningful baby gift:
Splurge a little:
But keep it practical. Have fun with it! That's a joy of being a parent! But try to think through gift choices.
For instance, baby probably doesn't need 10 new toys, outfits and fancy teethers.
I'd go as far as to say baby will feel just as loved with ONE present.
Think ahead:
For my son's 2nd Christmas, just after he turned 1, we wanted him to have a fun toy from us, but we didn't want to overdo it.
We wanted something that he could enjoy for a long time and wouldn't get bored with any time soon.
So, we got him bath toys. I was super happy with this decision.
It livened up bath time and since he only played with them once a day (at most) he never got "over" them.
We didn't spend much and everybody felt a little spoiled.
Christmas win! (Keep reading for a list of what specific bath toys we got him and still love!)
Focus on the heart:
We are determined not to raise entitled little ones, especially in an increasingly self-centered world.
We want to help our kids understand that we love people more than we like things. We hope to raise them this way from the beginning.
But that's a hard concept to convey to a new baby!
So, we are kind of practicing it ourselves as we work through gift-giving our first few Christmases and Birthdays as new parents.
We are trying to give meaningful baby gifts that focus on experiences and building character.
It's a bit of a challenge sometimes and we still like to give fun treats too, but we keep it simple.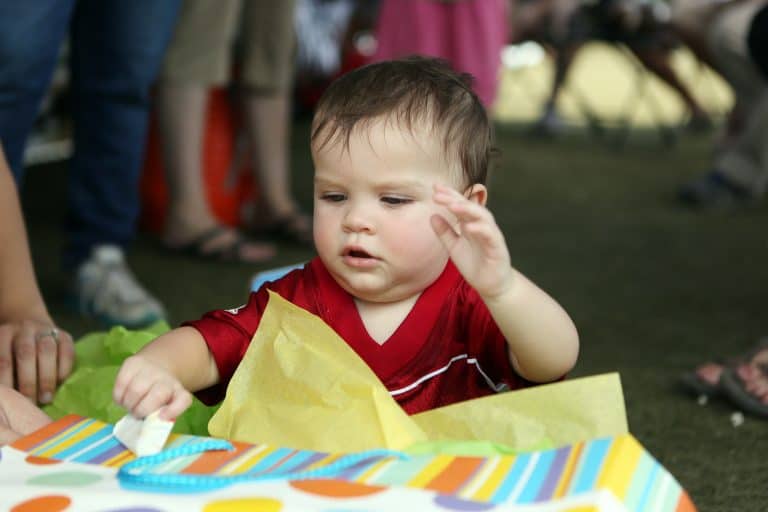 Ok! So that's the WHY. Now on to WHAT the perfect meaningful baby gift could be…
Perfect Gift Ideas for Newborns and Beyond
Here are my suggestions for some awesome gift ideas, including things that we have given our son and plan to give our new little one this year.
Give Books
Books are one of my favorite meaningful first birthday gifts to give!
We love reading books to our babies. It's so good for their development and it creates such special time together.
My first loves to read with us and he's learned a ton from really simple books over his 2-year-long life.
We got him books for his 2nd birthday last month.
Just books.
I think it's a really great way to avoid flashy, expensive presents and to foster a love for learning in our kiddos.
Plus, as we read the new books to them, it shows them that we want to be with them, not just keep them busy so they'll leave us alone.
This makes books perfect meaningful gifts for one year old babies and beyond.
Here are some of our favorites, ranging from what we've been reading him from day 1 to our favorite newest additions.
We seriously LOVE all of these books.
These fantastic stories will make for a special first few years, I promise.
This has been a family favorite since Day 1. It's short and simple and just adorable.
This is my favorite. It actually had to grow on me with time because I didn't get that it was supposed to be lulling him to sleep.
I read it softer and softer towards the end. It's sooo wonderful for bedtime.
We got this for my son's 2nd birthday gift. We love it so far. It has great biblical truths that point to Jesus, even in the Old Testament stories.
This is a lift-a-flap book. It has a surprisingly lot of pages for such a little board book. We've read it a ton in 2 years so it's special to us. You'll love it too.
This was a gift from my aunt, the librarian, on our baby's first birthday. I love it so much that I'm trying to collect all of the series.
This is one of those books that isn't annoying for mom or dad to read a thousand times.
It's really entertaining and a great story with some teaching concepts. Love!
This adorable book is so wonderful for teaching our little ones how to use their imagination.
It encourages creativity, friendship and good old-fashioned play! My son loves to "read" it to us because he knows it so well. It's a new favorite in our home.
Any and all off these books would honestly be terrific choices as meaningful gifts for one year old babies (or even younger) and beyond.
They will learn, grow, and love the memories of reading with you.
Give an Experience
Who says our meaningful baby gifts need to be tangible?
For a baby, they probably prefer doing something fun with Mama and Dada anyway. Plan a fun outing and make a big deal of it.
Plan a special outfit, take your good camera, budget for some splurging.
Take baby to a special festival in town and let them try a new treat for the first time.
If it's the holiday season, research the best places to see Christmas lights and go for a long stroll.
Get some hot chocolate, let Baby get out and touch the scenery. Little ones LOVE stimulation. They will adore such a fun time with their very favorite people.
That's a perfect gift if you ask me.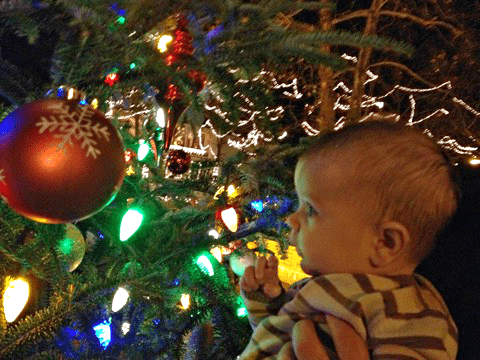 Give Memories
Another non-traditional gift idea is to give a memory. Obviously, we can't remember baby years, but you can take photos and help them remember.
Plus, you will always treasure the memory too.
A couple ideas:
Start a Tradition
I love this idea. Make a new tradition just between Mom, Dad, and Baby.
It doesn't have to be a huge thing, but maybe you start using a special birthday plate every year and the honoree gets to choose whatever treat or meal they want to eat on it.
Maybe you could start using a live Christmas tree and going to chop it down together could be a new family tradition.
How about game night on Christmas Eve or a special birthday movie night?
Take lots of pictures to help baby remember when the tradition began as they grow and get to enjoy it every year.
Another idea:
Make a special ornament
This is an awesome example of a gift/memory combo…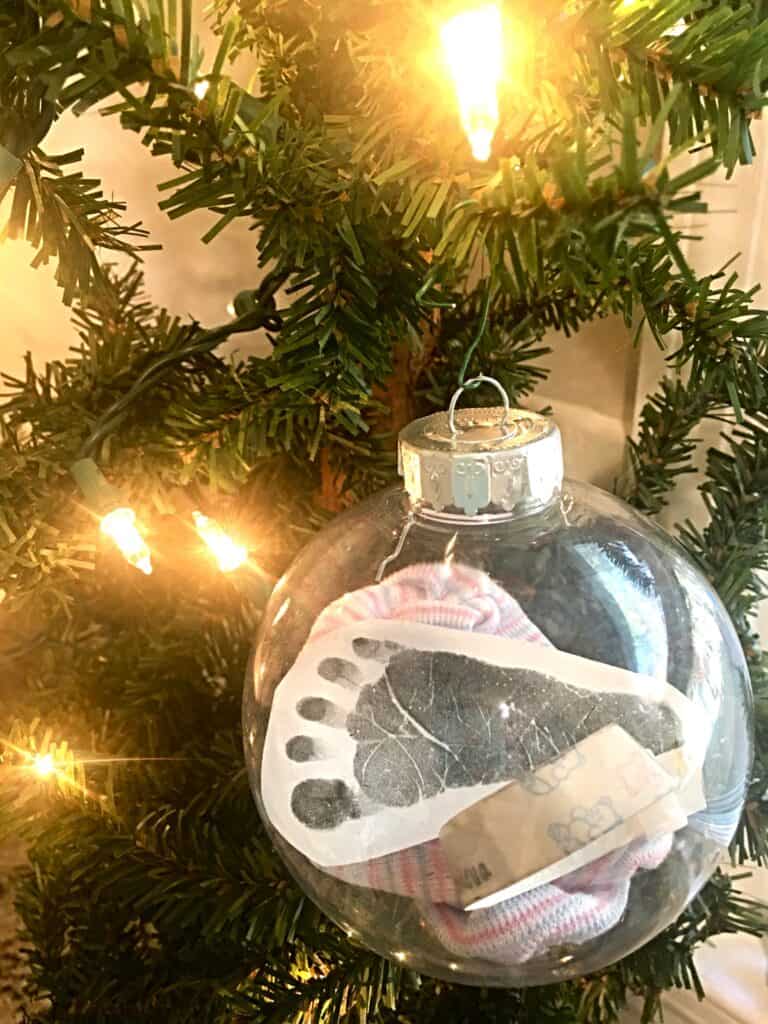 We did this for Baby Number One's first Christmas and plan to do it again for this baby.
We used his footprint cutout from his hospital papers, his hospital hat and bracelet.
I may add in an ultrasound picture as well. What a perfect way to keep such special items!
And baby will grow up seeing it every year and knowing it started with their first Christmas. How cute is that?
Give Toys
Like I said earlier, I'm ok with splurging a little!
Toys can totally be a meaningful baby gift too.
Toys are fun and a valid part of a baby's life. Playing is important. Just keep it simple.
I read sooo much about what to give my son on his first Christmas.
We wanted to do something fun and super simple that a 3-6 month old would love.
This toy did the trick! It's cute and inexpensive too.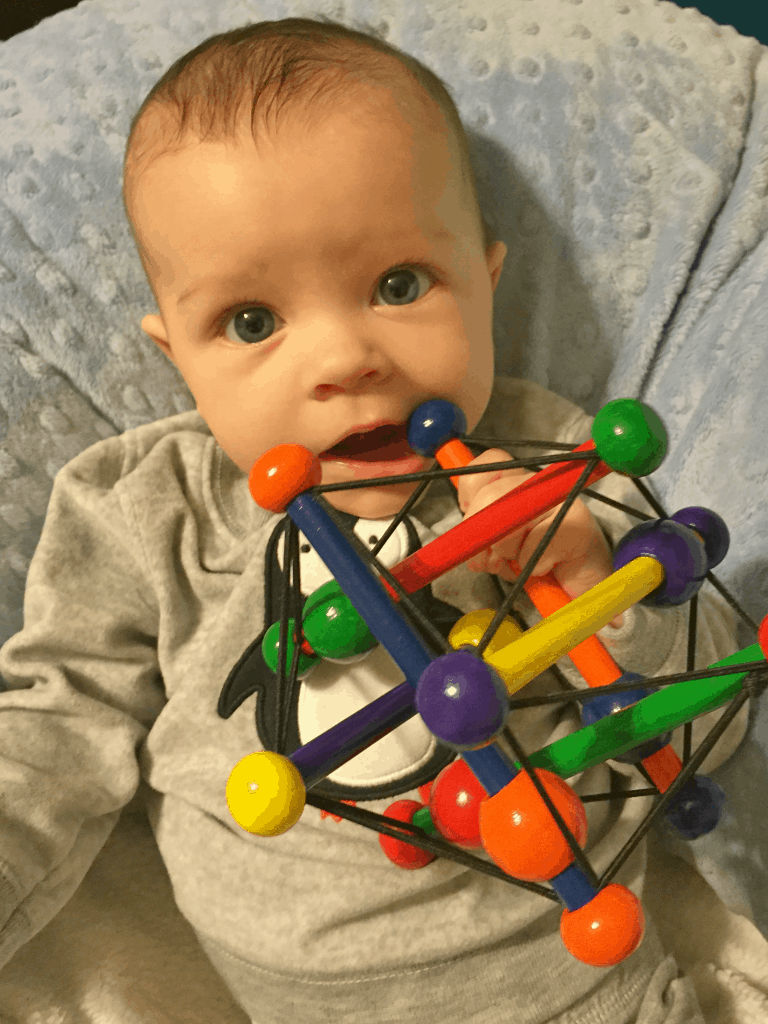 We actually got him this too for his first Christmas present, because I couldn't choose between this and the one above.
Since they weren't pricey, we got both and he loved them! I kind of prefer this one, because it's wooden and moves a bit more.
Ok, not a toy, but…we got this as our gift for our one year old for his first birthday.
We had a party and this was his gift from us. That's it. No regrets.
He has his own little space and feels like part of the family. I lovvve that this one isn't flashy or "kiddy."
It looks nice in our family room (because he is part of our family and that matters) and it has held up super nicely.
I read a ton of reviews before purchasing this and I love the thing.
Highly recommend!
Bath Toys
These are the toys we got as our first Christmas gift to our baby.
Bath toys are perfect meaningful gifts for one year old babies because they encourage independent play, exploring, sensory play, and more.
They may not seem like very meaningful baby gifts to us, but it MEANS something to THEM!
And that's what matters.
Each of these has gone over really well, so I recommend them all!
Bath Pipes
These are so fun! They are simple, cute, and are great for little water-lovers to play creatively.
We wanted our son to have a boat. This one is classic looking and it has a little fishing game that we can practice with him.
This is his favorite. He ends up putting everything through the hoop. I like the little spinning pieces too!
One more vote for books! These are short and sweet and can get wet. We have them memorized because Baby lovvves them.
Build-A-Bear
I think this may be what we do for our 2-year-old for this year's Christmas.
He doesn't really have a stuffed animal that he's attached to yet and we think the experience of picking out the exact little details of his new toy will bring him great joy.
Plus, this will be something he can love on and treasure for years, then have as a keepsake.
Mama and Dada will cherish the memory of making it with him too.
Meaningful Baby Gifts: YOU are the gift that matters
So, enjoy being Mom and Dad to that little on the special occasions this year. What they really need and WANT is you.
Of course, have some fun too! If you're buying a baby gift for Christmas, their first birthday, or just because, make it mean something.
Have some fun with your gift-giving and watch as they grow and play and learn as a result.
We get to have the honor of raising little ones who will impact our world and those around them.
Let's start them off well with our love and our time being the foremost gift we give them each day.
For more tips on pregnancy, babies, and life as a new mom: Follow Me On Pinterest.
Check out my other gift guides:
14 Perfect Gifts for Pregnant Women
19 Gifts for New Dads & Dads-to-Be (That He Actually Wants)
Meaningful Gifts for One Year Old Babies, Newborns, & Toddlers
Meaningful Baby Gift Ideas: First Birthday Unique Gifts and Meaningful Baby Christmas Gifts