A Daily Planner for the New Mom who Needs Encouragment
If you're a new mom, you may feel pretty out of sorts. Whether you are on Maternity Leave, still drudging through the first few sleepless months of motherhood, or trying to figure out life as a Stay-At-Home-Mom, sometimes we just need a little help.
I remember feeling SO unorganized. I went from being a major planner and control freak to being Mama to a very unpredictable baby. It felt like no matter what I got done in a day, it wasn't enough. Honestly, it wasn't usually much at all that got done between breastfeeding, attempting sleep training, diaper changes, cleaning up spit-up, dozing off involuntarily, and trying to hold it together.
If you're in a similar stage of momminess, I want to tell you something:
Whatever you're doing is enough. YOU are enough.

(This post may contain affiliate links. See my disclosure for details.) 
New Mom Encouragement
I know you may feel as though NOTHING is getting done (and sometimes that's true,) but simply being mom to that little one and keeping both of you healthy is enough. You might have heard someone say this before. Maybe you haven't let it sink in or you're excusing your situation because you expect more from yourself. For me, I kept thinking "But surely most moms get more done than THIS. It seems like I should be accomplishing more in a day by now."
Listen…
It might take a few months as a new mom to feel semi-normal. It might take A YEAR. Or it might take more. The best you can do is just be there with your baby. That's it.
Pressure is off, mama. You don't have to clean the whole house today. Or even this week. You don't have to go out right now. You don't have to do fancy Pinterest-perfect activities with your baby today. As long as you and baby are fed, rested (at least somewhat,) and happy then you have done your job. And you've done it well! You can take a deep breath at the end of the day and know you not only made it through the day, but you did it successfully.
So I present to you…

A Perfect Daily Planner for a New Mom
This is your free outline of a successful day as a new mom. It's simple. It's doable. And it's organized (which hopefully brings you some much-longed-for sanity.)
This Daily Planner includes two sheets. One is blank for you to print as many as you need and fill it in to fit your life. The other is outlined for you and includes space to fill in your day's details.
This page includes:
A Priorities List: Featuring the only 3 things that must get done in your day. Love baby, feed baby, and keep baby and mama alive! If that's literally ALL you get done today, that's enough. And I bet you ALL mamas can attest to days just like that.
A To-Do List: Featuring 8 items to help you structure your day and feel like you've accomplished something. These are items that will help you get organized and do some important tasks, but not overload yourself with needless stress. You'll be able to check off some great to-do's, add a few of your own, and know your day was a win.
A Schedule: Featuring a section for any Morning, Afternoon, and Evening plans that you need to add to your agenda. You can fill in your morning yoga, afternoon tummy time, your dinner menu, or that pediatrician appointment.
Little Encouragements: To remind you that you don't have to conquer the world today. You don't even have to conquer the dishes. Just be mama to that sweet baby and ENJOY your day.
This page can be used as your every day structure for as long as you need. Depending on your baby and your situation, this may be the most realistic expectation you can set for yourself for a while. That's ok! That's exactly why I'm sharing this. When you're ready, move on to the blank pages and fill in more tasks.
I remember desperately wanting some kind of organization for the messy life I was living every day as a new mom. I would have loved to have something to help me feel just a little bit of structure. It would have been great to have something to help me feel like I was succeeding as a mom on those unpredictable days.
I hope this can be that helpful outline for you! Enjoy!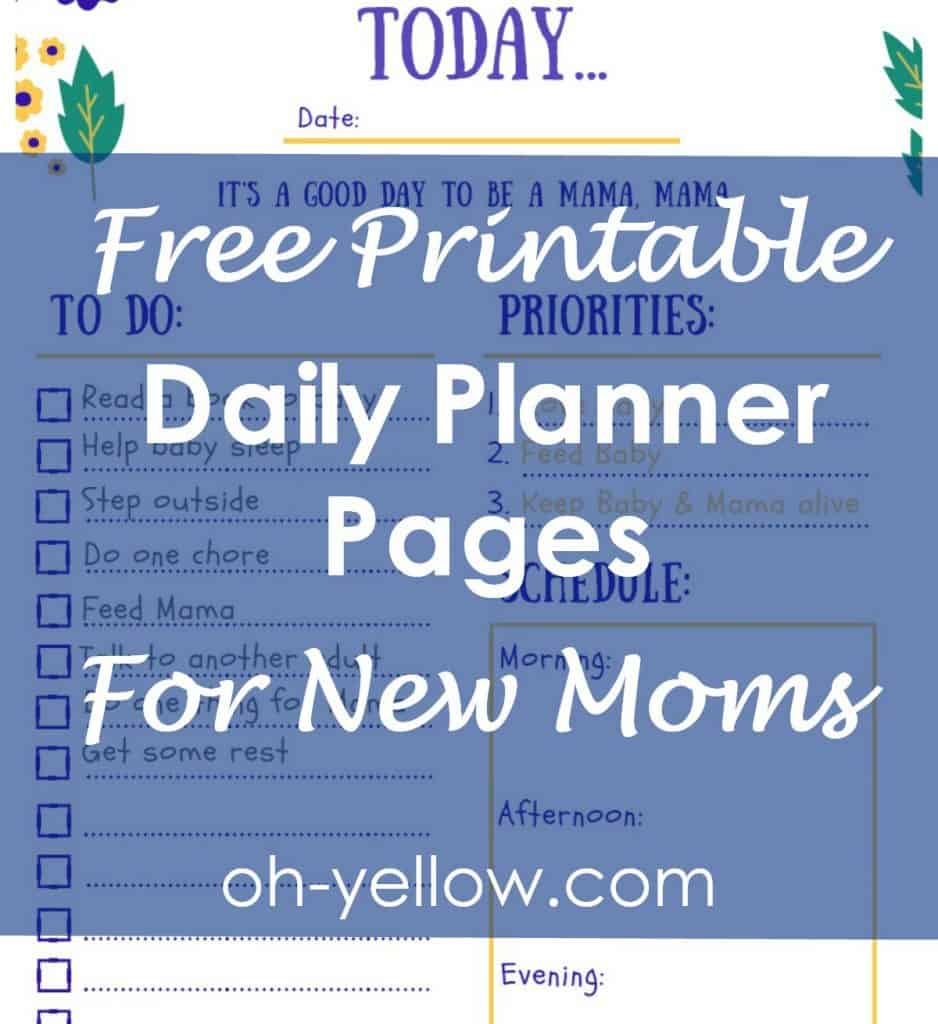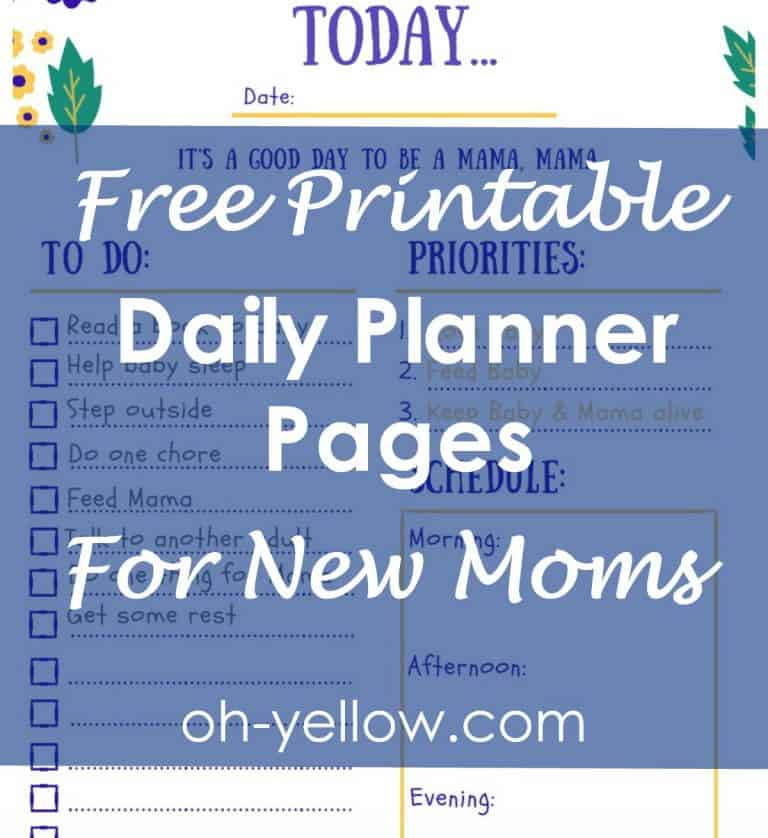 ---