Things a Pregnant Woman Needs:
Pregnancy Tips for a More Comfortable 9 Months
These pregnancy must haves can make ALL the difference for you, trust me. Every day and every trimester of pregnancy brings new, uncomfortable challenges.
That struggle is so REAL.
Thankfully, there are some super simple ways to ease the struggle.
These are pregnancy must haves that I LOVE and personally use every single day while I'm pregnant.
From your first trimester to your due date, these are pregnancy tips you'll be so glad you tried.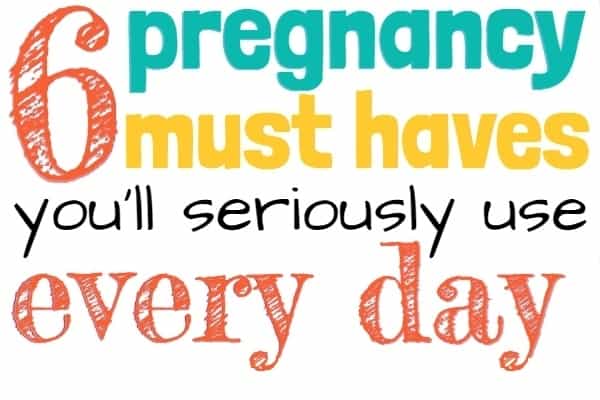 This post may contain affiliate links. See my disclosure for details.
As I write, I'm a day short of 37 weeks pregnant with my soon-to-be second-born son.
I've been pregnant 4 times, counting 2 losses.
When I was carrying my first son I definitely hated the side effects of pregnancy, but afterwards I thought "I could do this again."
Now that I'm nearing the very end of another pregnancy,
I just keep thinking… "I hate this."
Of course, at the same time, I love it.
I'm growing someone who will soon change my life in a way I can't even fathom yet. Several months from now we won't even be able to imagine a life without his existence in our family.
How cool is that?
Getting to that point though…is…ugh.
These pregnancy tips will help make your life easier for the next 9 months. These are legit pregnancy must haves for every day of each trimester.
List of Things to Buy When Pregnant
Pregnancy is just hard. It just is.
It begins with the joyful emotions of finding out you're expecting…
then eases into nausea, puking, food aversions, heartburn, sore feet, awkward discomforts, pregnancy brain, feeling gross, looking gross, nothing fitting, stretch marks, constipation, false contractions, headaches, difficulty breathing and the inability to sleep or feel comfortable EVER!
…to name a few negatives.
(If you're newly pregnant and reading this, am I making you look forward to the next several months? ;-))
Of COURSE, it's so worth it. I could go on about that forever…but I won't today.
Today, I'm here to share some of the few comforts I found during my pregnancies.
These are pregnancy must haves that I could not have gone without…or at least I'm super glad I didn't have to.
And you shouldn't have to either…
These are some essential pregnancy must-haves, because trust me, you're gonna want this stuff in your life the second the fun begins.
WAIT.
Before we get to your pregnancy must-HAVES…
This is a Pregnancy MUST-DO…
This really amazing online prenatal course prepares moms-to-be for everything 3rd trimester testing, to going into labor, to caring for your newborn's needs. It is easy, flexible and can be done from the comfort of your maternity jammies.
It's a couples course, which is crucial for prepping Baby Daddy for the big day.
Taking a prenatal course will help BOTH of you feel so much more confident going into labor, delivery, and beyond.
Hilary is an experienced L & D nurse who not only knows her stuff, but she explains it in a way that is wayyy less boring than the class my husband and I took at the hospital that ended up taking our ENTIRE Saturday. Ugh.
Check out her course here and tell her I sent you (she'll give you 10% off: code OY10.)
It's well worth your time and you won't regret choosing to invest a bit in preparing yourself for what's to come.
It's on SALE!!! The code MOMAVERSARY will get you 20% off July 16th-20th! (That's a STEAL!)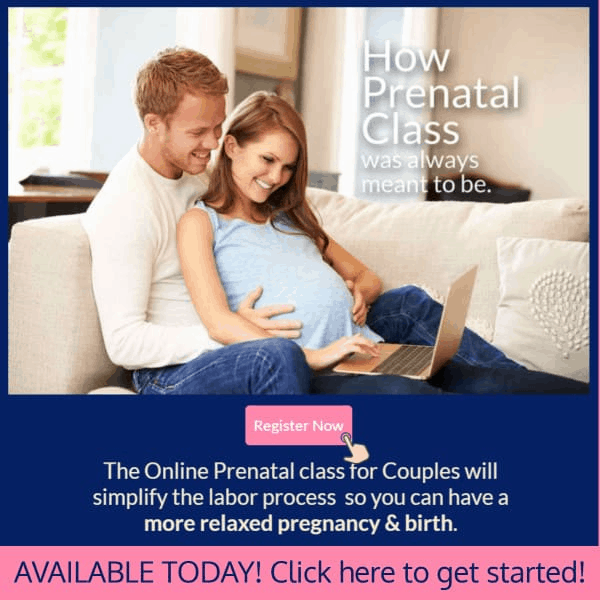 Now on to the pregnancy essentials list…
6 Things a Pregnant Woman Needs:
Ok, I seriously had never heard ANYONE mention this as a pregnancy symptom prior to my first, but from the very beginning in BOTH of these pregnancies my feet got sooo sore.
No, I don't mean swollen.
I'm talking, 7 weeks pregnant and couldn't stay vertical for more than an hour without feeling like I'd just worked a 20 hour shift without sitting.
So. Weird.
In this pregnancy, I finally found a friend who experienced the same thing.
Turns out, it's one of those bits of pregnancy info people forget to mention.
But it's super lame.
There were so many fun outings I couldn't fully enjoy because I was miserable.
Then, I splurged and got mama a new pair of shoes. I got these awesome sandals.
They are the BEST!
Usually, I'm bad about wearing flimsy flats and slip ons. That apparently wasn't gonna cut it while growing humans.
These shoes are sooo comfortable. It helped my pain times a million. I literally wore them every day of both pregnancies (up until my last month, when it was too cold and I only had like 3 weeks left.)
These are cute, simple and work with a ton of different maternity outfits.
This is one of the pregnancy must haves that I can't recommend enough.
Seriously, get these awesome sandals. Your feet are gonna have a lot to hold up, Mama.
This is important: Water.
Water, water, water.
I feel like this is one of the BEST pregnancy tips that isn't shared nearly enough.
(I now have an entire post on this! The Best Water Bottles for Pregnant Mamas.)
When you're pregnant, you've got to hydrate like crazy. Your pregnant body needs it and you will FEEL better when you do.
I've used this water bottle EVERY DAY in both pregnancies and in between.
Did I mention that you have to drink EVEN MORE water when you're breastfeeding?
And hydration is also super important in postpartum recovery. I actually have a bunch of tips for preparing for postpartum and this is a super important one.
You're going to need a GREAT water bottle, Mama. Something non-plastic, easy to carry, and cute. I highly recommend this awesome bottle.
It's perfect because it's easy to slip on your finger on your way out the door while carrying Baby, a diaper bag, your phone, and 5 other random things.
This will be very important to you very soon.
You're gonna want something easy to keep with you allllll the time during pregnancy, postpartum, breastfeeding, and then lugging you're growing little one….then pregnant again. Get something that lasts.
LOVE this thing!
I actually ended up writing a whole post on the best water bottles to use while pregnant. Check it out!
I wrote a whole post on The Top 5 Pregnancy Pillows…but this one is my favorite…
I know everybody says to get a full body pillow for pregnancy. I originally did.
It was good, but then I discovered something better….and I'm never going back.
I have used it EVERY night during this pregnancy and it makes SUCH a difference in my sleep.
Girl, you want this pregnancy pillow.
It's a good size without taking up the whole bed, it's soft, and it contours perfectly for a new mom-to-be's growing body.
It makes such a difference when you sleep with it between your legs and/or prop your belly on it.
I even use it to prop myself up when my indigestion is terrible at night.
Annnd it was perfect for leaning against when I gave birth to my babies.
The best part is, it's also a nursing pillow!
And a dang good one.
I'm so glad I didn't waste money on an expensive body pillow, plus one for nursing baby AND for doing tummy time and propping Baby up later on.
This one pillow does it all and I PROMISE, it's awesome. No, you can't borrow mine, sorry.
I'm never letting go.
Go ahead and start getting comfy with yours and you'll be just as stingey.
If you choose only ONE of these pregnancy must haves, this one is for sure the one you want.
Read my full review of why this pillow is incredible here.
So, I miraculously made it through my entire first full pregnancy only buying 2 maternity items.
One pair of jeans and THESE (In case no one tells you, even if you lose the baby weight, your second kid may not be so kind on your body.
Let's just say things grow fasterrrr and lowwwerrr the next time around. Ah, the joys of motherhood.)
Leggings are so comfortable anytime, but in pregnancy…they're a must.
I wish I'd gotten some super early the first time because when that awkward "things fit, but not really" stage strikes, it happens fast and you'll want to wear something that feels like you're wearing nothing at the end of the day.
I throw them on as soon as I get home every day. Sometimes they act as my pj's too.
Try these. Comfortable clothing is non-negotiable in pregnancy.
Do it.
Here is one of my pregnancy must haves that meets everything on an expecting mama's checklist.
Cheap, versatile, comfortable, and grows with your bump.
Find a tried and true tank top and stock up. Like these.
I grabbed like 6 in different colors at the beginning of my first pregnancy.
I wore them alllll the time.
Seriously, like every day.
You want something long enough to cover the maternity band on your jeans and stretchy enough to grow with you.
And they're so easy to dress up or down.
I wear them as undershirts pretty much daily. In the dead heat of summer, I wore them as a cute outfit with a belt and a skirt. In fall and winter, I throw on a cardigan.
They're even my go-to for lounging around at home when my body is SICK of being full of another human.
These are a great option for a stretchy, comfy, versatile tank. And they are way inexpensive.
Depending on how long you've known you're preggers, you may already be taking a prenatal vitamin.
But you want to make sure you're taking a really high-quality vitamin without all the funky ingredients, especially since you're literally putting it in your body (and Baby's!) EVERY DAY.
There are a million options of prenatal vitamins out there, but I'm a huge fan of this one, by Wink Naturals.
These guys are my fave. I'm always turning to them for natural products for my family.
Their prenatal vitamin really rocks.
It's a melt that can be dissolved into a smoothie, on your tongue, or chewed, so you don't have to choke down a huge pill, and it tastes reallllly good.
It also contains Folinic Acid (which can be absorbed more quickly than Folic Acid.)
My favorite part is that it's made with vitamin B6 and REAL ginger extract which helps sooo much with morning sickness.
This is a great prenatal vitamin option, just take it along with a multivitamin that contains DHA per your OB-Gyn's recommendation.
Find a prenatal vitamin you love and stick to it!
You can actually get a pretty great discount on these prenatal vitamins if you make it a subscription, plus then it automatically refills when you're low. But you can also find them on Amazon.
Bonus Pregnancy Must-Haves
That's 6, but I have one bonus tip for you…
If you find that you're plagued with indigestion during pregnancy, these tips will be your best friend. I wrote a whole post on it, because I think it's just not talked about enough.
Zantac used to be the g0-to for pregnant women with terrible heartburn, but recent research is showing it may not be a good idea for unborn babies.
So instead, find what works for YOU. You may be surprised at how a few minor tweaks can give you sooo much more comfort.
And if not, I've got some great ways to treat the burn naturally.
Check out my post How to Relieve Pregnancy Heartburn FAST!
More Pregnancy Tips and Advice
These are some of my best pregnancy tips.
If you were my best friend and you told me you were pregnant I'd hug you, squeal a little bit, then tell you that you need to go get these items TODAY.
I mean…we splurge like crazy on great baby stuff, Mama should get some spoiling too, right? Right.
I hope these suggestions are as fantastic for you as they were for me!
Now go check out my posts on what you probably won't get at your baby shower and how to prepare for life with a newborn while you're still pregnant.
These pregnancy tips will make your life easier. After all, we mamas gotta help each other out.
For more tips on pregnancy and life as a new mom, follow me on Pinterest!
Like these Must Haves for Pregnant Moms?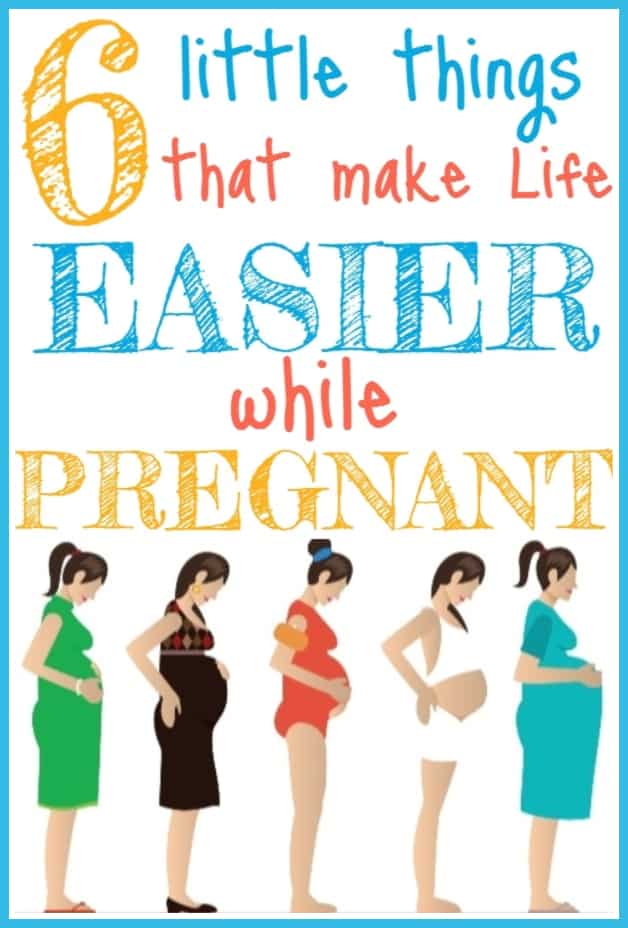 Must Haves During Pregnancy