Pregnancy Tips for a More Comfortable 9 Months
Every day of pregnancy brings new, uncomfortable challenges. Thankfully, there are some super simple ways to ease the struggle. These are pregnancy must haves that I love and use every single day that I'm pregnant. From your first trimester to your due date, these are pregnancy tips you'll be so glad you tried.
As I write, I'm a day short of 37 weeks pregnant with my soon-to-be second-born son. I've been pregnant 4 times, counting 2 losses. When I was carrying my first son, I definitely hated the side effects of pregnancy, but afterwards I thought "I could do this again."
Now that I'm nearing the very end of a second, I just keep thinking… "I hate this." Of course, at the same time, I love it. I'm growing someone who will soon change my life in a way I can't even fathom yet. Several months from now we won't even be able to imagine a life without his existence in our family. How cool is that?
Getting to that point though…is…ugh. Here is how you can make your life easier for the next 9 months…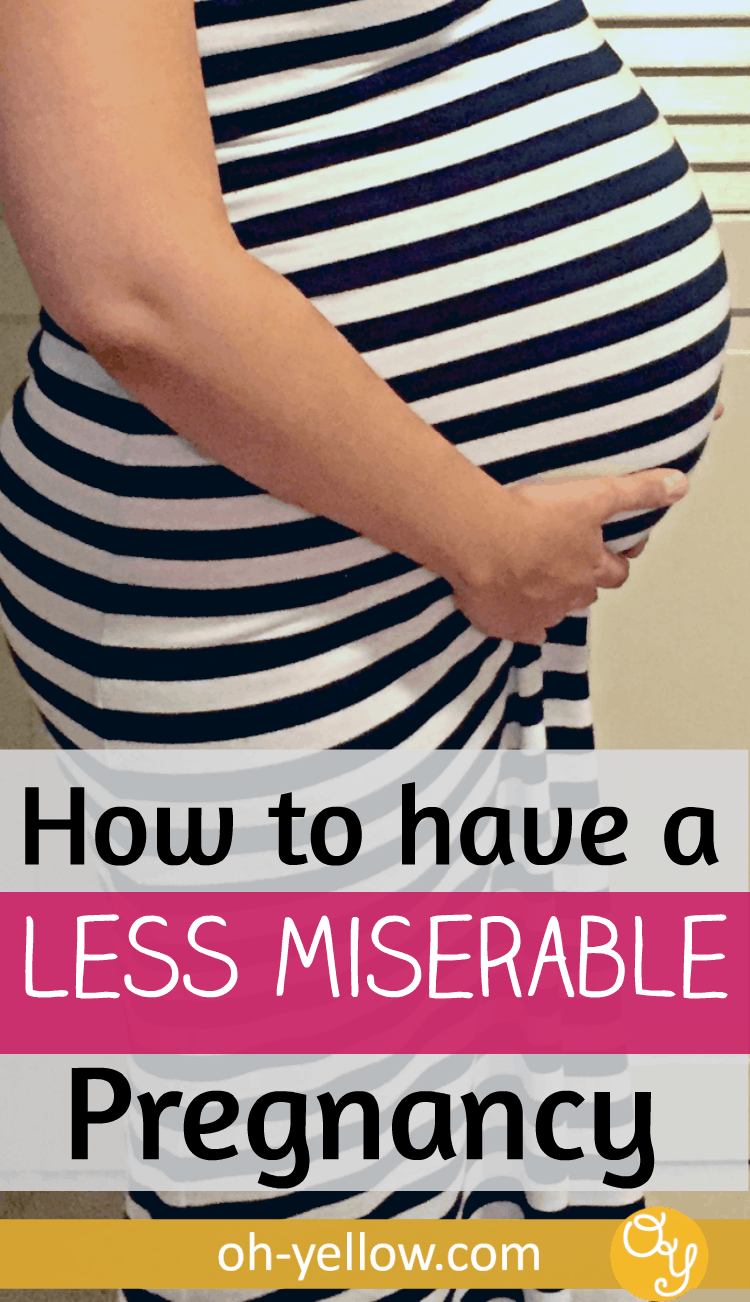 (This post may contain affiliate links. See my disclosure for details.)
6 Pregnancy Must Haves for Each Day of Every Trimester
Pregnancy is just hard. It just is.
It begins with the joyful emotions of finding out you're expecting…then eases into nausea, puking, food aversions, heartburn, sore feet, awkward discomforts, pregnancy brain, feeling gross, looking gross, nothing fitting, stretch marks, constipation, false contractions, headaches, difficulty breathing and the inability to sleep or feel comfortable EVER! …To name a few negatives.
(If you're newly pregnant and reading this, am I making you look forward to the next several months? ;-))
Of COURSE, it's so worth it. I could go on about that forever…but I won't today.
Today, I'm here to share some of the few comforts I found during my pregnancies. These are pregnancy must haves that I could not have gone without…or at least I'm super glad I didn't have to. And you shouldn't have to either…
These are some genius pregnancy tips, because trust me, you're gonna want this stuff in your life the second the fun begins…
This is probably one of my best pregnancy tips for expecting mamas. If you find that you're plagued with indigestion during pregnancy, this will be your best friend. With my first, I tried Tums for several weeks, but my heartburn was so severe that I was taking them alllll the time. I got sick of that chalky taste and it didn't really help that much.
I talked to my doc and she recommended I take Zantac as needed. And I needed….I REALLY needed. It started pretty early on too, like in my first trimester. So miserable. I couldn't eat or drink anything without serious discomfort. In this pregnancy, my indigestion has been even worse. Isn't that sad? So unfair.
I take Zantac every day. It's the best thing ever. This stuff has saved my life for the past 9 months or so. If this is a struggle for you too, you can grab this stuff on Amazon for cheap.
(Ps. I'm soooo not a doctor. Please consult with your Dr. or Midwife before starting any new medications during pregnancy.)
Ok, I seriously had never heard ANYONE mention this as a pregnancy symptom prior to my first, but from the very beginning in BOTH of these pregnancies my feet got sooo sore. No, I don't mean swollen. I'm talking, 7 weeks pregnant and couldn't stay vertical for more than an hour without feeling like I'd just worked a 20 hour shift without sitting.
So. Weird.
In this pregnancy, I finally found a friend who experienced the same thing. Turns out, it's one of those pregnancy tips people forget to mention. But it's super lame. There were so many fun outings I couldn't fully enjoy because I was miserable.
Then, I splurged and got mama a new pair of shoes. I was mostly pregnant in warm weather both times, so I got these awesome sandals. They are the BEST! Usually, I'm bad about wearing flimsy flats and slip ons. That apparently wasn't gonna cut it while growing humans.
These shoes are sooo comfortable. It helped my feet pain times a million. I literally wore them every day of both pregnancies (up until this month, when it's too cold and I only have like 3 weeks left.)
These are cute, simple and work with a ton of different maternity outfits. I couldn't be quite as fashionable as usual and match all of my clothes perfectly, but I didn't care. I wasn't in pain! In pregnancy, that goes a long way.
This is one of the pregnancy must haves that I cannot recommend enough. If you'll be pregnant at all during warm months, get these awesome sandals. Your feet are gonna have a lot to hold up, Mama.
I  know everybody says to get a full body pillow for pregnancy. I originally did. This one. It was great, but at the end of my first full pregnancy, I discovered this baby….and I'm never going back. I've used it EVERY night this time around too.

It's a good size without taking up the whole bed, it's soft, and it contours perfectly for a new mom-to-be's growing body. It makes such a difference when you sleep with it between your legs and/or prop your belly on it. I even use it to prop myself up when my indigestion is terrible at night and I'm maxed out on Zantac.
The best part is, it's also a nursing pillow! And a dang good one. Don't waste money on an expensive body pillow, plus one for nursing baby AND for doing tummy time and propping later on. This one pillow does it all and I PROMISE, it's awesome. No, you can't borrow mine, sorry. I'm never letting go. Go ahead and start getting comfy with yours and you'll be just as stingey.
If you choose only ONE of these pregnancy must haves, this one is for sure the one you want. Read my full review of why this pillow is incredible here.
This is important: Water.
Water, water, water.
I feel like this is one of the best pregnancy tips that isn't shared nearly enough. When you're pregnant, you've got to hydrate like crazy. Your pregnant body needs it and you will FEEL better when you do.
If you're not already a major water-drinker, it's hard to remember to refill your glass 12 times a day, especially if you're on the go or working a lot.

I've used this water bottle EVERY DAY in both pregnancies and in between. I even got one for my toddler!
Did I mention that you have to drink EVEN MORE water when you're breastfeeding? And hydration is also super important in healing postpartum. (Check out my other tips for preparing for postpartum here.)
So, you're going to need a GREAT water botty. Something light, cute, and convenient to use.
I highly recommend this kind.
This company is great. The bottles aren't going to break the bank and they have a lifetime guarantee. I've had mine for several years and any time I've had to replace a part (because I've worn it out from constant use) they've sent me a new piece FREE, no big deal. Just fill out a quick request online.
It's also great because it's easy to slip on your finger and carry around while holding a baby or toddler, which will be very important to you very soon.
When it's dirty, I use a cup and I'm always fumbling trying not to drop or spill it while loading us all into the car or going up the stairs. You're gonna want something easy to keep with you allll the time while you're pregnant, postpartum, breastfeeding, and then lugging you're growing little one….then pregnant again. Get something that lasts. Love this thing.
Here is one of my pregnancy must haves that meets everything on an expecting mama's checklist. Cheap, versatile, comfortable, grows with your bump, and usable even AFTER you have your baby.
Find a tried and true tank top and stock up. Like these.
I grabbed like 6 in different colors at the beginning of my first pregnancy. I wore them alllll the time.
Seriously, every day. I got them in a size up and they fit up until the verrrry last week or so when I was basically avoiding wearing anything whatsoever because I was so uncomfortable.
You want something long enough to cover the maternity band on your jeans and stretchy enough to grow with you. I'm so comfy in them.
And they're so easy to dress up or down. I wear them as undershirts pretty much daily. In the dead heat of summer, I wore them as a cute outfit with a belt and a skirt. In fall and winter, I throw on a cardigan. They're even my go-to for lounging around at home when my body is SICK of being full of another human.
Update: Sadly, the exact tank I have isn't available anymore, but these are a great option for a stretchy, comfy, versatile tank. And they're way inexpensive. Get it, girl.
So I miraculously made it through my entire first full pregnancy only buying 2 maternity items. One pair of jean shorts and these. (In case no one tells you, even if you lose the baby weight, your second kid may not be so kind on your body. Let's just say things grow fasterrrr and lowwwerrr the next time around. Ah, the joys of motherhood.)
Leggings are so comfortable anytime, but in pregnancy…they're a must. I wish I'd gotten some super early the first time because when that awkward "things fit, but not really" stage strikes, it happens fast and you'll want to wear something that feels like you're wearing nothing at the end of the day.
I throw them on as soon as I get home every day. Sometimes they act as my pj's too. Try these. Comfortable clothing is non-negotiable in pregnancy. Do it.
The Best Pregnancy Must Haves
These are my very best pregnancy tips. If you were my best friend and you told me you were pregnant I'd hug you, squeal a little bit, then tell you that you need to go get these items TODAY. I mean…we splurge like crazy on great baby stuff, Mama should get some spoiling too.
Ok, that's 6 pregnancy must haves, but I have a bonus tip for you!
It's not something I used every day of my entire pregnancy, but I used it every day of my first trimester and well into my second trimester too. If you're struggling at all with nausea or morning sickness, this is for you. I'll let you check out my post all about How to Thrive in your First Trimester here.
I hope these suggestions are as fantastic for you as they were for me! Now go check out my posts on what you probably won't get at your baby shower and how to prepare for life with a newborn while you're still pregnant. These pregnancy tips will make your life easier. After all, we mamas gotta help each other out.
For more tips on pregnancy and life as a new mom, follow me on Pinterest!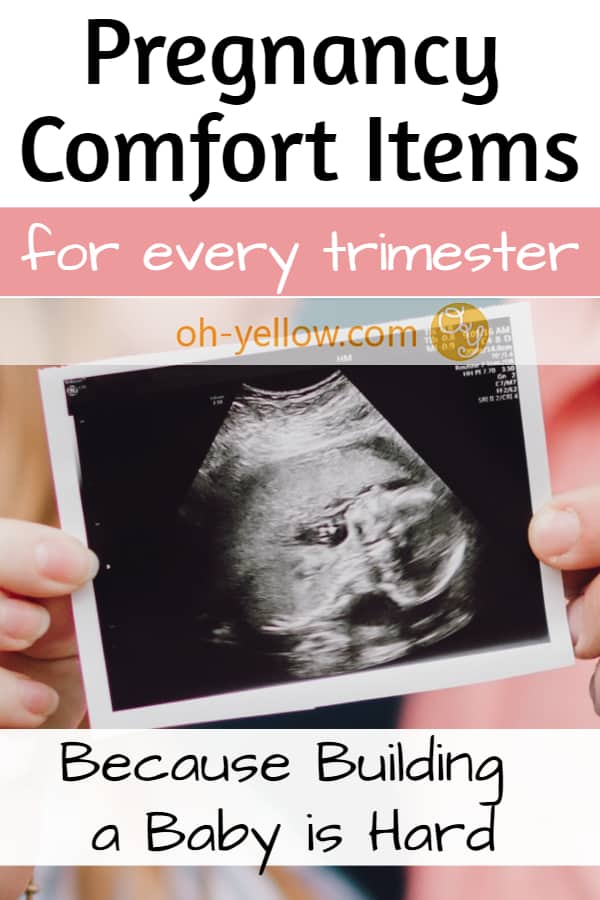 Like these Must Haves for Pregnant Moms? Save them to Pinterest!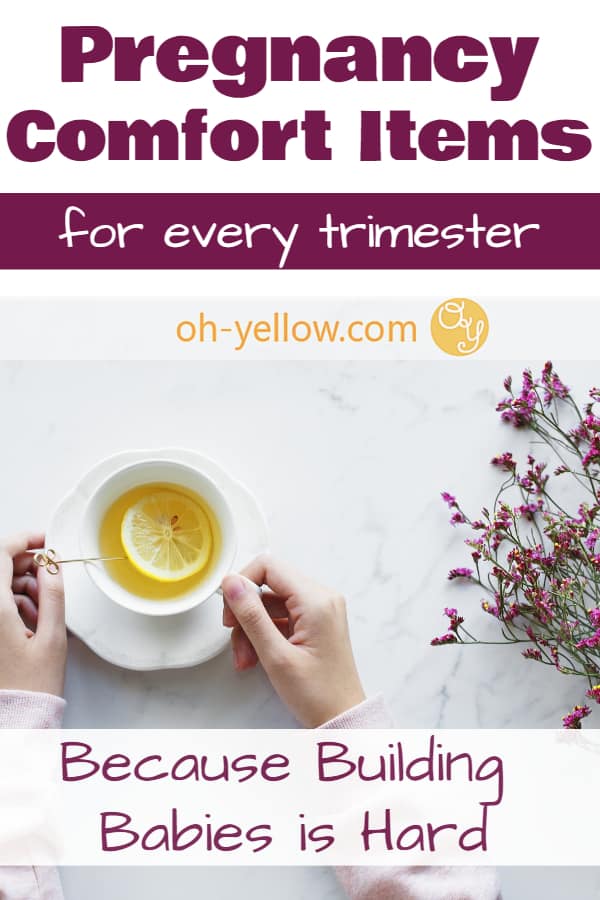 Must Haves During Pregnancy