Baby Sleep: 1 Simple Tip to Help Baby Sleep
Baby sleep. It's THE WORST, right? Is it driving you to a breaking point? Is it overtaking your life?
Ohhh…I can relate. Like REALLY relate.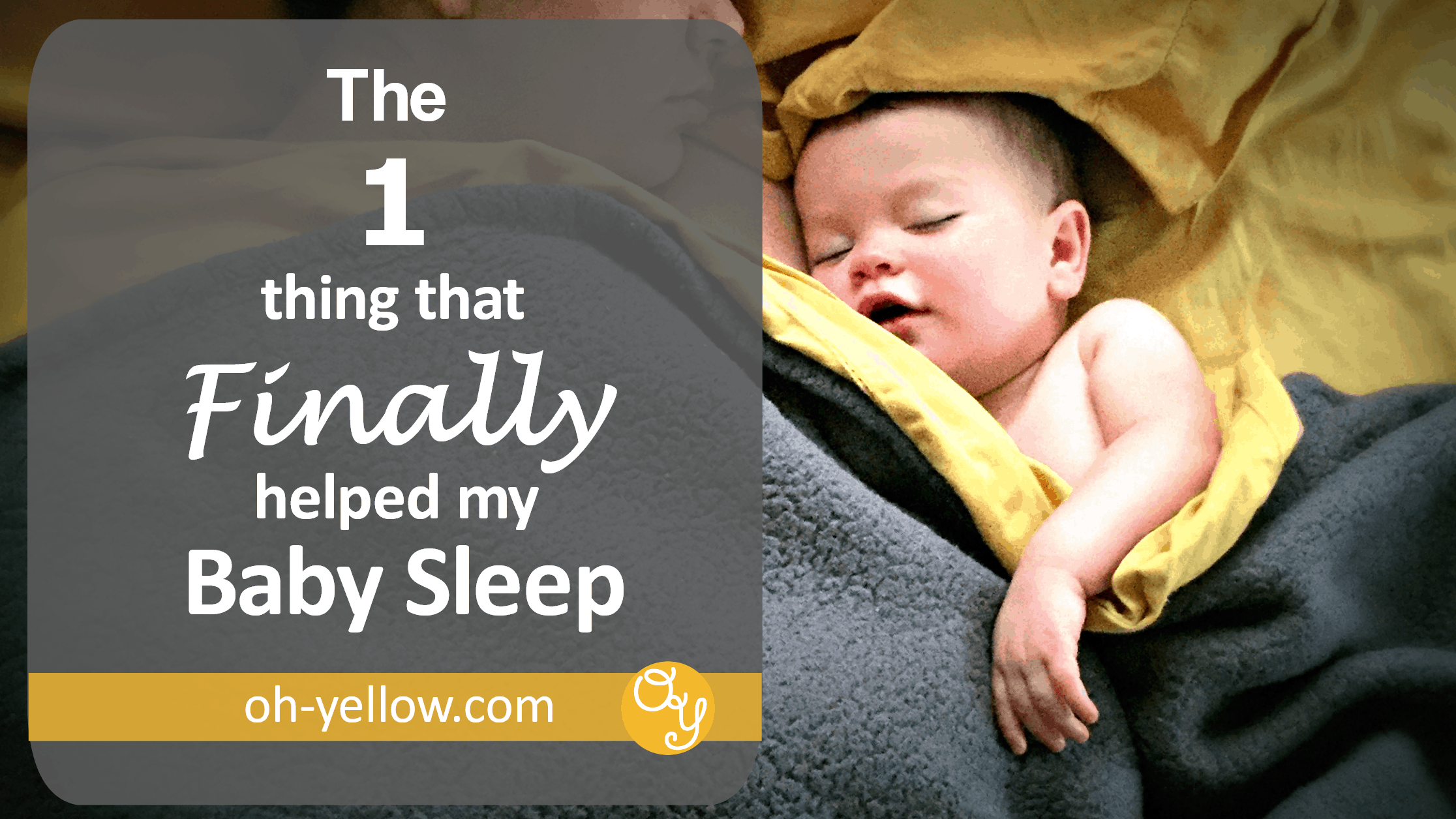 This post may contain affiliate links. See my disclosure for details.
But we finally found something to help. I waited WAY too long to take action. Once I did, this simple, natural chest rub truly changed everything for us.
OR
Keep reading for the details on how this amazing stuff changed our life and can help you too!
Baby WON'T Sleep: Help!
Let me share our story. Tell me if it sounds familiar…
Around 4 months into being a brand new (exhausted) mama, my son still wasn't sleeping through the night. I thought that was rough…then things got really ugly. He started waking from naps after only sleeping for 20 minutes. Night wakings increased and he wasn't anywhere near being on a schedule, despite my constant efforts.
Every single attempt at helping him sleep turned into a battle. We tried every sleep training method we could find with no sign of improvement. Everything we did to help our baby sleep just seemed to make him mad.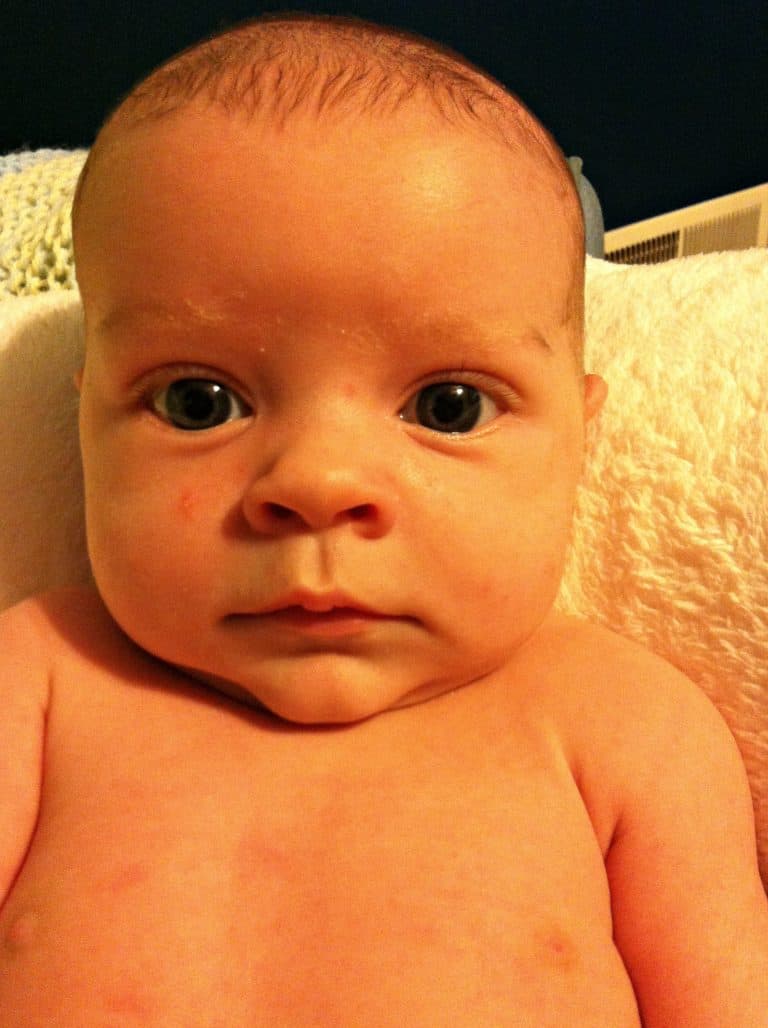 I vividly remember our routine:
We rocked him until our arms went numb, tiptoed at the slowest pace imaginable to his crib, lowered him like a live wire bomb, and slid our hand away at snail speed while praying earnestly that he wouldn't wake up. Most of the time he did…at least by the time we inched to the door and silently pulled the padding-covered latch closed. Back to the crib, patting and hushing until our backs ached, eventually repeating the entire process. This was every nap during the day and multiple times throughout the night…for almost A YEAR.
We were frustrated, confused, and completely exhausted. We felt like we were being held hostage in our own home by our own beloved baby.
I spent many of those sleepless hours holding him so at least HE would get some kind of sleep. Staring at my dimly-lit phone screen I researched ANY help I could find.
And believe me, we tried it all…
calming baths

essential oils

baby massages

nursing to sleep

diet changes

patting and shushing

routines and schedules

swaddling

car rides

strolling

early bedtimes

late bedtimes

classic sleep training

no cry/gentle sleep training

doctor's visits
You. Name. It.
How to Get Baby to Sleep
I still remember the night I stumbled upon it. The solution that, little did I know, would solve our baby's sleep problems. It was some kind of balm that you could rub on baby's chest or feet and it supposedly helped them sleep.
Hmm. I was skeptical.
I didn't want to put money into some product on the off-chance that this time something would actually help. I wanted to KNOW it would help.
The next night, I looked into it again. I started reading Facebook reviews and thought, "Huh…It sounds like a lot of these people went through similar situations…and this stuff helped…a lot." Since I'd be sitting holding my finally-asleep baby for another hour or so, I just continued reading on my phone. I probably read every single review on their website, plus countless Facebook reviews. Based on the success stories of real parents, I started to feel hopeful.
The next day I talked to my husband and we decided it was worth a shot. I mean, we couldn't keep going the way things were.
Have you ever caught yourself thinking,
"If I could BUY sleep for my baby, I totally would."?
Well, I was at that point.
We decided to invest in our baby's sleep.
And I gotta tell ya…we have no regrets.
Guys…this stuff changed our life. That might sound dramatic, but after living through an out-of-control waking nightmare for 11 months, something life-changing is exactly what we needed.
And if you've been sleep-deprived for long, I'm betting you know what I mean.
Within a week or so of putting this rub on our son at bedtime, he started to fight sleep less. Then less and less. It was SUCH a sweet relief to be able to cuddle with him before bed without him screaming.
After using this consistently, we saw significant improvement in our son's sleep! Then, he FINALLY slept through the night for the first time! I couldn't believe it.
(Now, I fully remember thinking "No, I need something that works instantly. I need to sleep TONIGHT." I feel you. But I regretted every day that I put off trying this stuff. Honestly, there are no truly instant solutions and a week from now you'll be wishing you had just ordered this stuff because it could be helping by now!)
My favorite thing about this baby sleep rub is that it's all natural and super gentle. It also smells amazing and it only takes a tad at a time to use.
And this company is incredible. I normally don't show a lot of loyalty to companies. I'm strictly an "Ok, who has the best price this time?" kind of gal.
But Wink Naturals has won me over.
Every single time we have ordered from them, they've made me feel like they value my family and our sleep. They are genuine. We even get little notes and stickers from them! How cute are they?
And as you can read here, I lovvve their teething gel too.
I promise I'm not exaggerating. If our newest little boy isn't sleeping well by 2 months, this sleep rub will be my FIRST go-to.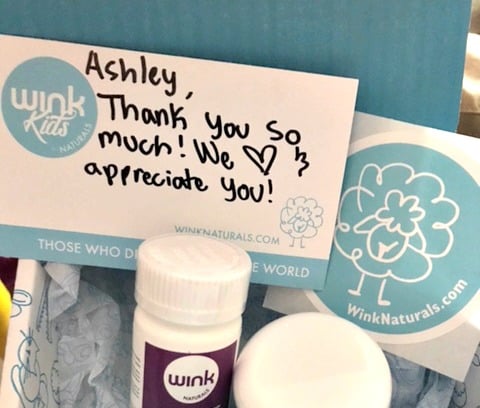 Baby Sleep: It doesn't have to rule your life!
If you are experiencing even a little version of what we went through, you gotta try this stuff. Go check it out for yourself. I recommend it to all of my new mama friends, especially those in the midst of sleep training.
And it's not even expensive!
Especially with the discount for signing up for their auto-shipping, which just really makes life easier. Or you can use the code AshleyB15 and get 15% off. If you are ready to see some change in your little one's sleep, try this stuff. You'll love it.
(Note: I know some folks are loyal Amazon shoppers, so I'll add that you can find this sleep rub here on Amazon as well. Although, I do think the deal is way better from Wink's website.)
I sincerely hope that you can help get your baby to sleep very, very soon. Truly, I understand what you're going through. I know that just having someone understand won't fix things…but I hope it helps a little. You're not alone.
Things will get better. You can do this. You're a good mama, Mama.
For more tips on life as a new mom, follow me on Pinterest.