Pregnant Mommy on a Budget: How to Raise Baby on a Budget
Pregnant mommy on a budget? Preparing for a new baby can be overwhelming enough without the stress of…
"HOW AM I GOING TO PAY FOR THIS?!"
The costs of raising a baby can multiply so quickly.
You have to consider the expenses of pregnancy, birth, diapers, baby clothes, medical expenses, childcare, saving for your family's future…

Yikes! And that's just skimming the surface.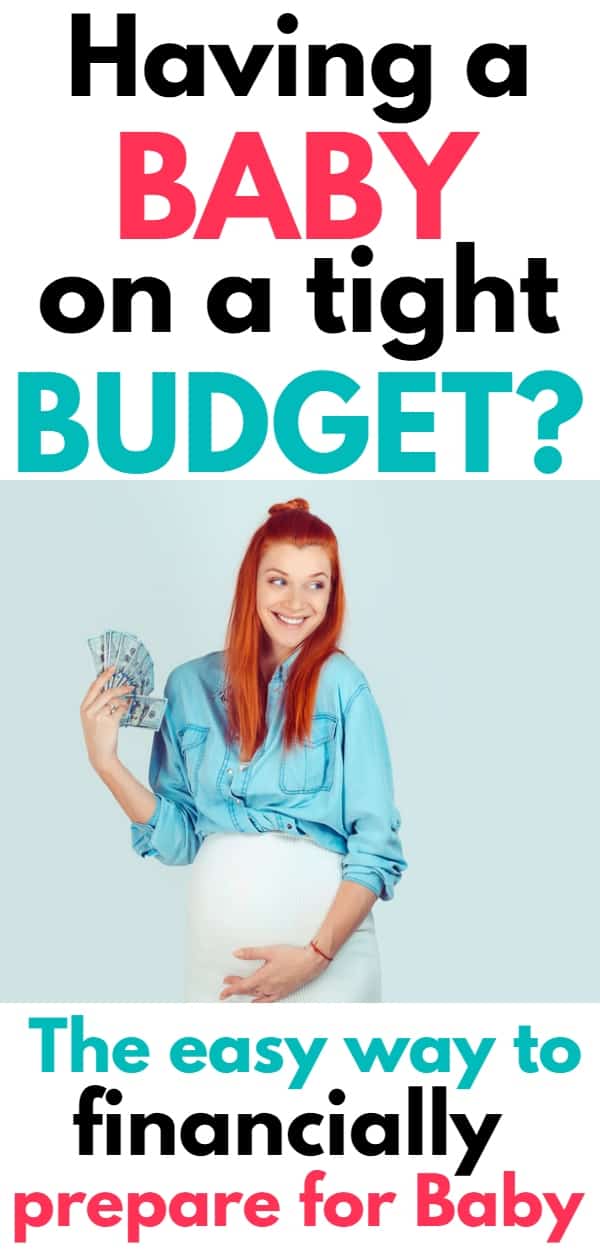 This post may contain affiliate links. Please see my disclosure for details.
Question:
Take a guess. How much does it costs to raise a baby through their first birthday?
Answer:
Up to $12,000.
Ughhh. That's SO much money!
For single parents or families on even an average income that's an expense that takes a whole lot of planning.
Having a Baby on a Budget
When you're pregnant (and your to-do list is just as long as your list of baby names) the last thing you need is the task of figuring out how much a year of diapers and baby food costs. Not to mention figuring out how to actually budget for those things.
Pregnant mamas need a way to get their finances in order quickly and without a huge headache…
So, I was super excited when one of my favorite mom-geniuses said she was creating an affordable online course where she does ALL of that work for YOU!
And y'all…
It is legit. She has covered allll the bases here and seriously eliminates a HUGE portion of the stress that comes with preparing financially for having a baby.
How to Prepare for a New Baby on a Budget
If you're AT ALL worried about the many, many expenses of pregnancy, birth, and raising a baby you've GOT to do this course:
This is an amazing guide FULL of hacks on saving thousands of dollars during pregnancy and Baby's first year. And, Erin, the adorable mama who created it, is a straight genius.
She will teach you:
What costs to expect & how to build a realistic budget

How to find cheap and FREE pregnancy & baby essentials

Tips for saving thousands on hospital fees, baby wellness visits, medical bills, insurance, and more

Strategies to reduce spending on diapers, clothing, childcare & unexpected expenses

Tips on building SAVINGS for your family's future

Her secret to finding hidden income (even as a Stay at Home Mom)
As a mom-to-be, the unknown expenses ahead can be so scary!
Don't freak out!
I highly recommend taking this course. It's sooo helpful and the info pays for itself almost as soon as you read it.
Seriously, even just ONE of the tricks taught in this course would save you enough money to cover several months worth of diapers. Trust me, I have bought a lotttt of diapers.
The course gives you 5 helpful tools so you can:
Understand the REAL costs of pregnancy and Baby's first year

Create a baby-friendly budget that WORKS for you

Learn highly effecting (but not intimidating) strategies to SAVE on all the things

Gradually increase your income (even if you're a Stay at Home Mom) to help cover costs

Start saving for your family's future using crazy-easy methods that really work
Baby on a Budget is actionable and super easy to complete at your own pace before you pop. Think of it like continuing education for becoming a parent.
It even includes legit financial resources created JUST for moms-to-be. In addition to helpful videos where she walks you through these strategies, the course comes with:
A Baby on a Budget Workbook

12 Printable Worksheets

Helpful Printable Lists

Life-time access and a worry-free guarantee
It's actually really fun to finally sit down and tackle your finances head-on with a sure-fire plan to secure a great future for you and your baby!
Preparing your budget is seriously one of the BEST ways you can be getting ready for your little one. Don't wait on this.
You can find more details on the course here:
Annnd because this post is all about saving money and becoming a mommy on a budget, I want to give you your first bit of savings myself…
Tip: When you enroll in Baby on a Budget, enter the code ASHLEY10 and I can get you a discount!
Becoming a Mommy on a Budget
I hope you are feeling way better about paying for the expenses of your new baby. Right now, you have plenty of other things to do!
Have you read these 7 other genius tips on how to make life with a newborn easier while you're still pregnant??? They are GOLD!
For more tips on pregnancy or life as a new mom, Follow Me On Pinterest!
Or check out some of my other most popular posts:
Practical Items You Probably Won't Get at Your Baby Shower
The Super Prepared Mom-To-Be's Hospital Bag Checklist
Pregnancy Tips for Every Season
Not-So-Obvious Ways to Prepare for Baby
Mommy on a Budget: How to Prepare for a Baby on a Tight Budget