Mommy To Be Gifts Ideas: Gifts for New Moms that Aren't for the Baby
Gifts for pregnant women are a must-do and a must-do WELL.
Not just scrambling to find a Christmas gift for your expecting wife or kinda trying to choose the right birthday gift for a pregnant friend.
You gotta ROCK this.
And here's why:
Pregnant women spend over 9 months sacrificing our bodies, our comfort, and the freedom to do just about anything the way WE want to be doing it (think sleeping in a position we like, wearing the clothes we like, PEEING when we like…or rather, when we'd NOT like.)
The point is, whenever there's an excuse to dote on the pregnant woman in your life and do something solely for HER…
DO IT!
Even if there's no reason at all, a gift may be just the pick-me-up she needs to get through another week of expanding.
Remember, her body is working hard growing a tiny human you're going to LOVE.
Her heart and mind are working hard preparing to make that tiny human's life as perfect as possible upon arrival.
And, of course, the finale to this uncomfortable, self-sacrificial, emotionally exhausting adventure will be to experience the most pain she will likely ever encounter, leaving her body in a state of disaster from which it will never quite return.
Yeah…Mama needs a present. And a good one.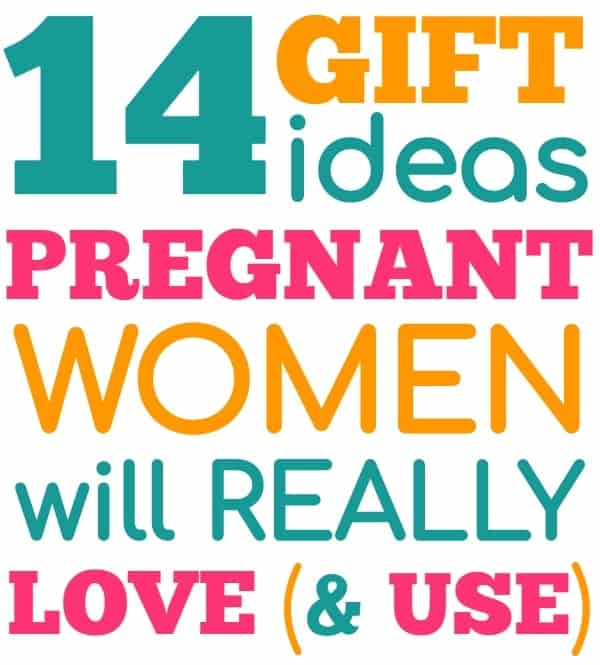 This post may contain affiliate links. Please see my disclosure for details.
What to Get a Pregnant Woman for Christmas, Birthdays, & Beyond
So, let's talk about how to find that perfect present for a pregnant friend (not for Baby!)
I've compiled a list of great gift options for her. These are some of the best pregnancy gifts out there (coming from a currently pregnant mama who loves alllll this stuff.)
This list has just what she'll LOVE, whether you're searching for:
Pregnancy gifts for first time moms

Present for pregnant friend (NOT for baby!)

Birthday and Christmas gifts for pregnant wife

Valentine's gift ideas

Pregnant birthday gifts

Push presents

Anniversary gift for pregnant wife

Or a little something for no reason at all
So, get ready to make her preggo day. Here we go!
14 Gifts for Pregnant Women (That She'll Actually Like & Use)
Bump Box – These clever little boxes are a really great way to celebrate pregnant mamas. I love these! There's one for each trimester.
How cool would it be to begin each new trimester with a special something arriving full of exactly what you'll need in the upcoming weeks.
There's even a Bump Box for the fourth trimester (aka: postpartum and life with a newborn.)
If you ask me, this is a AWESOME gift idea. One box would be a really easy pregnant woman Christmas gift or a birthday gift for pregnant friend.
Or even better, spoil her with one each trimester.
She'll love every box and LOVE that you are paying enough attention to know when each of her trimesters begin.
An AMAZING Pregnancy Pillow – Give the gift of COMFORT. She'll thank you…a lot.
If she's getting into the uncomfortable stages of pregnancy, this is the BEST gift. This pregnancy and breastfeeding pillow is seriously the most comfortable thing EVER.
And it is wayyy better than those massive, bed-hogging pregnancy pillows that you can't take with you anywhere.
I used it through 2 pregnancies, 2 labors, and the extended breastfeeding of 2 babies.
This is one of the best gifts for pregnant women ever. I say that with no reservations. (Clearly, I'm obsessed with this pillow. Read my full review here.)
Push Socks – If you're looking for an inexpensive gift option, I love these socks!
These are perfect for the mom-t0-be to pack in her hospital bag (make sure you remind her to put them on, she'll have other things on her mind.)
A little-known fact about labor is that your feet can get COLD! This is a simple, cute gift idea that she'll love.
Maternity Leggings – If you ASKED her what she wants for a gift, I bet you "being more comfortable" would be at the top of her list.
Maternity leggings are about as close as you can get to being totally comfy while preggers…mostly because it basically feels like you're wearing nothing.
These soft, stretchy leggings will be her new best friend while pregnant AND during postpartum recovery. And they come in fun colors and designs!
This would be a fantastic birthday gift for pregnant friends or, better yet, one of the coziest Christmas gifts for pregnant wife that any mama will LOVE.
Warm, stretchy, comfy. Yes, please.
She will love you forever. Trust me.
Mommee Coffee & Mama-Mug – Is she bummed about the restrictions on caffeine while pregnant?
Ugh. I feel her pain!
Stock up on this brew-at-home coffee made just for pregnant mamas (that's right: hands off, hubby.)
It's called Mommee Coffee and it's perfect for those of us who still want the daily wake-up & warm-up, but without the jolt.
Low-acid, decaf, organic, and Fair Trade Certified.
She will love it.
And of course, she needs a new travel mug to sip it in.
I LOVE this pretty mama-mug.
Plus: The mug will go nicely with her new title after Baby arrives and she gets to switch back to the hard stuff.
Boom.
You just found the perfect last minute Birthday or Christmas gifts for pregnant wife, girlfriend or bestie. You're welcome.
Water Bottle – This is one of my FAVORITE things to recommend to pregnant mamas, so you can bet she'll appreciate it as a gift.
Pregnant (and breastfeeding) women havvve to stay hydrated and the best way to do that is by keeping a GREAT water bottle with you at all times.
BUT, not just any cheapo bottle will do, especially after her hands are full with Baby and all the gear.
She needs a durable, non-plastic, easy-to-carry water bottle.
This is the one I use and love.
I also compiled 5 of the best water bottles for pregnancy and breastfeeding. This is a thoughtful and practical gift that she'll actually use every single day.
I know this is pretty practical, but sometimes the practical things are the best pregnancy gifts a gal can get.
A Prenatal Massage – This is honestly a MUST while you're pregnant, even if it's not as a gift.
Find a quality masseuse who specializes in prenatal massages and let her enjoy some suuuuper relaxing and much-needed mommy to be pampering.
Be sure that her masseur is aware of how far along she is and comfortable working with pregnant women.
This is a perfect pregnancy gift for any occasion or no occasion at all, but it's a total slam dunk if you're searching for an anniversary gift for your pregnant wife.
Make it a couples massage for extra romance!
Mommy Jewelry – One of my favorite mommy-to-be gifts from Husband while I was pregnant was a sweet necklace that would symbolize my new role as Mom.
This will be a gift she will treasure forever.
I like this one because she can continue to add on to it with each baby as her family grows.
And I mean, who doesn't like an excuse to get jewelry?
This is perfect first time mom to be gifts that she can add on to as her family grows.
Silicone Ring – Speaking of jewelry, are her hands and feet looking a bit bloated?
Many pregnant women experience major swelling in their extremities, so much so that they can't even wear their wedding rings.
SAD!
I actually had to remove mine for several months before AND after Baby came thanks to a weird pregnancy hormone-related metal allergy.
Consider this creative and thoughtful solution!
These rings are stretchy, hypoallergenic, comfy and a great reminder for her that, even though her body is changing, you still want to put a ring on it.
If she's a true romantic, put it in a ring box and get down on one knee all over again…how sweet and memorable would this anniversary gift for a pregnant wife?!
Essential Oils – Mamas lovvve essential oils.
They are a natural way to relax and reduce chemicals in our homes for us and our babies.
These fantastic oils are perfect for growing families because you can diffuse them into the air, roll them on directly, or add them to your bath for a relaxing or romantic evening.
I highly recommend this Lavender oil which is extremely gentle and calming, plus it's one of the best oils for promoting sleep in babies (which she's gonna care A LOT about real soon.)
Be sure and learn about safe practices for using oils in pregnancy and especially on little ones.
Maternity or Labor Robe – A gorgeous maternity robe (like this one) will make her feel beautiful in her growing and changing body.
And it comes with a matching swaddle blanket!
This is a really sweet option because she will get to enjoy it daily.
It's also perrrfect for packing in her hospital bag.
Wrapping up in a clean, beautiful robe after the HARD and not-so-clean event of giving birth will help her begin to feel human again.
Or at least enough for pictures.
Plus, robes are must-have when breastfeeding at all hours of the night, so this pregnancy gift keeps on giving.

Delicates and/or Comfy Undies – Delicates are a fun and flirty option for an expecting mom who wants to embrace her pregnant body and show some skin in the bedroom.
This is an especially great anniversary gift idea for a pregnant wife.
Try a flattering bra and panty set or a pretty chemise with a split middle to flow over her growing belly.
This really pretty bra works for maternity, breastfeeding and pumping.
Who says you can't feel beautiful while pregnant?
Buuuut let's be honest, what we really want and need is to feel pretty and comfortable EVERY day throughout pregnancy.
These maternity undies are life-savers.
She might buy these for herself, but she definitely deserves something that looks and feels good down there.
Breastfeeding Scarves – First of all, scarves are just always a good gift for women.
But pregnancy, and especially breastfeeding once Baby arrives, are REALLY good times to add a new scarf or two to her wardrobe.
They are pretty, one-size-fits-all, and a great way to cover things like: awkward expanding areas or stretch marks on cleavage, the fact that you're wearing that same maternity tank top again because it's the only one that fits, or ya know, a nursing baby.
This is another great pregnant birthday gift idea for friends!
I wrote a whole post on this and listed over 30 of the best scarves for pregnant and nursing mothers.
Something Fun – If the above options aren't really your style, I've got some fun gift ideas for pregnant women too!
This shirt pretty much sums up pregnancy, but it is also super cute and flattering.
I also really like this cute tumbler .
I mean, if baby gets one, it's only fair if Mommy has one too, right?
Presents for Pregnant Women in Your Life
I KNOW finding perfect anniversary, birthday, or Christmas gifts for pregnant wife, girlfriend, or friend can be tough.
Especially finding a present for a pregnant friend that's not for Baby!
But you can't go wrong with these fantastic gift ideas!
This list really does have the best gifts for pregnant women…just ask her!
This will have you set for whatever holidays, birthdays and anniversary that may pass while your loved one is pregnant.
Treat her with love, compliments, and presents. She deserves it.
Also be sure to check out these awesome Birthday Ideas for Pregnant Women.
And Mama, if you're reading this, I have a list of the best Gifts for Expecting Dads & New Dad Gift Ideas that you should definitely check out too.
Follow me on Pinterest for more tips on pregnancy and life as a new mom!
More of my most popular posts for pregnant women:
Pregnancy Tips for Every Season
7 Last-Minute Ways to Prepare for Baby
Practical Items You Probably Won't Get at Your Baby Shower
First Time Mom-To-Be Gifts for Pregnant Women

Best Pregnancy Gifts for All Occasions:
Birthday gift for Pregnant Friend, Christmas Gifts for Pregnant Wife, Anniversary, Mother's Day & Valentines Day Gifts for Pregnant Women