Pregnancy Announcement Ideas for Grandparents and Family:
23 FUN and FUNNY Ways to Tell Your Parents & Family You're Pregnant
Pregnancy announcements to grandparents and family are SO special!
Once you've shared the news with the dad-to-be, telling your parents and family that you're pregnant is the next most important step to this baby thing feeling REAL!
Have some fun and make it good!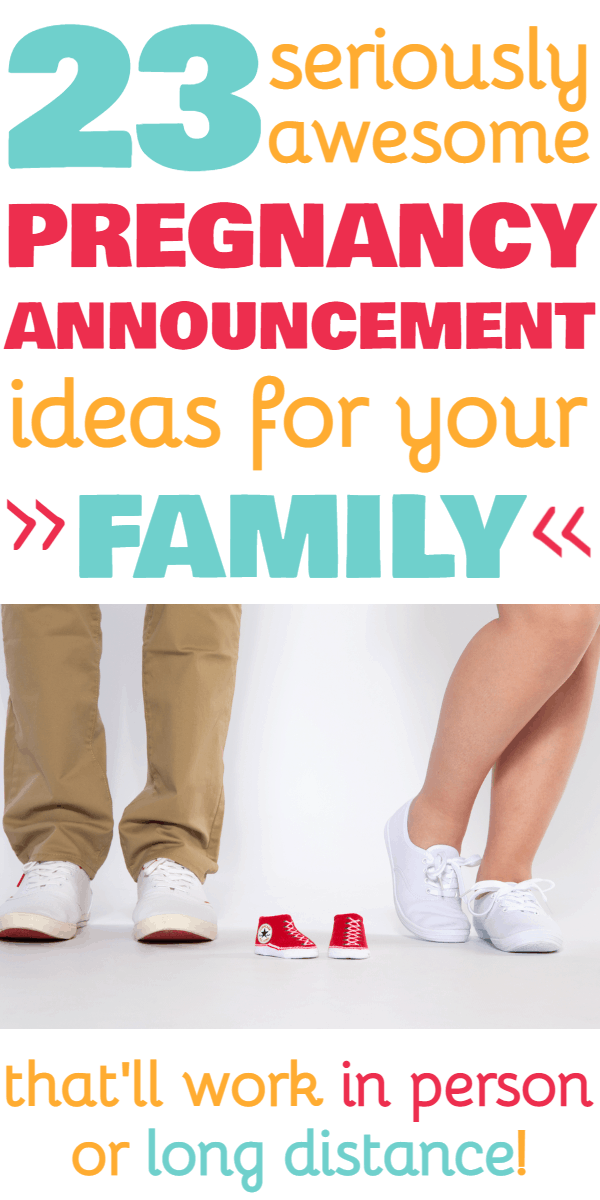 This post may contain affiliate links. Please see my disclosure for details.
In this post, I'm focusing ever-so-slightly more on how to tell your parents your pregnant, but including TONS of great ideas for sharing the news with the rest of your family too.
In a lot of cases, your pregnancy announcement to grandparents and to other family members will probably be one in the same, so find the best way that works for you.
Just one cute idea:
For example, my friend initiated a game of charades with her whole family and when it was her turn she acted out "I'm Pregnant!" Her parents and family started guessing and it eventually clicked!
See what I mean? This can be SO fun!
How to Tell Your Parents You're Pregnant
So, first things first…
WHEN should you tell your parents you are pregnant?
This really depends on you and your relationship with your parents and in-laws. The closer you feel to them and the more frequently you talk or see them, the harder it may be to wait.
A couple things to consider:
Many couples choose to keep the news between the two of them until closer to the end of the first trimester.
This can be a VERY special and sweet time for you and hubby.
Don't feel pressured to rush it!
It's so special when only the two of you know your little secret, and once you share the news, there's no going back.
Some mothers-to-be prefer to wait to avoid sad or awkward conversations in the event of a pregnancy loss.
I've been there. Twice.
BUT…I also know that if that happens, you will appreciate the support of your closest loved ones.
If you think you would end up telling your parents if the worst happens anyway, you may want to invite them into the secret now.
It can be nice to allow them to rejoice with you and stay up-to-date on the baby's health and development, even if the rest of the world doesn't need to know quite yet.
However…
Keep in mind that if you want to keep the news mostly private or at least keep it off of social media for a while, you'll want to be realllly confident that this is something the overjoyed grandparents will be able to do without too much difficulty.
With that said…
If you know the news will be welcomed with joy and support, why wait to tell the grandparents-to-be that you're expecting?!
You can have the perfect way to announce a pregnancy to family in person or long distance ready to reveal in just a couple days (isn't 2-day shipping just the BEST?)
Speaking of which,
Before you do anything else…
EVERY newly pregnant mama should definitely go ahead and sign up for an Amazon Baby Registry.
Like now!
Even if you plan to register other places, just start one because:
1. You can take your time registering and change your mind easily
2. You can read reviews from real mamas
3. Your friends and family probably already shop there anyway
4. 2-day shipping is helpful (think friends who procrastinate)
5. Friends and family who don't live nearby can ship a gift to you
Yup.
With a baby registry on Amazon, you get a FREE Welcome Box full of little goodies for new parents and for Baby.
Also…
You'll get 10% off of items that are left on your registry after your baby showers (make it 15% if you're a Prime member.)
It's also FREE.
Sooo, why wouldn't you do this?
You can sign up for your Amazon Baby Registry here.
Anyway, back to finding the BEST pregnancy announcement ideas for grandparents!
The PERFECT Pregnancy Announcement to Family
First of all…don't foregt to make this FUN.
In fact, figuring out how to tell family you're pregnant is arguably the most fun you'll get to have with them…maybe ever.
Especially finding first grandchild announcement ideas!
Sure you can just pick up the phone and call, but this is a once in a lifetime opportunity here!
Promoting Mom and Dad to Grandma and Grandpa is something they may have been waiting for for longer than you know.
So make it special!
A favorite way to announce pregnancy to grandparents is by giving them a gift.
Whether it is news they are expecting or a surprise that will knock them off their feet, giving them a gift they can keep will make this priceless moment special forever.
Sending gifts is probably a top solution to how to announce pregnancy to parents who live far away. They get a surprise present and a keepsake to brag with.
Perfect!
If you want to be part of the moment, have them video call before opening the gift. You'll want to press record because seeing that face will be priceless!
I'm also including some no-fail ideas for your pregnancy announcement to family members like your sister, brother, in-laws and beyond because the fun just keeps on coming after you tell your parents you're pregnant.
Be ready!
Here are some of the very best pregnancy announcement ideas for grandparents and other family members.
23 Pregnancy Announcements to Grandparents & Family:
Who doesn't love coffee? Combine that with an awesome new mug and oh yeah, the news that YOU'RE PREGNANT?!
This is a pregnancy announcement that's sure to win. Grab your family's favorite brand of coffee and have some fun with it!

If you need ways to announce pregnancy to family in person, try serving a tray-full of coffee in these adorable coffee mugs.
First one to finish gets the news first!
Just try to contain your excitement long enough for them to finish the whole mug. Make sure not to brew it too hot or you'll be stuck waiting forever!
At the end of the gathering, everyone gets a keepsake to remember the special moment when they found out you're expecting!
They also make mugs these fun mugs which are too cute.
If you're delivering the news from afar, try these travel mugs to tell your family you're pregnant. This is a special gift that they'll love and best of all, they'll get to see it every day!
What could make a new grandparent more proud than showing this off?
2. Frame It
Framing your ultrasound picture is a CLASSIC and beloved pregnancy announcement to grandparents who are awaiting the news.
This idea works for ways to announce pregnancy to family in person or long distance pregnancy announcements.
Be sure and promise to send a newborn picture to replace the ultrasound image as soon as Baby arrives.
Trust me, grandparents-to-be will not be able to resist showing off their little peanut, even if that's all Baby really looks like right now.
Choose a frame your family will love. There are some super cute pregnancy announcement picture frames that make a simple and affordable gift.
Like this one.
Who doesn't love a good promotion?
I also love the idea of customizing your own pregnancy announcement message on a frame to make it truly personal.
I love this idea for a pregnancy announcement to family!

If you're gathering in person, call for a toast. (Your glass can be sneakily filled with sparkling grape juice, don't worry.)
At the end of the toast have everyone raise a glass to your new baby and announce when he or she is to be expected.
Everyone in your family will cheer and toast and sip while beaming with excitement over the news.
You can find affordable sets of champagne flutes like these for your whole family to use.
Keep them around for toasting future milestones like your baby's gender reveal, birth, and when you can actually drink champagne again.
Or better yet…
Invite your family to keep their glass and celebrate again when you call with the news that Baby has arrived!
Send each family member home with their own glass and mini bottle of champagne to be enjoyed in about 9 months.

These adorable labels are another perfect way to commemorate the occasion and announce a pregnancy with style.
Another classy pregnancy announcement to family members is with a dinner party.

Invite your parents, siblings, and other close loved ones over for a simple, but nice dinner gathering and have the wine chilled!
I just LOVE these wine bottle labels, don't you?
They are absolutely perfect for how to tell family you're pregnant.
Each guest gets their favorite wine…complete with a custom label!
Which family member will be first to read the label and let the cat out of the bag?
I love that these wine bottle labels work for more than just pregnancy announcements to grandparents, but they are still personal at the same time.
There are even labels that work for those close adoptive family members without an official title.
Perfect!
Don't worry, they also make really great beer bottle labels for the uncles and grandpa's-to-be who prefer their drinks in a six pack.
5. Make it FUN
Speaking of wine, why not have some real fun with it?
If your parents are the light-hearted type, consider giving them a gift that suits their style. This is one of the more "FUN" pregnancy announcement ideas for grandparents.

I love this wine glass for the mothers who plan on becoming the "fun grandma" or this one for the self-acclaimed "Glam-ma."

Or this glass for the wiskey-lovin-grandpa-to-be. It comes in a great beer glass as well.

So, what d'ya think? Is your fun family fit for a FUN pregnancy announcement like this?
Here is another perfect first grandchild announcement idea.
This countdown calendar pregnancy announcement is so cute and will have the grandparents-to-be over the moon every day until you pop.
I love this way of announcing pregnancy to parents because it's active. It gives them something to do to mark the time while they wait for their (ahem, I mean YOUR) big day.
Hey maybe this will even stop the constant questioning of "how long do you have left?"
Plus, they can show it off to visitors. What soon-to-be grandparent doesn't want a surefire conversation starter that means they can brag?
I also love love love this countdown frame!

It's basically a combination of #1 and #6 on this list of pregnancy announcements to grandparents and family.
So…WIN WIN!
Use your ultrasound photo or hey…
If you haven't gotten an ultrasound yet, why not take a cute picture of you and Baby Daddy pointing to your belly?
You can always get them an ultrasound picture later if it's too hard to wait to share the news.
So cute. They will adore this.
These socks are a fantastic pregnancy announcement to family. I mean, who doesn't love socks?

And receiving an unexpected gift along with the news that they are becoming an aunt, uncle, or grandparent?
Yes, please!
Or go a more subtle route…
Mom and dad-to-be, put on these babies and put your feet up while hanging with the fam.

How long do you think it'll be before they notice? What will their reaction be? Have some fun with it!
And be sure someone snaps a picture.
This is a fun and affordable way to share the news and they're guaranteed to love it.
9. Give Them News that Travels
Keychains may seem a little out of date, but I'm tellin ya, grandparents love them.
These make excellent pregnancy announcements to grandparents and extended family members alike.
Plus, everybody's got keys, right?
And a gifts that goes with them anywhere and everywhere means they can brag as often as they want (like oversharing with that unsuspecting cashier who definitely didn't ask.)
These actually make excellent pregnancy announcement gifts for the men in your life. Small, not too frilly, hard to lose, and they know exactly what to do with it.
This one is just the thing for the dad who has been waiting for his little fishing buddy for years.
Or how about a sweet gesture for your brother that doubles as a bottle opener?
Everybody loves a free t-shirt. And some of these shirts could be the perfect pregnancy announcement to family.
How about promoting your brother or brother-in-law to "funcle" with this awesome t shirt?

I'm also really fond of this one for the bearded uncle-to-be in your life.
This one is my favorite shirt for sisters/aunties-to-be.
And this one is perfect for a t-shirt pregnancy announcement to grandparents to be.
11. Wear It
Another favorite way to tell your family you're pregnant these days is to simply show up in a shirt that says it all.
This announcement idea is excellent because YOU get a present.
Plus, if you buy a maternity size, you can keep rockin' it for the next 9 months.
I really like the subtlety of a shirt like this one.
But this one and this one are two other all time favorites for the mamas-to-be out there.
12. Mail it
Alright, so obviously, gathering in person for our special moments isn't always possible, no matter how much we wish it were.
But there are still some great options for how to announce pregnancy to parents who live far away.
And it can be just as special!
Don't underestimate the classiness of sending things through mail the old fashioned way.
Consider a card to share your special news! It will be unexpected, precious, and something your family can hang on to forever.
Don't you just love this beautiful card?

This is a simple and affordable pregnancy announcement to grandparents or family members near and far.
This little card is a PERFECT pregnancy announcement idea for grandparents.
And this one is a little tricky, which is of course always fun.
They'll read the front expecting a sweet note to say hello and instead get a BIG surprise!
If your family is made up of huge pet lovers, definitely incorporate that fur baby into your pregnancy announcement.
How fun would it be to invite your parents over and as they are greeting your dog, they see this adorable bandana announcing the news for you?
It could also work in a family photo shoot featuring your pet.
Bonus:
Save that photo for social media once you're ready to share the news publicly.
If you need to send the gift, but still want to make sure your pup is part of the big announcement, consider sending this super cute mug for them to open up and discover the news.
13. Keep it Charming
Another one of the most precious first grandchild announcement ideas is to commemorate the moment with a keepsake.
You know your story. You know your family.
Has this day been a long time coming?
Would your mom be moved to tears if you told her you are expecting her first grandbaby by giving her a charm bracelet that begins her journey as a grandparent?
Or maybe she'd just love any excuse to wear new jewelry.
There are a lot of really sweet options here. This bracelet is my favorite.
14. Have them Solve the Puzzle

Are your parents puzzlers? What about the rest of your family?
You can literally make them put the pieces together to figure out the big news.
A puzzle like this might be just the surprise you're looking for.
This might be a tad cheesy, but it's also kind of awesome.
And you'll definitely get points for creativity in your pregnancy announcement.
15. Get Festive
If you're looking for how to tell family you're pregnant around the holidays, think about doing it with a Christmas ornament.
This can be hung on the tree every year to remember the special day that you announced your baby's life!
This ornament is actually one of my most favorite pregnancy announcement ideas for grandparents because it is JUST GORGEOUS.
Don't you think?
If you're looking more for a pregnancy announcement to family members all together, think about this nice rustic Christmas ornament. It's even customizable.

This works well for people needing long distance pregnancy announcements, particularly around the holidays.
16. Funny Pregnancy Announcements
Expecting parents are always looking to find funny pregnancy announcements to parents, siblings, and close loved ones.
I mean, why not?! Have some fun with it!
So, how do you announce a pregnancy funny?
There are countless funny ways to tell parents you're pregnant, but we are sticking to gifts on this list.
This mug hits the nail on the head by letting Mom know she'll be fulfilling her role as "babysitter…I mean Grandma" very soon.
This onesie is another funny option that I find really cute.
Then there's these t-shirts, which would make any expecting grandparents giggle.
What do you think? Is hitting their funny bone the right way to tell your parents you're pregnant?
Imagine having your family over for dinner and hiding in their soup bowl is a tiny hint that you have an announcement to make.
Or wait until you serve coffee and tea, then offer them a little something to stir with. How cute is that?
These little spoons are such cute and creative way to tell family you're pregnant in person.
It would be such a blast to just sit and wait for the first one to realize something's up.
And to see the reaction when everyone finally realizes what that something is!
Another creative pregnancy announcement to grandparents is a gift that will begin their journey of bragging on their grandchildren.
Check out Grandma's Brag Board.
Adorable, right?
This is another one of my favorite first grandchild announcement ideas!
How much would grandma (or grandpa too) love to find out you're expecting by opening this great gift with your ultrasound pic attached?
Or maybe a little note announcing the news?
Either way, I don't know ANY grandparents-to-be who wouldn't LOVE to hang this on their wall.
19. This is Us
Here is a really unique and creative pregnancy announcement to family.
Unite siblings and grandparents (even extended family) by giving them each one of these beautiful boards as a gift.
Fill in each month with the fitting names and birthdays. Then sneak your baby's due date onto the fitting month and wait for someone to see it.
Not only is this a really cute way to announce a pregnancy, it's actually an awesome gift that your family can cherish and use for years and years to come.
Letter boards are so popular right now. And rightly so, because they are pretty great.
Subtly place this fantastic letter boards in your home (or in the background of a video call) and wait for them to notice.
Can you tell I love the surprise pregnancy announcements?
This will be such a precious way to share your news.
Be sure and snap a picture so you can always remember how you told your family you're pregnant.
Bonus:
You'll use it again and again.
These letter boards are super popular for photo shoots (think announcing pregnancy on social media,) for taking weekly bump pics, and even capturing your baby's monthly milestones when the time comes.
21. Pregnancy Announcement for Grandparents AGAIN
Wondering if some of these ideas will work if your baby isn't the first grandchild of the family?
Don't worry.
I've got the perfect ideas for your pregnancy announcements to grandparents AGAIN too.
How to announce pregnancy to parents who are already grandparents:
By far, the BEST way to tell your parents they can expect another grandbaby is to have their favorite little one (or favorite little ones) make the announcement themselves.
Have the other grandchild or grandchildren announce your special secret by wearing this adorable shirt.
And if you have a group of grands ready to announce the news, try matching shirts like these.

These ideas can also all be done as long distance pregnancy announcements if you stage a precious photo shoot and send the pictures to your family.
Another really special idea of how to tell your family you're pregnant is by starting the family tree.
Literally!
Or better yet, YOUR grandparents!
Of course we need sweet pregnancy announcement ideas for GREAT grandparents to-be as well!
How do you announce your pregnancy to your grandparents?
Keep in mind that most (not saying all!) great grandparents aren't on social media or as interested in some of the more modern pregnancy announcement ideas.
If you are close with your grandparents, take the time to make the news extra special for them.
Build a family tree by filling this perfect gift with pictures of your grandparents, parents, siblings, the grandchildren, and of course, YOUR baby!
You can use an ultrasound picture or simply fill the frame with a beautifully hand-written note announcing when the newest member of the family can be expected.
They. Will. Love. It.
And it will mean so much to them that you put in the hard work to make it special just for them.
Here is another family tree option that may be more of your great grandparents' style.
Saving the best for last here. I reeaalllly love this idea!
A super creative pregnancy announcement to family in person is to just wrap a big ole present and have them open it at once.
Have your family over and tell them you got them a present, but they have to share.
In the middle of the room, have an oversized box with a big bow (tie it loosely, we don't want to have to break out blades here.)
When they open it, out will float helium balloons making the news abundantly clear.
I really love the idea of using this baby balloon because you can't be sure what order letter balloons may float out.
Fill the rest of the box with this fun balloon set to make it extra festive.
Be sure to have your camera ready. And get ready for a celebration as your family realizes you're expecting!
The Best Pregnancy Announcements to Grandparents and Family
Have sooo much fun telling your family you're pregnant, Mama!
These FUN ways to announce pregnancy should help make it memorable.
This is a moment your family is sure to remember forever, so make it count!
I mean, pregnancy announcements to grandparents and family only happen once!
Do you have other family or grandparent pregnancy announcement ideas worth sharing?
Comment with your favorites and I'll add them to the list!
Don't forget!
Go ahead and sign up for your free Amazon Baby Registry to get FREE STUFF for you and Baby!
What could be a more fun way to settle into being pregnant than announcing your pregnancy to family and then opening a box of free goodies?!
And…
If you're ready for more tips on pregnancy and life as a new mama, check out these helpful posts:
Things to do While Pregnant (and bored!)
Pregnancy To-Do List by Trimester
Pregnancy Tips for Each Season
Not-So-Obvious Ways to Prepare for Baby
Pregnancy Announcement to Family:
23 FUN Ideas!

Pregnancy Announcement Ideas for Family & Grandparents