Pregnancy To-Do List :
11 Important Things to do While Pregnant
A pregnancy checklist is super helpful for a newly pregnant mama. They answer big questions like:
What should you do as soon as you find out you're pregnant?
What should I be doing each month of pregnancy?
What needs to be done before Baby arrives?
What should be on my pregnancy to-do list?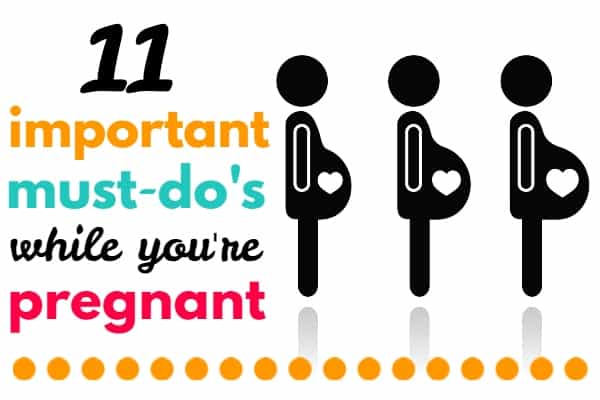 This post contains affiliate links. See my disclosure for details.
The pressure is on. The pregnancy test is positive and the countdown has begun!
Ahhh!
But don't panic, Mama.
Knowing exactly what to do when pregnant can be overwhelming…but it doesn't have to be…if you're organized.
And you're about to be!
This pregnancy to do list maps out exactly what you need to focus on over the next 9 months (or however long you have left before Baby arrives) so you can do a little at a time each trimester, while staying healthy, confident, and prepared.
What should I be doing each month of pregnancy?
In this post, I'm going to share super important things to do while pregnant by trimester.
We'll break down this pregnancy checklist month by month (I never could stick to a week by week pregnancy timeline. It just stressed me out.)
I prefer taking a few months to complete each important pregnancy to-do list task at my pace, so I don't feel overwhelmed.
Also…
This post isn't a pregnancy timeline of your developing baby during each trimester, but womenshealth.gov has one of those that is pretty good.
So what is this guide?
This a super helpful checklist of what to do when pregnant, so you'll be prepared for pregnancy, labor, postpartum, and newborn life.
These are pregnancy tips I SWEAR BY broken down into bite-sized chunks.
Think of it as an overarching guide that helps you break down detailed resources into an important trimester-by-trimester pregnancy to-do list.
You will definitely want come back to it time and time again to help you stay organized, so be sure to…
SAVE this Pregnancy Checklist to Pinterest
If you check each one of these to-do's off as you go, you'll be ready to rock this having-a-baby thing like the mom boss you totally are.
So let's do this!
Pregnancy Checklist by Trimester: Things to do (before Baby arrives)
Let's start from the very beginning…
First Trimester Checklist (

1 to 3 months pregnant

)
If you JUST found out you're pregnant (girl, congratulations!) you want to begin with the basics.
Before you dive in to this to do list, hit up this:
Here you'll find tips on everything from starting a great prenatal vitamin (this is my FAVE) to making that first appointment with your OB-GYN and even tips on preparing for morning sickness.
NOW…on to the first trimester of pregnancy to-do list!
1. Make the Switch to More Natural Products
If you aren't already, it's time to start taking your health seriously (it's not just you in there anymore!)
Ditch the chemical-loaded brands that were "good enough" back in high school, but won't cut it for a mom-to-be who wants to take extra great care of herself right now.
This is an important and exciting part of your pregnancy checklist.
And it can actually be fun!
But trust me, starting slow and simple is the way to go on this. It can be crazy expensive and overwhelming to change every product in your life at once.
Instead, begin with some of the more important products that are easy to change out.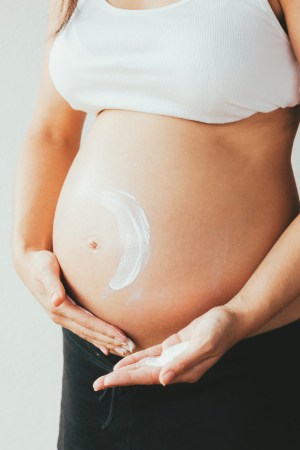 My real-life bestie is an all-natural mama who writes about healthy mom life. She let me guest post on her blog featuring:
9 natural products to switch to while pregnant.
The items include everything from personal items we should really be switching to anyway (part of growing up is taking care of yourself, right?) to other important products.
In the post, I recommend:
This fantastic deodorant and a much safer brand of shampoo and conditioner.
As well as products we'll definitely want to switch to once Baby arrives anyway, like a safe laundry detergent (for their clothes AND yours…because snuggling.)
This is a super important thing to do while pregnant, so go get to-doing. Make this a priority and make the switch. You won't regret it.
Here's the full post on those awesome natural pregnancy products.
2. Get Comfortable
I'm talking pregnancy must-haves.
Because if we have to sleep on our sides, pee a little when we laugh, and abstain from some of adult-life's more fun beverages, we should definitely get to spoil ourselves a little, right?
If you haven't yet, buy a GREAT pregnancy pillow.
These are amazing and a definite plus-side to being pregnant.
I wrote a post about the Top 5 Pregnancy Pillows so you can choose your favorite style.
Another must-have is an excellent water bottle.
Being preggers (then breastfeeding) means you gotta hydrate.
I've tried MANY and this one is the best I've found for pregnancy and new moms, but I do have a list of 4 more of the top water bottles for pregnancy you can check out.
Other pregnancy must-haves include:
Amazing maternity leggings and
Finding a natural pregnancy heartburn remedy that actually works for you.
I go into more detail on these and have a few more recommendations in a post on pregnancy must-haves you'll seriously use EVERY DAY.
And just in case you don't want to treat yo'self too much or if you have a birthday/holiday coming up…
Start dropping hints to your loved ones for these fantastic gift ideas for pregnant women.
These are awesome ideas that you'll love using allllll pregnancy long.
Second Trimester To Do List (4 to 6 months pregnant)
Welcome to your second trimester, Mama!
First Trimester was so fun, right?
Rigggght…
Hopefully now you're starting to feel a little more human and your'e ready for the Pregnancy To Do List: Second Trimester Edition.
Let's do it. Can we start with a fun one?
3. Start Your Baby Registry
Yep. It's already time to Start your Baby Registry.
Nope, it's not too early.
Here's why:
Finding the exact product you want and need for Baby is a teensy-bit overwhelming.
It takes time.
Plus, with busy schedules, your baby shower may end up being earlier than you think.
My mother-in-law planned mine for the end of my second trimester because we would be in town.
Makes sense.
I 100% recommend creating a Baby Registry on Amazon (even if you also register elsewhere…)
Because:
You can take your time registering and change your mind easily

You can read reviews from real mamas

Your friends and family probably already shop there anyway

2-day shipping is helpful for friends who procrastinate

Friends and family who don't live nearby can ship a gift to you

YOU GET FREE STUFF
Yup.
If you create an Amazon Baby Registry, they will send you a FREE Welcome Box full of little goodies for new parents and for Baby.
You also get 10% off of items that are left on your registry after your showers (15% for Prime members!)
Sooo, why would you NOT check this off your pregnancy to do list? Like right now…?
You can sign up for your Amazon Baby Registry here.
4. Prepare Your Budget
Your second trimester is a great time to start preparing your budget for baby.
If you haven't heard…
Babies. Are. Expensive.
There is a super helpful course created for pregnant mamas who are having a baby on a budget and need to get their stuff together.
Baby on a Budget covers:
What costs to expect

How to create a great budget

Finding cheap and FREE baby essentials

Tips for saving on hospital fees and baby expenses

Strategies for spending LESS on baby stuff

How to build savings for the future
I wrote a more detailed post on why this course is amazing. Check out all of the details here.
This should definitely be on your pregnancy to do list.
5. Start a Side Hustle
Ready for a tip you won't read on every pregnancy to do list out there?
Start a blog while you're pregnant.
An incredibly smart way to prepare financially for Baby is to add an income to your family.
This is especially crucial if you hope to be a stay at home mom. Don't wait to see if things fall into place.
If you want to stay home with your baby, you gotta plan for it.
The best decision I ever made as a pregnant mom was to start a blog.
I never thought blogging would turn into much for us, but I knew I had to at least try. I am SO glad I did.
It seriously changed my life.
I earn income for my family, I'm able to help other new moms, and I have something important to do that's for ME.
Read more about how I went from below-minimum-wage, debt-drowning prego to stay-at-home mom and blogger who supports a family of 5 here:
How to Start a Blog While Pregnant
My story shares why it's a smart move and an amazing work-from-home job. (And did I mention it's SUPER fun?)
6. Prepare for Breastfeeding & Pumping
As you near the end of your 2nd trimester of pregnancy, I HIGHLY recommend preparing for breastfeeding and/or pumping.
Whether you're planning to exclusively breastfeed, exclusively pump, or a mix of both, knowing what you're doing is KEY. It can be a bit overwhelming for new moms if they don't prepare.
This is the best pre-breastfeeding advice I can give you…
Y'all. Take this awesome class:
The Ultimate Breastfeeding Class from Milkology
It's 100% online and a super inexpensive way to prepare yourself with confidence.
Stacey (the sweet Mama who created it) teaches you ALL the things you need to know about breastfeeding.
It's. So. Good.
She also offers a Back to Work Pumping Class for working mamas AND a Ultimate Exclusive Pumping Class, so you can bundle whichever options work best for you.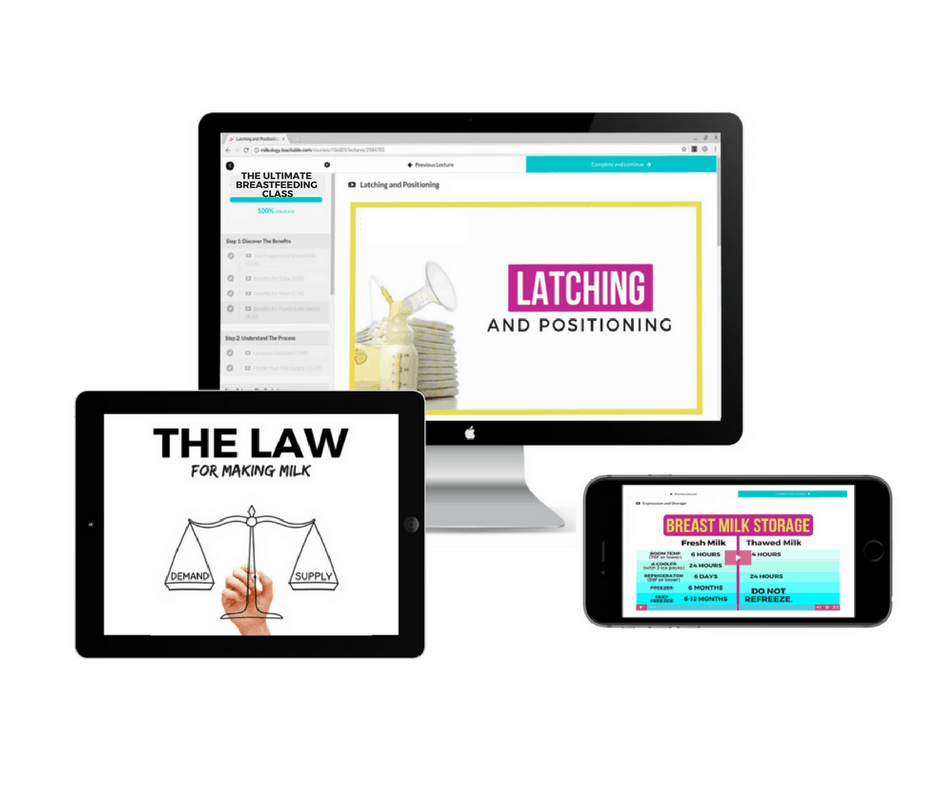 Third Trimester Checklist (7 to 9 months pregnant)
Hellllooo, 3rd Trimester!
Now it's time to buckle down on this pregnancy checklist before baby arrives and start knocking things out.
Here we gooo…
Pregnancy Checklist: Third Trimester
7. Prepare for Baby
Let's start with an easy one, shall we?
Discussing how to prepare for Baby is my favorite way to help new moms-to-be out, because when I had my first I was NOT ready and would've killed for some guidance.
Let's just say having a newborn is…tough.
Honestly, my first baby was the sweetest little nightmare imaginable. He cried constantly, NEVER slept, wouldn't ride in a care without screaming, and would not let anyone but Mama hold him…ever.
All that while exhausted, recovering from childbirth, learning to breastfeed, and trying to figure out how to "mom" nearly broke me. I wouldn't wish that on any new mom ever again.
So, I wrote an entire post on ways to prep for newborn life that will absolutely make it easier for you. These tips are simple and doable tasks that answer the question,
"What needs to be done before Baby arrives?"
You can find it here:
Last Minute Things To Do Before Baby Arrives Checklist
This is my #1 most popular post for pregnant women, so take some time to go through these tips.
You will be so glad you did!
8. Pack Your Hospital Bag
Can you believe it's time for this already?!
But don't wait on packing your hospital bag for labor, because you never know how quickly things might go down!
Be ready.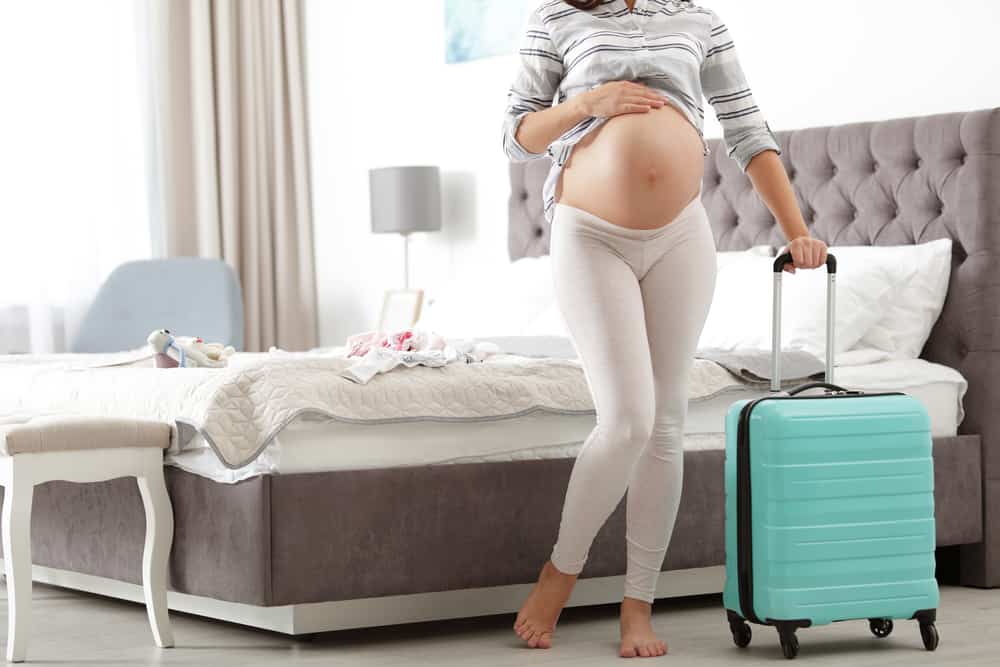 Confession: I'm an overpacker.
Well, more like…I like to be prepared. So I wrote out everything I like to have in my hospital bag for baby, mom, & dad during labor and deliver.
I call it my…
Super Prepared Mom-To-Be's Hospital Bag Checklist
…and it kind of rocks.
I also included pro tips on things like,
"WHEN should you pack your hospital bag?"
and "What do you wear during labor?"
Hint: get to packing on the early side of your 3rd trimester to be safe. Because there's plenty more to do later!
9. Prepare for Labor & Delivery
Remember on movies and shows how pregnant moms always attended a lamaze class to prepare for childbirth?
Yeah, that's not really the go-to anymore.
Hospitals often host a Prenatal Class for expecting mothers and fathers to help them prepare for labor, delivery, and learning some crucial newborn-care information.
But who has time for that?
Instead of spending your entire weekend in a classroom, pregnant mamas and birth partners can now learn all of this without leaving home.
I'm obsessed with this Online Labor Class.
The ONLINE Prenatal Class for Couples:
Is taught by a REAL mama and L&D nurse (Hilary Erickson, RN, BSN)

Is super convenient (done on YOUR time at YOUR pace)

Is All-Inclusive: 3rd trimester through newborn care

Uses fun videos and medically-based information

Was created for couples (so your birth partner is just as prepared as you)
Psst. Need a discount? I got you, girl. Use the code: OY10 for 10% off any course.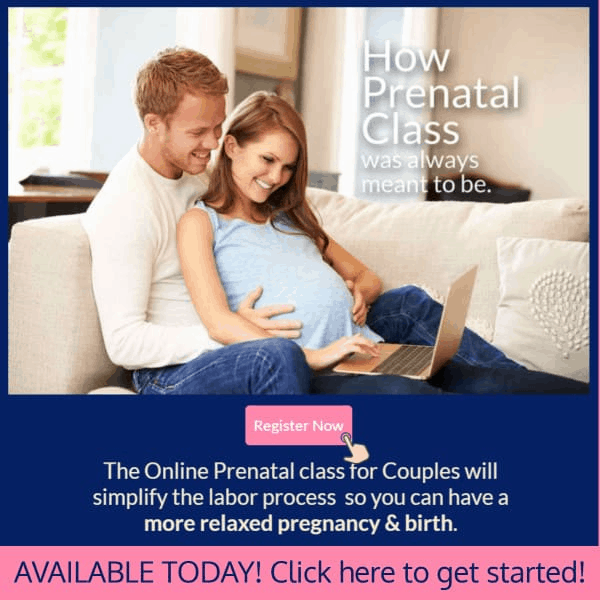 I highly recommend this amazing resource for pregnant mamas preparing for labor, delivery, and learning how to care for a newborn.
You can sign up for the course here.
I also wrote an entire post in detail that you can read here.
10. Prep for postpartum
A big mistake that many moms-to-be make when preparing to have a baby is focusing so much on pregnancy and birth that they neglect a VERY important stage…
The 4th Trimester
It's called postpartum and it's sort of the worst.
BUT…
there are definitely things you can do to minimize the awfulness and to prepare.
First, you want to learn about postpartum recovery so you understand what's going to happen to your body. Understanding is half the battle.
And let me stop you…
No, it's not just like a bad period.
Well, it might be a little bit like that, but there's a WHOLE lot else going on down there and…well everywhere.
Here is my free guide on all things postpartum recovery.
It covers everything from what postpartum is, to building a killer DIY postpartum care kit, to pro tips on how to manage everything going on in those first months of motherhood.
I also have an entire post dedicated to Postpartum PAIN and How to DEAL that you will definitely find helpful.
11. Buy the Practical Baby Stuff
Phew! You finally made it to the last step of your pregnancy checklist!
Congratulations!
That means you're about to pop and you are probably READY.
But while you wait (and while you're probably living on the couch with your feet propped up) there is one more thing you can be doing to prepare. (Don't worry, you don't have to get up.)
Pregnancy Checklist: List of Things to Buy
Once the baby showers are done and the nursery is ready, you might find that there are a couple missing items from your baby essentials.
There are just sooo many things new moms need that it's hard to remember every little detail or predict every little need.
And since family and friends usually like to shower us with mostly "cute" stuff, I made a list of all the PRACTICAL items we need to buy before baby arrives.
Practical Baby Items You Probably Won't Get at Your Baby Shower
Get comfy, pull up Amazon, and grab these inexpensive baby must-haves that you'll definitely want to already have ready when the moment strikes.
Also, check out my posts:
Pregnancy Announcements to Family
Fun Things to do While Pregnant and Bored
Baby Bump Nicknames: What to call Baby while you're pregnant
Pregnancy To Do List Homework: More Helpful Pregnancy Tips
Ok, Mama, you're ready.
These important things to do while pregnant will have you comfortable, confident, and perfectly prepared for Baby's arrival.
You're gonna rock this thing!
Are there any other must-do's missing from my list? Comment below and join the conversation about what to do when pregnant.
For more tips on pregnancy, babies, and life as a new mom Follow Me on Pinterest!
Like this Ultimate Pregnancy Checklist?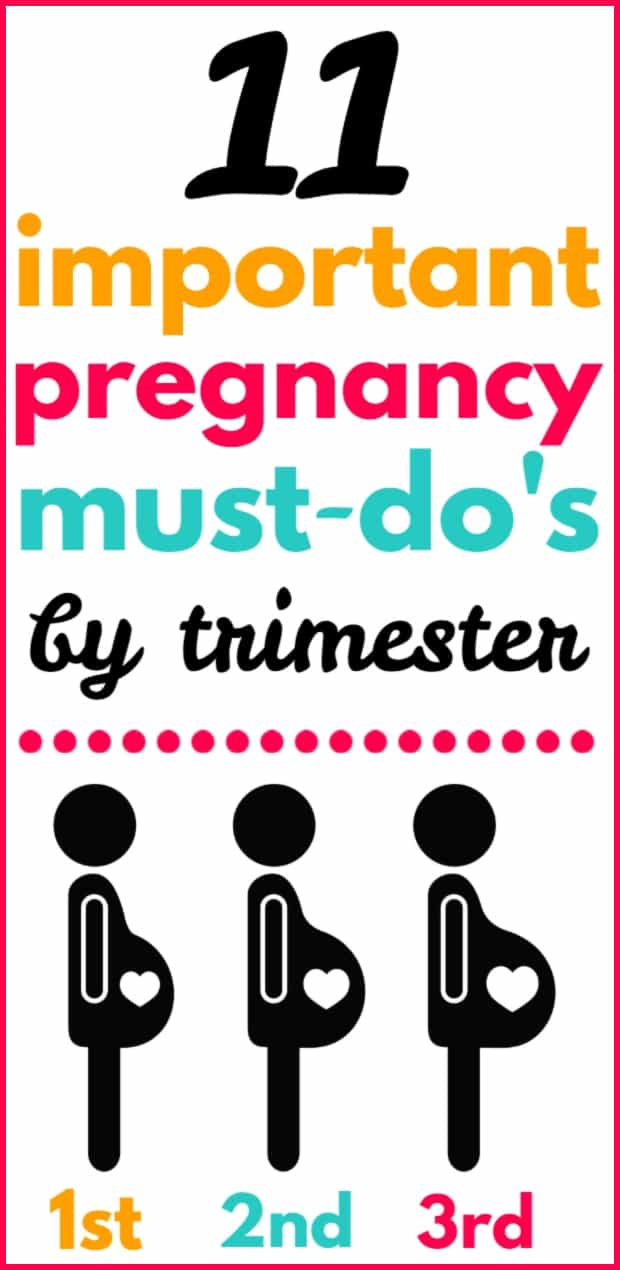 Pregnancy Checklist: Your Complete Pregnancy To Do List