Fun Things To Do while Pregnant and BORED at Home:
Things to do While Pregnant
Pregnant and BORED at home? Looking for some fun things to do while pregnant? Here are some fun activities and creative distractions to keep you busy and productive right now.
Best part?
They can all be done at home in your comfy pants.
I mean, seriously, aren't there are enough things to AVOID while pregnant or things you CAN'T do during pregnancy? We need some creative ideas of what TO DO when pregnant (for the first time or fifth!)
Try these 11 things to do at home during pregnancy…so you don't go totally stir-crazy.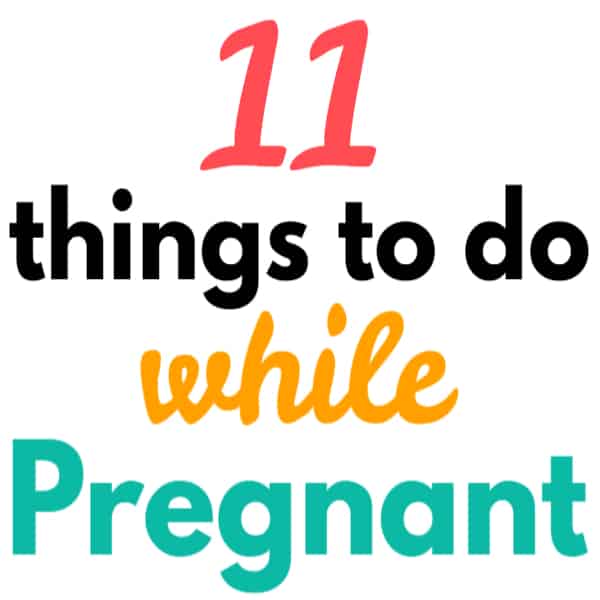 This post may contain affiliate links. Please see my disclosure for details.
11 Activities To Do While Pregnant At Home:
Sometimes we just need a little help figuring out what we need to be doing, right?
I don't know if there's an exact right answer to,
"What should you do while pregnant?"
But there are definitely some to-do's worth crossing off, especially if you're staying home anyway.
Whether you're looking for things to do on bed rest or you just need fun things to do when pregnant and bored, these are some of the best and most creative things to do while pregnant at home…
And you don't have to leave home to do them!
Note: This is a list of creative and fun things to do when pregnant. If you need more of a checklist of important things to get done while pregnant, try my awesome Pregnancy To-Do List when you're done with this list!
1. Prepare for Breastfeeding and Pumping
Welp.
If you can't go and do at this point in your pregnancy, you might as well take advantage of the extra time, right?
A really smart way to use your time at home is preparing for breastfeeding and pumping.
Many new moms find this to be one of THE biggest challenges of having a baby.
It SO doesn't have to be!
Be prepared, Mama.
You can (and should) prepare yourself for breastfeeding and/or pumping while you're pregnant.
The BEST way to do that is with this incredible online class by Milkology.
Stacey is THE go-to source for breastfeeding advice.
She literally created an entire curriculum to help pregnant moms-to-be feel confident going into pumping and nursing their babies.
And she sells it sooo cheap.
She teaches you everything you need to know and you can choose from or bundle these 3 tailored courses:
The Ultimate Breastfeeding Class
The Back to Work Pumping Class
The Ultimate Exclusive Pumping Class
I wrote a full review with more details on her amazing courses, plus tips on How to Prepare for Breastfeeding and Pumping Before Baby is Born.
Check it out!
This is really an essential resource and one of my FAVORITE tips for pregnant women.
Preparing for labor and delivery is another super important step in preparing for Baby to arrive…and it can actually be one of the more fun things to do while pregnant.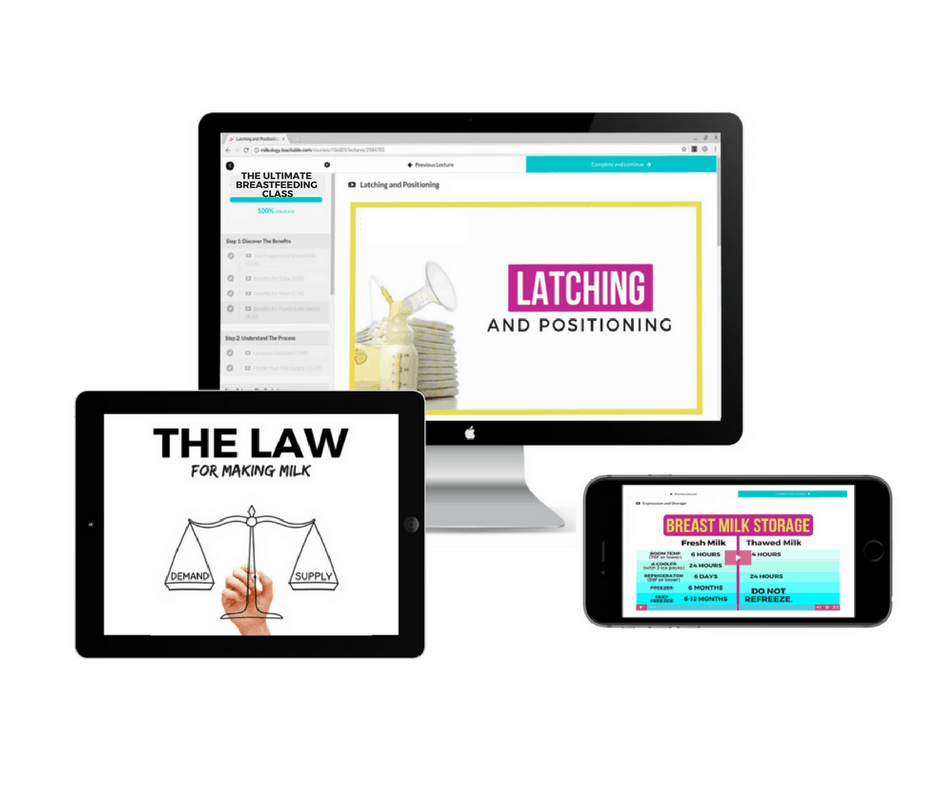 2. Prepare for Labor
So don't skip it!
Most hospitals offer a class on-site, but if you're avoiding hospital germs, you're on bed rest, or just don't have the time, what do you do?
Do THIS:
Take this fantastic Online Prenatal Class by Hilary Erikson. You'll be totally prepared to have a confident birth in 3 HOURS!
Hilary is a real-life L&D nurse and knows her stuff. It's done completely at your own pace, on your schedule, AND it's a couples class so your birth partner can be ready as well.
Seriously, this one of the most important things to do while pregnant and one of the best uses of your time as you prepare for Baby.
Trust me, you want to feel completely informed about what's going on when this labor things goes down.
Fear = Pain
Understanding what is happening will remove sooo much of the fear of childbirth and help you enjoy bringing your baby into the world (as much as possible.)
This online labor class is super helpful and sooo much more convenient than spending your entire Saturday at a hospital.
(Believe me, because I literally fell asleep during the one at my hospital. Aw. Ful.)
*Not to mention, many hospital classes are cancelled right now.
Hilary will teach you the must-knows about labor, delivery, and newborn care in a really cool way, PLUS she goes into the questions we're embarrassed to ask like:
"What if I POOP while pushing?!"
This may not seem like one of the most fun things to do while pregnant, but I promise it'll be A LOT more fun than doing it elsewhere or worse, not taking a class at all and then feeling clueless when game time rolls around.
This is an excellent use of your time at home and one of the BEST things to do while on bed rest! And believe it or not, it's actually a pretty fun thing to do when pregnant in your third trimester.
(But I actually highly recommend taking this course sooner rather than later in your pregnancy!)
You'll feel confident and READY to do this thing in about 3 hours.
Here's my full review with more details on the class.
3. Start your Baby Registry
This is almost a no-brainer pregnancy tip, but juuust in case you haven't already…
Girl, start your baby registry.
Yep, even if you're in your first trimester. Because it honestly takes forever to find all the things.
And you know what? It can be FUN!
Since you're at home anyway, spend your time getting organized so you don't have to later. Read reviews, find favorite baby items, and think through what will work best for your family.
For example, decide a few things:
Will you use a co-sleeper, bassinet, or crib?
Will you use a baby wrap, baby carrier, infant seat, stroller, or all of the above?
Will you make your own baby food?
Get started making some of these decisions and registering for the right baby products for you.
I felt so overwhelmed trying to get everything chosen and sorted before my baby showers.
But let me share a tip to make it easier…
Girl, use Amazon Baby Registry. It rocks.
Because:
You register at your own pace & can easily change your mind

You can read reviews from REAL moms

2-day shipping is helpful for those procrastinating friends

Long-distance friends and family can ship a gift to you

YOU GET FREE STUFF
Yup.
If you create an Amazon Baby Registry, you can get a FREE Welcome Box full of little goodies for new parents and for Baby.
You also get 10% off of items that are left on your registry after your showers (15% for Prime members!)
Yes please and thankyouverymuch.
Sooo, why would you NOT check this off your pregnancy to do list? Like right now…?
You can sign up for your Amazon Baby Registry here.
Then check out my awesome Baby Registry Hacks to make your life way easier.
Also…
If you've already had all of your baby showers or you think they may not happen, check this list of Practical Baby Items You Probably Won't Get at Your Baby Shower.
Make sure there aren't any basics you need to go ahead and order yourself.
4. Baby-Safe Cleaning
CLEAN, Mama.
If you're able, do allll the things to get your house germ-free and newborn-ready.
I love these natural cleaning wipes and disinfectant spray (much safer for Mama and Baby than the chemical-drenched brands.)
You can make your own cleaning solutions with this Essential Oil Set (I have this and use it alllll the time, before and after my babies are born.)

I also recommend stocking up on this hand sanitizer as it's alcohol and dye-free, which is much gentler on Baby's skin.
(Think changing Baby's diaper, sanitizing your hands at the changing station, then the first thing you touch is your baby.)
Another tip:
Get down on Baby's level and clean.
This is an important thing you can do to prepare the house for Baby.
Think about where they'll be laying on a blanket or crawling and give it a good once-over.
Wipe your baseboards and cabinets, mop your floors, and vaccuum (girl, I just got one of these and I'm NEVER going back. Worth. It.)
Next, catch up on laundry and wash and hang Baby's clothes. Don't forget to switch to a natural laundry detergent for Baby AND yourself (because snuggling.)
I know these to-do's don't exactly sound FUN, but they really are necessary things to do while pregnant.
And if you're pregnant and bored to death, it's better than nothing, right?
Basically, use your days at home to get things clean and tidy while you have the time. You never know how early or unexpectedly things can happen.
5. Start a Side Hustle
Ok, now for my favorite unique tip, which I truly think you'll be better off for doing…
Make money from home.
An excellent thing to do when you're pregnant is to invest in you and your baby's future.
Spend some of your time considering how you can secure a great income for your family after Baby arrives, especially if you want to be a stay at home mom.
If you're looking for a great way to make money from home as a mom:
Start a Blog While You're Pregnant.
I began this blog while my first baby was about 18 months old and I was preggers with my second baby.
Best. Decision. Ever.
I LOVE working from home while spending tons of time raising my littles. It is so fun. Even though it's hard work, I see so much reward on the other side of that work.
Blogging is a great way to have a voice in the world, make a difference in people's lives, do something other than "momming," and bring in an income for your family.
If you're wondering how a blog makes money or how to get started, check out my post:
How to Start a Blog When You're Pregnant
This is an especially good idea if you're looking for what to do in the first trimester of pregnancy…you have plenty of time to go for it!
Starting a side hustle while you're at home during pregnancy could be one of the best uses of your time.
Think on it!
6. SLEEP
Girl, sleep.
SLEEP.
I'm not kidding.
Let yourself sleep in. Go to bed early. Take naps on naps on naps.
Once Baby comes, this luxury is GONE.
I don't mean for a while…parenting means sacrificing your sleep so you can either care for little ones while they are awake or salvage some adulthood/get stuff done while they sleep.
Besides, could there really be more fun things to do while pregnant than taking naps?
And if you're thinking "sleeping isn't exactly comfortable right now," you've gotta change that!
These pregnancy pillows are LIFE-SAVERS when you're preggers.
Number 2 on that list is my absolute favorite pregnancy item ever (and it rolls over into newborn life by becoming a fantastic breastfeeding pillow and useful for Baby's propping/tummy time.)
It's sooo comfortable and helpful for sleeping while pregnant. Remember sleeping?
That pillow is just the best.
I love it so much, y'all. It's one of those "shut up and take my money" kind of products.
Then go to sleep.
But seriously…what more fun things to do while pregnant are there than snuggling up and just giving in to the exhaustion? DO IT.
7. Hydrate & Stay Healthy
Please take care of yourself right now, Mama.
Don't take germs lightly. You're protecting two. Take all the precautions and be smart about it.
There are a lot of things you can do while pregnant to take care of your body. Do them.
Keep your prenatal appointments
-Listen to your OB-GYN's advice and do what she says. It'll be worth it.
Take your prenatal vitamins
– These are my favorites and this kind is another great option
-Having a GREAT water bottle with you at all times makes all the difference. This one is the BEST water bottle for pregnancy and breastfeeding that I've found. Here's my list of the 5 top water bottles for staying hydrated during pregnancy.
-Make sure to feed Baby and yourself well. And don't avoid all those cravings! Some can actually be your body telling you what you need. (For instance, check out this guide on Oatmeal Cravings During Pregnancy from Mom Loves Best and read why it's a great food for pregnant woman.)
-Try prenatal yoga or simply walking/light jogging. I just got this treadmill and I'm in love. I turn on my show and go for a 20-30 minute brisk walk. Easy and I feel great. This is probably one of the best things you can do while pregnant to stay healthy.
-Please prioritize your mental health. If you're struggling with stress or anxiety, talk to your doc about natural options. This post is my story of pregnancy and postpartum anxiety and how I treated it naturally.
If you're wondering what to do when pregnant and bored…
START HERE.
Keep these things to do in pregnancy at the top of your list!
Take care of YOU, Mama.
8. Get Outside
Even if you're on bed rest or stuck indoors right now, you can still get out and enjoy some fresh air and sunshine.
This is crucial to overall physical and mental health!
Ways to Enjoy Being Outside At Home:
Sit outside and read a book

Lay out in a hammock and listen to music

Sit in a comfy chair and chat on the phone

Go for a light neighborhood stroll (if not on bed rest!)

Start a garden (herb gardens are easy!)

Create an outdoor play space for Baby

Try painting or drawing a landscape

Sit outside while checking off your online to-do list

Sit outside while you order groceries online (we have ours delivered now and it's amazing)
There are many options here, but the point is, don't let yourself go crazy inside!
Even if you can't GO somewhere, there are things to do while on bed rest or staying at home that involve the great outdoors.
Being "stuck at home" doesn't have to mean being trapped indoors.
If you're going to be pregnant during summer, be sure to also check out my popular post on tips, must-haves and things to do while pregnant in summer.
9. Catch Up with

Friends
Once baby arrives, it's actually pretty tough to make time to catch up with loved ones who don't live locally.
Now's the time!
If you're going stir-crazy and don't have enough human interaction in your life, try setting up phone dates with Mom, Sister, Bestie, Grandma, and your old co-worker.
And don't forget Zoom, FaceTime, Skype, etc. are a great option too.
This is perfect if you're looking for what to do on bed rest that isn't isolating.
If you're starved for a good girls night out, set up a "virtual date" with your bestie or your mama.
Put on some make up and a cute top (comfy maternity leggings on bottom are allowed,) make a fun mocktail, and relive old times with your girl.
Now, if you're an introvert, you may be thinking "I thought this was a list of FUN things to do while pregnant?"
I hear you.
But it'll be a lot more fun than you expect (I always end phone conversations thinking "why don't we do that more?!")
It'll be worth it. Promise.
Make time for the people you care about now. You may not have that luxury in a few months!
10. Prepare for Baby
I recommend the next few pregnancy to-do list items to EVERY pregnant mama, whether or not she's staying at home, especially if you're nearing or in your 3rd trimester.
These are some genius things you can do while pregnant to make your life SO much easier when Baby arrives.
For. Real.
Think things like:
Prepping freezer meals

Prepping your phone for new mom life

Budgeting for Baby (So smart.)

Organizing…well everything…before Baby arrives
This is sort of my specialty. I have multiple posts where I go into detail on how to best prepare for baby while pregnant.
Check them out:
Last Minute Ways to Prepare for Baby
Not-So-Obvious Things to do Before Baby Comes
How to Raise a Baby on a Budget
I honestly believe you'll find some pregnancy tips in here that you not only won't find elsewhere, but you'll also be incredibly glad you did while pregnant.
Take some time to work through these posts while you have some time.
11. Bond with your Baby Daddy
Daddy needs some FUN things to do while pregnant too, right?
If you're wondering, "How can I entertain myself during pregnancy?" or "What fun activities can a pregnant woman do?" consider spending some extra special time with your man.
He might be feeling a bit overshadowed anyway.
If you're staying in or especially if you're stuck in bed, try some creative and fun things to do while pregnant with your honey.
Try these bed rest activities and fun things to do when you're pregnant in bed:
Re-binge your favorite shows

Watch funny movies (love this list of movies to watch while pregnant!)
Start a Pregnancy Journal

Read books with Hubby

Order all the Take Out

Have a Game Night (board games are underrated y'all)

Spark Some Romance (snuggle up and stay in bed)

Finally Decide on a Baby Name

Design the Nursery
More Fun Things to do while Pregnant and Bored
Ok, mama, that should give you plenty of creative & fun things to do while pregnant.
If you have more great ideas, leave a comment!
And be sure and check out these Birthday Ideas While Pregnant, for fun things to do while pregnant for your birthday! It has everything from girls nights in to fun dates while pregnant.
Now, if you're looking for more things to do when pregnant and bored or more tips for pregnancy, babies, or new mom life:
or
Read one of my popular posts:
Baby Bump Nicknames: What to call Baby while you're Pregnant
Tips for Being Pregnant in Summer, Fall, Winter & Spring
The Super Prepared Mama's Hospital Bag Checklist
Practical Baby Must-Haves You May Not Get at Your Baby Shower
Last Minute Ways to Prepare for Baby
Pregnancy Announcements to Grandparents and Family
What Are Fun Things To Do While Pregnant?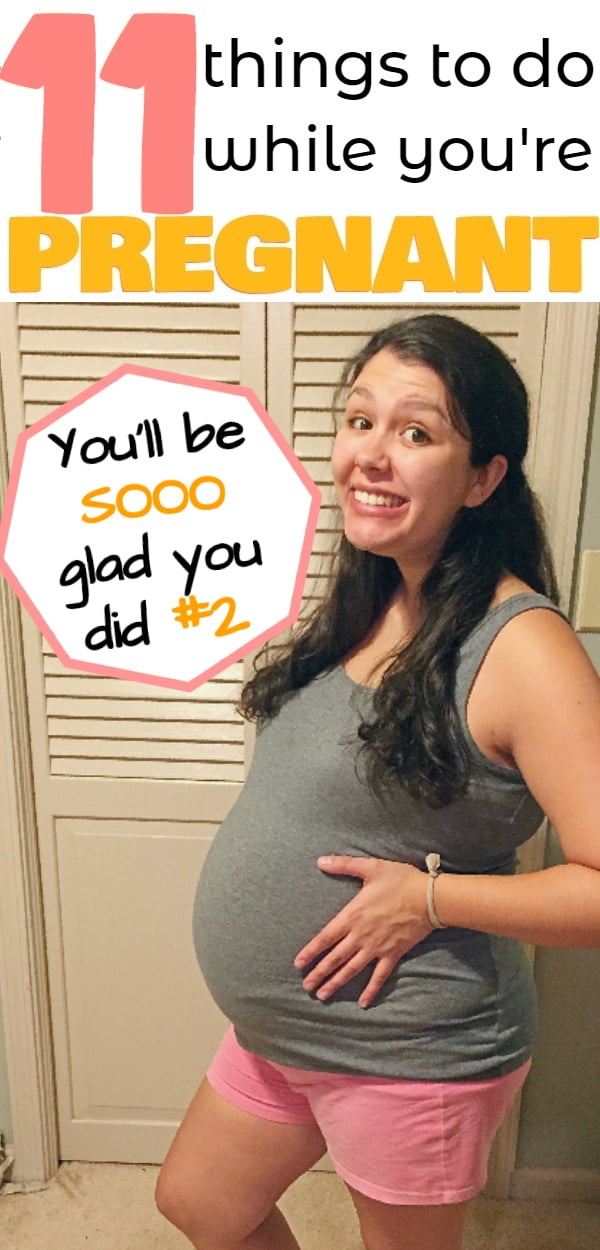 PREGNANT AND BORED:
11 fun things to do while pregnant