Ideas for Mamas Who are Pregnant During Springtime
Spring pregnancy can be a lot more special than you may think.
Seasons not only affect our mood, but give us ample opportunity to celebrate our baby bump in a fun new way. From your first trimester to your third, being pregnant during the Spring season has some hidden perks that'll definitely help thaw those winter blues.
I've got plenty of killer tips on pregnancy by season. You may have already taken a peek at my tips for Fall and Winter pregnancies, but if you're pregnant in Spring, this one's for you.
For awesome gift ideas for anniversaries, birthdays, or the many spring holidays, check out #8 on this list or see my post on Fantastic Gift Ideas for Pregnant Women.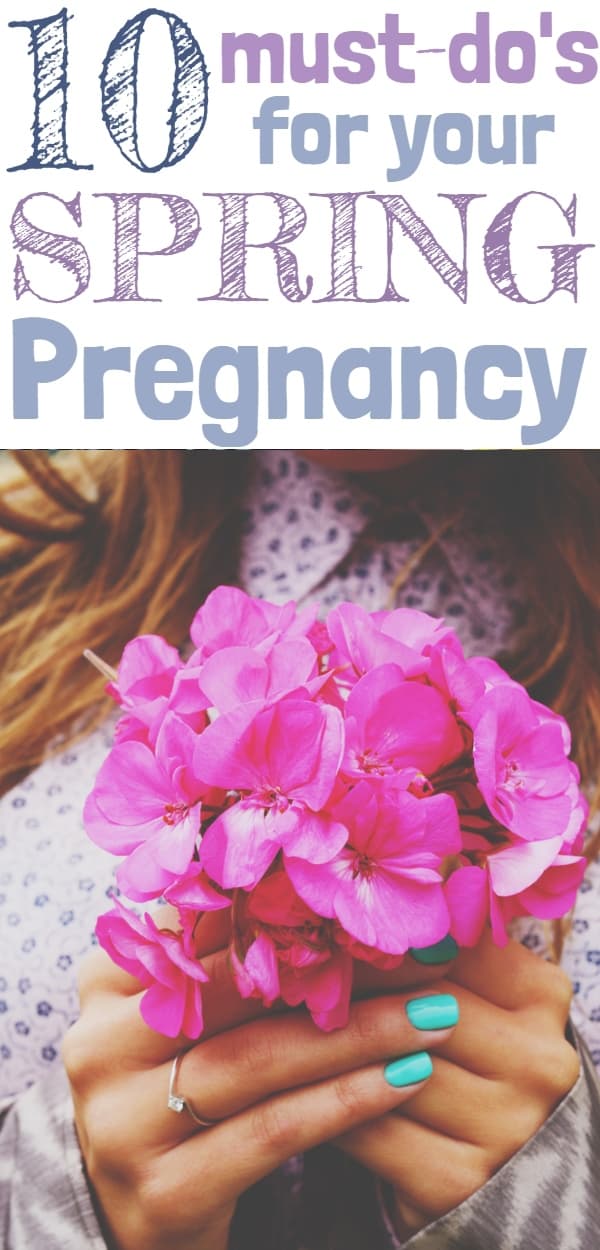 This post may contain affiliate links. Check out my full disclosure for details.
1. Spring Pregnancy Announcement Ideas
First things first! Spring is the perfect time to share the wonderful news of being pregnant. The beautiful weather and the blooming colors make for the prettiest backdrop to reveal the news.
You've been keeping this little secret and now it's finally time to let it out. Take advantage of the season and share your excitement with friends and family. Here are some fun ideas to get your creativity flowing…
Host a Spring Picnic – Enjoy a perfect Spring day alongside your loved ones with a simple backyard party. The subtle touches of pastel pink and baby blue will hint at your exciting announcement.
Once you surprise them with the news, you'll already be set to celebrate with those you care about most. Be sure and have someone catch the pivotal moment on camera so you can share it with those who couldn't make it and have the champagne ready (and sparkling cider, of course.)
Have an intimate photo shoot – What better excuse to get some adorable photos of you and your man before your bump starts to show? Get outside and pose with a decorated chalkboard or framed ultrasound picture. Worried about Spring showers? Embrace it! If it decides to rain on your picture parade, grab and umbrella and let the wet weather be part of the fun.
Tip:
Make sure you take plenty of candid shots too. You'll treasure those moments when it was just the two of you forever, so get a few without the "We're Expecting!" sign. It'll become one of your faves.
And of course, share your photos with friends and family when you're ready to announce your pregnancy!
Get creative – Try something like this cute Easter pregnancy announcement idea from Our Family World. Put your own spin on it and find a fun way to get the word out! Or try incorporating some spring foliage, rain boots (baby rain boots are the cutest!) or go theme with a Valentine's Day pregnancy announcement. Check out these creative ideas from Pinterest.
2. Spring Maternity Clothes
Ok, let's be honest, one of the BEST things about being pregnant in Spring is that it means not only dressing comfortably, but looking really cute. Dressing your bump in springtime is really easy and pretty fun. Say goodbye to bulky winter layers and hello to beautiful Spring maternity dresses (like this gorgeous one) and comfy maternity leggings.
Trying to go with as few maternity outfits as possible? (I did this as long as I could with my first! It was a little harder with my second…) Layering stretchy tanks with an assortment of cardigans works perfectly this time of year. This is also really great when you aren't sure what the fickle Spring weather is going to do or what your fluctuating HORMONES might decide to do.
You can probably get away with one or two pair of maternity jeans which you can easily roll into capris, then switch out your favorite scarves to mix up your look. I have to recommend this awesome scarf that you can wear in pregnancy, then later use as a breastfeeding scarf or Baby's carseat cover. Pretty handy, right?
I also LOVE to wear stretchy skirts and dresses during spring pregnancies because no matter which trimester I'm in, I can be comfortable, but also feel like I made an effort at some sort of style for the day.
Tip:
Find something you love and feel both confident and comfy in, then buy a couple different styles. Something like this versatile option that will grow with you and last you through Spring, Summer, and even the beginning of Fall if you're still preggers.
Finally, I HAVE to warn you about SHOES.
Ok so if you're like me, once it starts to warm up, I wear strappy sandals basically every day. Welllllll, something "they" neglected to tell me before I entered the joys of pregnancy was cute shoes can make your feet hurt…A LOT. Flimsy fashion sandals just ain't gonna cut it, Mama.
I wore these super comfortable sandals basically every day in BOTH of my pregnancies and I still wear them. I'm actually about due for a new pair, so I'm thankful they aren't expensive. These were life-savers for my poor prego feet. I recommend grabbing a pair or two to wear throughout the Spring and Summer months. They come in a bunch of nice patterns, are easy to dress up or down, and really go with just about everything. Yeah, I literally just talked myself into ordering a new pair. Moving on.
3. Nesting
Even if you JUST found out you're pregnant, Spring is the perfect time to start nesting and preparing for Baby. All of the best "baby-flavored" things seem to bloom in Springtime. If you wait until you're almost due, or hold off until your baby shower, you might miss some of the prints that sell out quickly (like I did.)
Baby nursery decor like crib sheets, rugs, curtains, changing pad covers, swaddling blankets, etc. come out in some really lovely styles between February and June. If you have an idea of what nursery theme you want for your baby (or even if you don't) go ahead and take a look at what's out there.
If there's an item you're in LOVE with, go ahead and scoop it up early, then you can base your other decision off of that one core piece. I was SO bummed to see how many registry items that I had my heart set on were out of stock by the time my showers rolled around.
Check out some of these really great themes and styles beginning to come out. How precious are some of those patterns? And don't just limit your perusing to nursery ideas! I'm in love with some of these adorable baby items that have really practical purposes too (think diaper bags, towels, bibs, teethers, etc.)
While we're on the topic of nesting, I want to mention this really cool planner that I found. It's got pretty much everything pregnancy and baby related in one place so you can organize your planning and actually ENJOY being pregnant. To-do lists, birth prep, new parent tips, breastfeeding advice, a pregnancy journal, baby milestones, etc. Check it out here.
4. Spring Cleaning
I know, I know. Spring Cleaning is not pregnancy specific, but girl, let me tell you, once Baby comes, nooobody's got time for that. Even if you're not due for months, get a head start and begin decluttering and organizing to prepare for Baby.
And don't just stick to the future nursery! One of these best tips I give expecting mamas is to prepare your whole home in advance. When you're fumbling around in the kitchen for that late night bottle or pumping session, you'll be so glad you cleared out those never-used utensils and thinned out your overflowing wine glass collection.
You also won't regret doing some deep cleaning. I know that's the last thing you feel like doing while growing another human, but it'll be way easier now than with a newborn, trusssst me. If you need to, ask your mom or your girlfriends to come over and help you.
Or hey, if you can swing it, hire a local housekeeper to do a thorough cleaning of your home. Wipe down all those places that haven't been cleaned in like a year (if ever.) Think your baseboards, fans, inside your cabinets, behind your toilet, etc. It will be a huge comfort to know your newborn baby is coming home to a recently cleaned house.
This post by one of my favorite mommy bloggers, Carly, has some awesome tips on how to get the baby clutter under control while you're pregnant.
5. Spring Vegetables for Pregnancy
Spring is such a fantastic season for creating some better eating habits. Even the least health-conscious person has to admit that all those freshly grown, brightly colored produce items look delicious this time of year. And if you're taking on the mindset of "eating for two," ya better at least make it something with some nutritional benefits.
The Spring months bring some really yummy options for pregnant women to enjoy. Green veggies like asparagus, spinach and even avocado (technically a fruit) are at their best during the spring-harvest. These garden faves have loads of benefits for growing babies and their mamas. Folate, vitamin K, iron and healthy fats are just a few reasons to enjoy these seasonal foods while pregnant.
And don't forget fruit! Strawberries, lemons, and blueberries can be found ripe and yummy during the Spring months making it the perfect time to enjoy some colorful market salads or keep extra fruit on the counter for snacking.
If you're already an avid fruit and veggie lover, this is a great time for you to dive in. If you're not a big health nut, try to keep baby's interest first and branch out. Maybe you'll gain a new favorite food and make your body happy at the same time.
Tip:
A brilliant way to enjoy spring fruits and vegetables is to make a morning smoothie! Bust out that blender (I love this thing) and experiment with some new colorful combos. You will be surprised how delicious and addictive smoothies are and that extra boost of healthy foods can do wonders for feeling better during pregnancy.
This is a YUMMY recipe that I could seriously drink every morning. Such a great way to get all those nutrients in and it still taste fabulous.
6. Get Outside
Ok, while we're at it, I have to mention how Spring is a good time to get out from under that cozy winter throw and OUT of the house! Exercise is essential in pregnancy and Spring makes is sooo much easier to do it.
Take advantage of the fact that it feels AMAZING outside and get moving. Even if you're simply strolling around the block or the park with Hubby, you will not regret staying active. Keeping moving is key to a healthy pregnancy, even if it's very simple and basic. Don't overdo it and talk to your OBGYN about what your level of activity should be, but I bet you they'll say that getting outside this time of year is a great idea.
If walking isn't your thing, try checking out the community rec center for a heated pool or local yoga classes. Something about the warming weather really helps motivate us to get up and DO something. And if they weather isn't motivation enough, remember that better health for you means better health for Baby.
Ok, fitness aside, the fresh air outside does wonders for that post-winter sluggishness, doesn't it? The Spring air just smells sweeter. The blooming flowers and budding grass uplifts us with its bright colors. The long lost sun begins to warm your face again and suddenly you just feel good. That's something we desperately need while pregnant.
Tip:
One of the best ways we can feel our best in pregnancy is drink water. I mean A LOT of water. Starting your day with a glass of water can give you more energy than caffeine and drinking a full glass of water can actually knock out a headache before you feel the need to pop meds. It's even key to keeping our ever-stretching skin healthy. But most importantly, hydration is SO good for Baby.
Carrying a great water bottle with me everywhere I go has quadrupled how much water I drink, which is also a major necessity during postpartum and breastfeeding. This fantastic bottle is my fave and perfect for new mamas who need to loop it on a spare finger while juggling keys, a phone, a diaper bag and a baby.
I KNOW pregnancy can feel miserable (I reallllly know,) so do your best to get outside and let nature do her thing. I think you'll start feeling better and better even faster than you can imagine. And if you need more tips on perking up during these tough 9 months, check out my tips on How to Have a Less Miserable Pregnancy.
7. Spring Maternity Photos
If you are nearing the final months of your pregnancy, consider scheduling your maternity photos during the beautiful Spring season. If you're due this summer or even in early Fall, it might be worth it to get your maternity pictures taken before it gets HOT.
With my first, I was due August 25th. Let's just say there's only so much magic a photographer can do to make a sweaty, full-term pregnant woman look "glowing."
Spring, even the later months, will result in much prettier pictures and possibly more importantly, a much more enjoyable experience with your baby daddy. A maternity photo shoot should be a FUN time that parents remember with joy. The nice weather, beaming sunlight, and gorgeous scenery will ensure a sweet time together as you capture the final weeks before welcoming your baby into the world.
For some ideas on your Spring maternity photos, check out these ideas on Pinterest.
8. Pregnant on Mother's Day (or Your Anniversary, Birthday, Valentine's Day, Just Because I'm Growing a Human for You…)
Many anniversaries are celebrated in Spring plus several holidays, including Mother's Day, Easter, Birthdays, and of course, Valentines Day. Buying gifts for a pregnant woman can be tricky, so husbands may need some good gift ideas for a pregnant wife. Consider dropping hints for some of these creative ideas…
Gift Ideas for Pregnant Women:
Prenatal Massage – This is honestly a MUST while you're pregnant, even if it's not as a gift from your man. Find a quality masseuse who specializes in prenatal massages and enjoy some suuuuper relaxing and much-needed mommy pampering. Be sure that your masseur is aware of how far along you are and comfortable working with pregnant women. This is a perfect pregnancy gift for any occasion or none at all.
Mommy Jewelry – One of my favorite gifts from my husband was a necklace that would symbolize my new role as Mommy. This will be a gift you treasure forever. I like this one because you can continue to add on to it with each baby as your family grows. And I mean, who doesn't like an excuse to get jewelry?
Essential Oils – I lovvve essential oils. They are a natural way to relax and reduce chemicals in our homes for us and our babies. These fantastic oils are perfect for growing families because you can diffuse them into the air, roll them on directly, or add them to your bath for a relaxing or even romantic evening.
I highly recommend this Lavender oil which is extremely gentle and calming, plus it's one of the most popular oils for promoting sleep in babies (which you're gonna care A LOT about real soon.) Be sure and learn about safe practices for using oils in pregnancy and especially on little ones.
Robe – A gorgeous maternity robe (like this one) will make you feel beautiful and sexy in your growing and changing body. This is a really sweet option because you will get to enjoy it daily. It's also perrrfect for packing in your hospital bag.
Wrapping up in a clean, beautiful robe after the not-so-clean and HARD event of giving birth will help you begin to feel human again. Or at least enough for pictures. Plus, robes are must-have when breastfeeding at all hours of the night, so this pregnancy gift keeps on giving.
Pregnancy Pillow – If you're getting into the uncomfortable stages of pregnancy, this is a perfect gift for you from your man (or anyone.) This pregnancy and breastfeeding pillow is seriously the most comfortable thing EVER. I used it through 2 pregnancies, 2 labors, and extended breastfeeding of 2 babies.
This is one of the best investments a pregnant mama can make. I say that with no reservations. If you don't get it as a gift from Hubby, get it as a pregnancy gift for yourself. Thank me later. Clearly, I'm obsessed with this pillow. Check out my full review here.
Something Fun – If romantic options aren't really your style, I've got some fun gift ideas for pregnant women too! I mean, not everything has to scream romance, right? These light-hearted ideas would make really cute Birthday or Easter gifts for pregnant women too, so start dropping those hints.
This shirt pretty much sums up pregnancy, but is also super cute and flattering. I also really like this cute cup . I mean, if baby gets one, it's only fair if Mommy has one too, right?
Annnnd every expecting mama needs a good pair of labor socks, so why not add a little humor into the mix? Then there's this gift idea for expecting dads, just in case you're looking for gift ideas for him too.

Bump Box – Ok, so I find this idea super cool. If you had asked me when I started my first pregnancy I probably would have said "Oh, no, that's not necessary. I don't need that." But, now, after surviving multiple pregnancies, I say gifts for pregnancy have very little to do with what we NEED. We are literally giving ourselves away in nearly every way possible. It's HARD. And if there's somebody in our life that wants to spoil us a little bit…Bring. It. On. Because in a few short months, basically nothing in your life is going to be about just YOU.

These Bump Boxes are a really great way to celebrate pregnant mamas. I love it! There's one for each trimester. How cool would it be to begin a new trimester with a special something arriving full of what you'll need in the upcoming weeks. There's even a Bump Box for the fourth trimester (aka: postpartum and life with a newborn.) If you ask me, this is a AWESOME gift idea.
(I ended up writing an even more detailed post with gift ideas for pregnant women here!)
Lingerie and/or Comfy Undies – Ok, I can't write about being pregnant on Valentine's Day without at least mentioning intimates. Whether it's a gift for you or from you, lingerie is a good option for an expecting mom who wants to embrace her pregnant body and show some skin in the bedroom. Try a flattering bra and panty set or a pretty chemise with a split middle to flow over your belly. Who says you can't feel beautiful and sexy while pregnant?
Buuuut let's be honest, what we really want and need is to feel comfortable and pretty every day throughout pregnancy. These maternity undies are life-savers. Don't worry, you'll squeeze back into your nice, lacey panties again in a few months, but for now it's ok to splurge a little on something that looks and feels good down there. I also want to mention this really pretty bra that works for maternity, breastfeeding and pumping. Who says intimates can't also be practical?
Surprise Babymoon Plans – Ok, my final pregnancy gift idea is actually perfect for both of you, so you could easily be the gift-giver here if you still need ideas. Use Valentine's Day, your anniversary, or even Easter to reveal plans to go on a Babymoon! There's seriously no better gift than getting away together before Baby arrives. See #10 for more info on this one.
And while you're celebrating, let the fact that you're growing another person be motivation to treat yo'self a little extra. Have your man take you out for that meal you've been craving or let yourself splurge a little on tickets to a show you wouldn't normally go see.
Or if you're feeling too (nauseous, bloated, tired, huge…insert legitimate pregnancy excuse here) opt for an extra special night in.
One year, my husband bought one of those fancy home meal kits for us to cook together and he let me choose a favorite chick flick to watch together, promising to actually watch it. Throw in some flowers and a delectable dessert, and you've got a perfect Valentine's evening. Simple, yes, but also really sweet and just what the midwife ordered.
9. Spring Gender Reveal or Spring Baby Shower
If you're at the point of finding out and revealing the gender of your baby, you've got so many fun options during the Spring season! Plan a little party and tell the world whether you'll be having a boy or a girl.
This is a great season to do this because you can host a gathering outside and incorporate some pretty creative ideas. The pastel colors and delicious spring recipe ideas out there are the perfect setup to celebrate.
I love the idea of a simple backyard Spring brunch reveal. Go classy or cutesy or even a mix of both. My sister-in-law planned an adorable "What will he or she BEE?" party with everything decked out in a gender neutral yellow.
Imagine yellow (or even gold if you're snazzy like that,) black and white decor, honey-themed horderves, and tiny decorative bees creatively placed on a beautiful array of spring flowers. Then cut into the bee hive cake to reveal pink or blue underneath the yellow frosting. So cute. Check out this list of Spring Gender Reveal ideas for more inspiration.
Or if you prefer and intimate moment with Daddy when you find out the news, it can be equally fun to work on a little staged gender reveal photo session together. Try planning a romantic day at a local botanical garden, photographer in towe. Wear simple, white attire against the bright blooming green leaves and colorful flowers surrounding you.
Then, unveil the news of your baby's gender together via the method of your choosing (sign, ultrasound picture, balloon, confetti popper, etc.) You can enjoy your romantic life-changing moment alone, and capture the precious memories to share with others when you're ready.
I also love the idea of an Easter gender reveal. Get your whole family in on it during your holiday celebrations. Try hiding the news in a special Easter egg filled with a color-coated candy chick. Or go big with a confetti cannon that will surprise all the relatives while you're gathered and top things off with a bang.
Oh! And if you're towards the end of your pregnancy, a Spring Baby Shower is a must! Spring themes are soooo cute. Seriously, you've got so much to work with. From baby's breath flowers, to abundant pastels, to baby chicks, to literal spring showers. If your bestie or your mama need inspiration, try one of these seriously adorable ideas.
10. Spring Babymoon
Back to the babymoon thing. First of all, have one.
Girl…do it. Especially if this is your first baby. You're not gonna get this chance to get away for an extended break with your man for a lonnnng time. And if you do, it won't be quite the same.
Sorry, I'm getting ahead of myself. If you don't know, a babymoon is a last getaway for an expecting mom and dad. It's kind of like a reverse honeymoon. Instead of celebrating something new after it happens, you celebrate the end of an era before everything changes. Go and bask in your independence. Take it slow and easy.
Once Baby arrives, things get HECTIC. You'll likely almost never be alone and romance is much harder to arrange when you're sleep-deprived, covered in baby goo of one kind or another, and usually have a tiny mouth suctioned to your breast. You get the picture.
Spring is a fantastic time to do this. Summer is HOT which is just no fun for pregnant mamas, so don't wait too long.
If you're going somewhere warm, the temperature will be perfect this time of year. Plus, hopefully the mad rush of tourists won't have hit in full force just yet. It might be a tad cold to dive into the ocean, but that's what heated pools are for. Relax on a coast and watch the waves roll in while lovingly bickering about which wall to put the crib against.
Don't feel the pressure to make this an extravagant trip. If all you can swing is a few days in a fun U.S. city, still DO IT. Enjoy a road trip with your best friend/baby daddy and just have FUN. Of course, if you can take that luxurious vacation you've always dreamed of, there's really no better time than now.
You're about to go through labor, then spend 18+ years devoting yourself fully to someone else's preferences…I say it's ok to have one last hoorah that's all about the two of you.
If you're looking for ideas of where to go or what to do, I love this post by The Bump outlining 21 Babymoon Trips and Tips from Real Couples.
Pregnant in Springtime
Alright, Mama, there you go. A to-do list for your Spring pregnancy. Hopefully it will keep you in just the right balance of busy and relaxed before things get crazy.
…And when they do, I've got your back then too. Check out my posts on Last Minute Ways to Prepare for Baby and What You Probably Won't Get at Your Baby Shower.
And for more tips on pregnancy and life as a new mom, follow me on Pinterest.