How to Deal with a CLINGY BABY:
What to do with a Clingy Baby or Clingy Toddler
A clingy baby can make life SO much more complicated. We love our snuggly little ones, of course, but when you have a velcro baby it may seem impossible to get anything done.
You ask yourself, "WHY is my baby so clingy?!" and you search for answers and ANYTHING that may help.
Well, I understand your pain. And I've got some tips on how to get stuff done when your baby only wants you.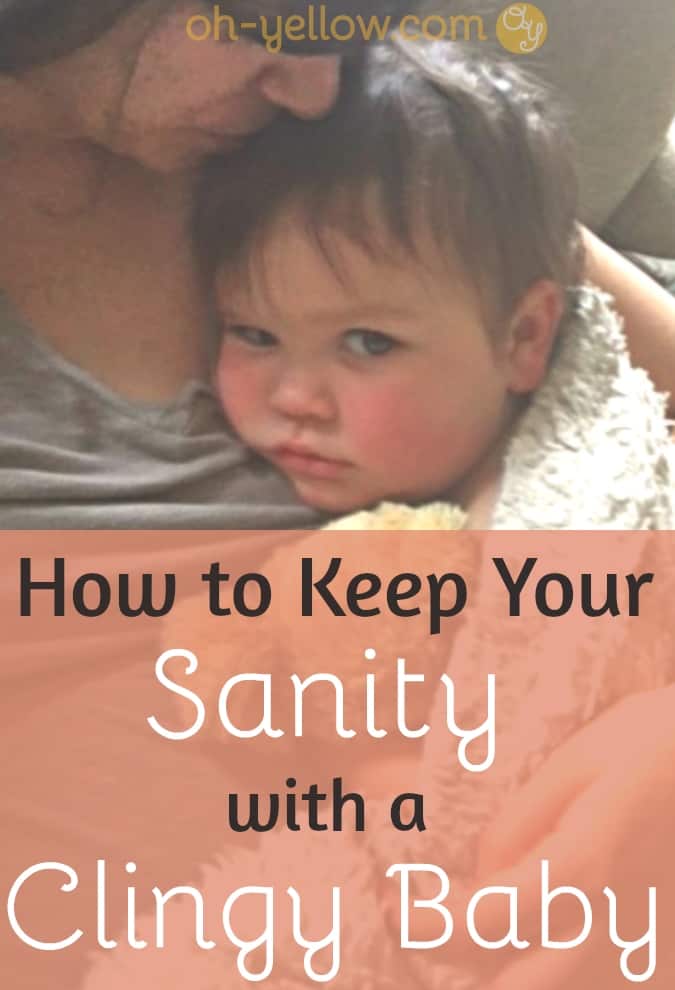 This post may contain affiliate links. See my disclosure for details.
Separation Anxiety in Babies
My son HAD to be attached to me for the bulk of his first year. He was breastfeeding, napping in my arms, and anything but independent.
Despite my best efforts, my boy didn't do well playing alone or distracted with a book.
He just needed to be with mommy.
A lot.
Like…a lot, a lot.
This was really a struggle for me.
I would hear other moms talk about their hobbies and all the things they were getting done and think HOW?!
I loved being with him, but sometimes you just need to shower…or do dishes…or pee.
He's actually still a lot like this as a 2 year old, so I'm very familiar with the struggle of a clingy toddler too.
We are really hoping his sibling arriving soon will help.
Some may refer to baby clinginess as separation anxiety from mom, and that may be the case.
The fact is, whatever it is that's causing baby to cling to mom and not let go can make even the most cuddly mother lose it a little bit.
We LOVE our babies and their snuggles, but we also have to get stuff done.
In time, I've learned a thing or two about how to make life work when my baby is too clingy.
It's an adjustment.
It can be hard, but there are definitely some things you can do to make it easier. Let's get down to it and talk about HOW to deal with a clingy baby or toddler.
7 Great Tips for Parents of Clingy Babies
1. Accept Your Clingy Baby
First off, change your mindset.
If your goal is to learn how to stop a clingy baby from being clingy, you might become discouraged pretty quick.
That's not an easy task. Instead, start by accepting your baby just the way they are, then try some tips on how to deal with a clingy baby who wants to be held all the time.
Sidenote:
I'm referring to babies who started as a clingy newborn and continued to struggle with separation anxiety.
If your formerly independent baby is clingy all of a sudden, this may be more of a temporary growth spurt or sign of teething, rather than a personality trait.
If your baby is clingy and fussy be sure to check with your pediatrician for signs of sickness to be safe.
In the meantime, the tips below will still be helpful!
Just like you! It's easy to get caught up wishing things looked more like that family, but wishing won't actually make life any easier.
Trust me, I've learned that the hard way.
This first step took me wayyy too long.
Once you take a deep breath and stop trying to force an unrealistic expectation, you can find a new normal that works for you and your baby.
I remember finally realizing, "If I had just accepted that I needed to set this first year aside and make it work for us, there would have been so much less stress and frustration."
I spent WAY too much time asking "WHY is my baby clingy all of a sudden?!" instead of simply enjoying who he was as a person and then finding solutions to cope with the challenges that it brought.
There's nothing wrong with your clingy baby.
They just love you and need a little more one-on-one attention.
That's ok.
Encourage your little one to be who they are!
Even at the baby stage, our babies can sense our frustration.
Let's create safe and comfortable spaces for them so that they can grow into more independent individuals.
It will give ease to your baby and rest to your heart.
Now that I've gone from having a clingy baby to a clingy 2 year old, I can attest that if you give your little one the attention and comfort they crave early on (hard as that may be,) they will be more likely to feel secure enough to step out on their own when they are older.
2. Go On Outings
On the days when you can't take anymore, go out.
This might seem like the LAST thing you want to do.
Oh I get that, for sure.
But the times I made myself get up, get dressed, and get out I found that the change of pace was just what we needed.
Now if your little one is like mine, the car might not be any less stressful.
You don't have to go far! Go visit a local relative or hit the nearest park.
Maybe you can visit Daddy at work.
I know a mama who runs to the grocery store on hard days, just to change it up.
She picks up a couple items and lets baby see some new stimulating sights.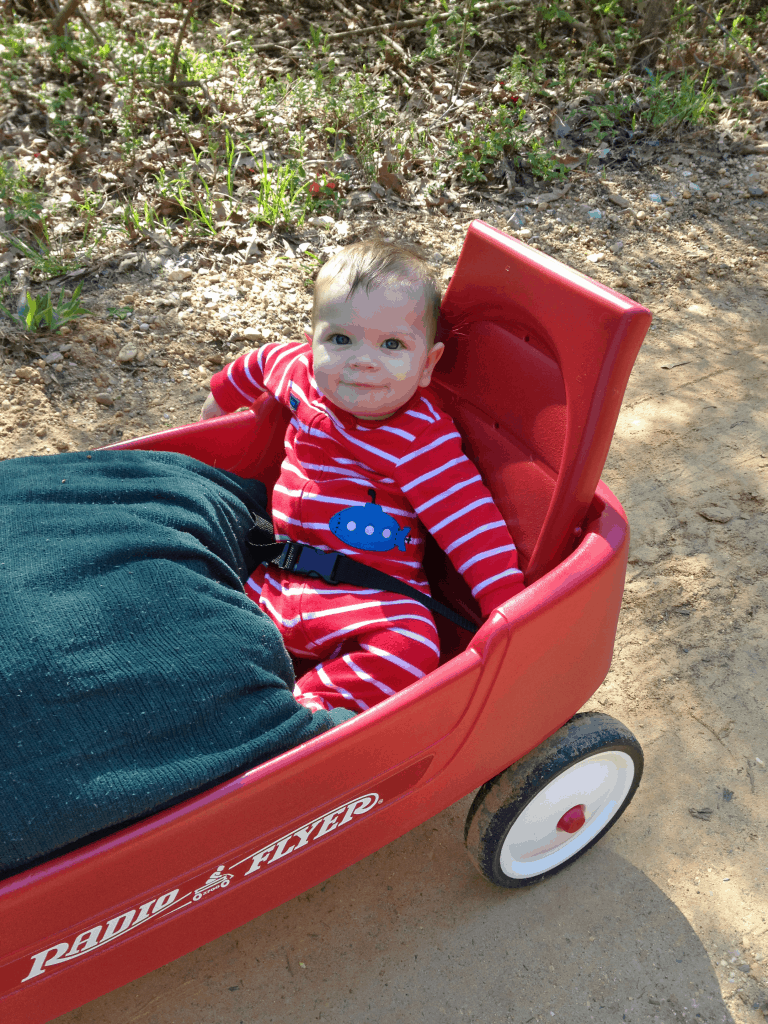 On days when your clingy baby is making you lose it a little bit, let the laundry and dishes sit.
A clean house is not worth your sanity.
Maybe a constantly spotless home is a reality for some, but for you, in this season, it might not be.
And that's totally fine.
Get out and get some fresh air.
A change-up can make all the difference.
Now, I know eventually you really do have to get to that pile of laundry.
It can be easy to get frustrated that you can't even get that ONE thing done!
Ahh!
But there's hope, mama.
This is gold. GOLD.
If you have a clingy baby, you NEED a good carrier.
When Sam was teeny tiny, we used a wrap.
I loved how close and secure he felt. I'll definitely use it for all my newborns.
But he got heavy…quick.
After a while, I needed something sturdier. Especially for bending over and picking up around the house.
I put off investing in one for wayyy longer than I should have. I regretted that.
Don't make my mistake!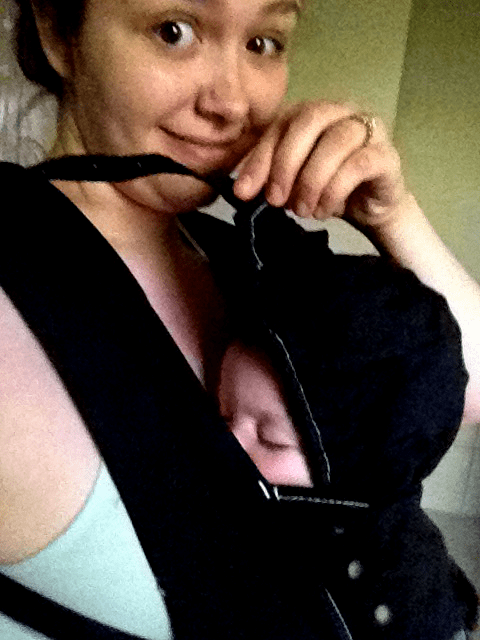 Best purchase everrr.
We got this one and I LOVE it.
I use it (yes STILL with a clingy toddler) alllll the time.
My husband uses it when my baby is so clingy that even Daddy can't put him down.
This one has front, side, and back-carry capabilities.
It's wonderful.
What I really love about it is that it's more breathable than other similar carries.
And you know what?
My sleep-despising, clingy baby SLEEPS in it.
I even vacuumed while he slept on my chest more than one time. It was a miracle.
Just go order it on Amazon right now. Thank me later.
Clingy babies just need to be snuggled more than other babies. They just do.
A great carrier helps that reality work for you.
4. Use that stroller
This may seem like a no-brainer.
When you can't get anything done around the house anyway, but you NEED to not be holding another human for a minute, whip out the stroller.
Go for a short (or long!) walk around the neighborhood.
This usually helps clingy babies feel comforted and stimulated. It's also great for mama because you're out and about, exercising, and baby isn't actually ON you.
That makes a big difference sometimes.
If you have a clingy napper like me, you can even try strolls during nap time!
If the weather is nice, put on your good shoes and get outside.
Our boy would fall right to sleep if he was tired enough.
It was a wonderful break for me.
Warning: if your little one is OUT, you may be stuck walking for a while.
Sam would wake up as soon as we stopped moving.
It may not be ideal to push a stroller around for a super long time, but my baby is too clingy and too HEAVY to constantly carry, so this is a great option.
5. Ask for Help
You've heard "accept help" a thousand times as a new mom.
But in case no one else has said it…
Don't just accept…ASK.
People want to help you, but they often don't know exactly how.
If you're having a particularly rough time, text a friend and ask for a few hours of help later in the week.
They can come to you so you can SLEEP (what could be better, right?) or you can drop baby off and just get a little time to yourself.
SO many times I knew I was struggling, but I didn't know what would help.
Even when things don't seem "that bad" you need to make time to breath and be unattached to another body.
Take advantage of help at least a couple times a month.
If it's been longer than 2 weeks since you had time away during your normal schedule, text someone NOW and set up a time. Invite people to help you.
They'll eat up that clingy baby time and you'll come back a new person.
6. Do Things Little by Little
Ok, let's get practical. How do you REALLY get by with a baby glued to you? How does anything get done? At all?
Well the first answer is…sometimes it doesn't.
Let that be ok a lot of the time. But I want to be more helpful than that. So here's my trick. I do things a little at a time.
My clingy baby will not sit quietly for 20 minutes so I can do dishes, clean up, or vacuum. It just isn't going to happen.
So, do 5 minutes here and there throughout the day.
Give baby something new to play with.
Mine loves to destroy our Tupperware cabinet while I clean the kitchen.
Work as long as you can, then when baby says "waaaaa!" be done.
Yep. I know you only have a little more to go, but your sanity is at stake.
Just let it happen later.
As baby gets older, add on a minute or two more each time so they can practice "waiting."
Eventually they'll understand that you can't get to them that second…maybe.
We live in a two story house.
When I'm working on picking up one floor, I usually pile up things by the stairs, then take them down later.
It's not worth juggling a screaming baby and dropping stuff on the way.
The alternative is listening to him scream in terror that I'm never coming back the second I head down the stairs.
Also, multitask.
If you came into my house unexpectedly in the last year, you would most likely find me picking up toys with one hand, wiping a counter with the other, and singing an engaging song to the one-year-old attached to my ankle.
We mamas could make quite a one-man-show, right?
7. Do it Later
Finally, when all else fails, don't do it now.
I know you were planning on it and it needs to be done, but sometimes it's so not worth the fight.
Do what works for your family. It's ok to occasionally just leave things messy and undone.
If trying to do a task while your baby is up is going to result in you pulling your hair out and crying with frustration…don't do it.
Scratch that plan.
Do it after bedtime or on the weekend. Let dad do it. Or just let it slide this week. It'll be ok.
Instead, shake off your awry plans and pick up that sweet baby who loves you so much that being put down for two seconds feels like torture.
Enjoy that little one.
Go read books or explore outside.
Cuddle up on the couch, sing songs and tickle those thighs.
I'm told the clingy days don't last as long as they seem…supposedly.
Clingy Babies: The Bottom Line
Wondering how to deal with a clingy baby?
Spend more time with your clingy baby.
Funny how life works, isn't it?
Now, if you are noticing that your velcro baby is also struggling with sleep problems, has very intense emotions (like mega clingy toddler tantrums,) and just seems more needy than other babies his age, you may have a high needs baby on your hands.
Check out this amazing resource on high need babies. You can also read more about features of a high need baby in this post by Dr. Sears.
For more tips on life as a new mom, follow me on Pinterest!